That title was for you Bruce. (And if you don't know the song by now, time to step your game up a check this
mixtape
courtesy of 2dopeboyz and DJ Noodles.)
This past weekend, I made a trip to Vegas with some of my elementary/high school friends to celebrate Brucey's 24th birthday. We met up at Jasmine's before we set out on our 2-car caravan to Sin City. Jasmine and Jenny rode with Bruce and Daniel (two-fourths of
BitofChange
) in Daniel's eco-friendly ride.
And I had the pleasure of riding with Stephen and Helen.
Jenny aka "Where's Waldo" was playing solitare on her ipod all weekend. Lame.
The drive wasn't too bad, except for this guy. Did I say he was a pleasure? I ended up driving about 3 hours by myself and my music. WORST SHOTGUN EVER.
He finally woke up near the border city of Primm where we made a stop at the Mickey Dees.
The family at the front of the drive through literally took 15 minutes to place an order. We got pretty ansy.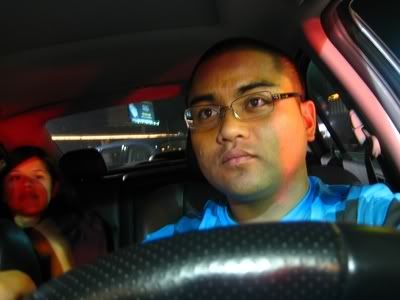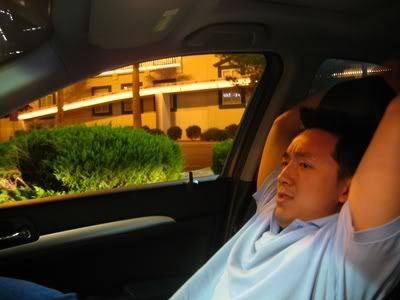 We finally make to the strip around 1:00am.
The view from Flamingo and Las Vegas Blvd.
We stayed at the Venetian Hotel & Casino in a bedroom-less suite the first night ($20 upgrade tip was on point).
"How many times do you think there were 2 dudes sitting in those chairs getting head from 2 bitches at the same time in this room?"
-Bruce
"I bet someone had a hanging sex basket attached to that chandelier and fucked a girl good."
-Bruce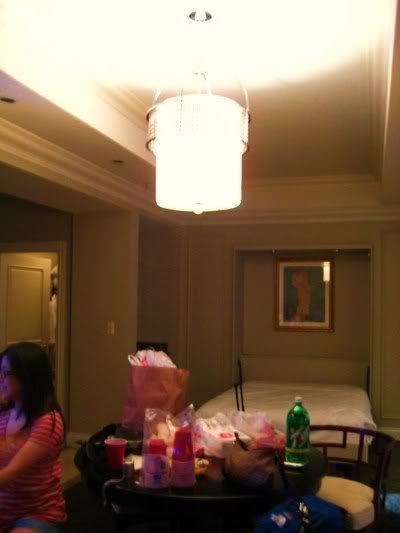 The best part of the room was the bar area. We were able to finish off all this by the end of the trip. DO WORK SON!
Quick rollcall left to right: Helen, Jenny, Stephen, Jasmine, Bruce, Jomo, Daniel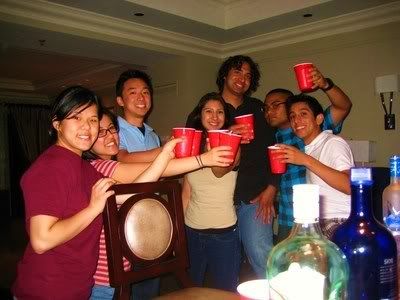 Stephen thought it would be funny to sit on the chair on the foldout bed. Looks like Stephen's taking a crap.
Chocolate?
THIS IS DOODOO BABY
.
After we get some work done, and Bruce and Stephen are feelin lucky. We head down to the casino floor to hit up the tables.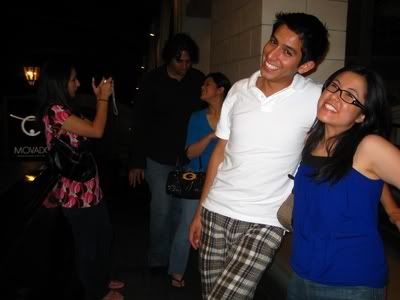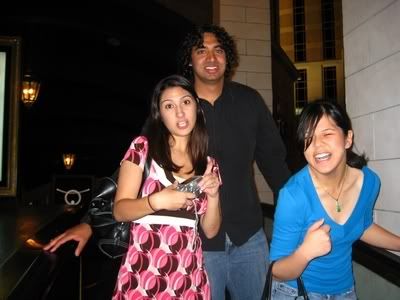 Stephen lost all his cash in one sitting at the roulette table. And lost $30 of my own money as well. Fail.
The Le sisters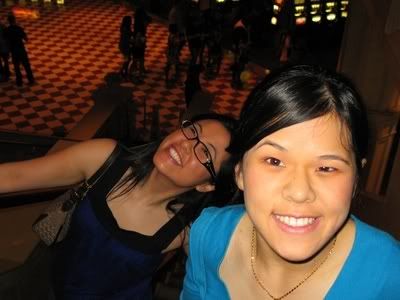 No homo. (What do you mean no one says that anymore?..)
Vision was gettin blurry...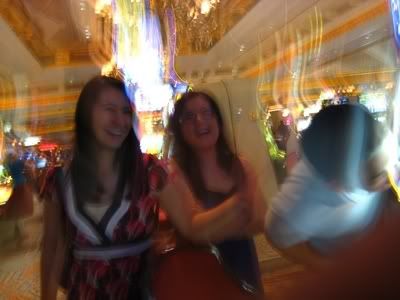 We hit up another casino (this was the only time we actually left the Venetian) where Stephen lost more money, this time for Bruce and Jasmine. Fail. Stephen makes it up with his consolation prize: a sign.
We got hungry and tried to find food. But everything is closed from 5am to 6am. After some sweet-talkin and false promises, we got 10 hashbrowns for $5. WORD!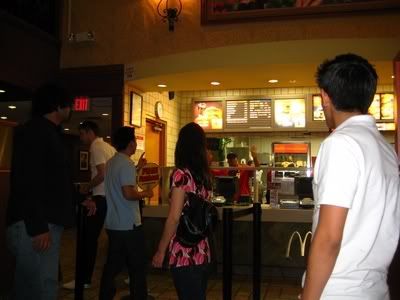 Stephen sang a song and passed out the hashbrowns.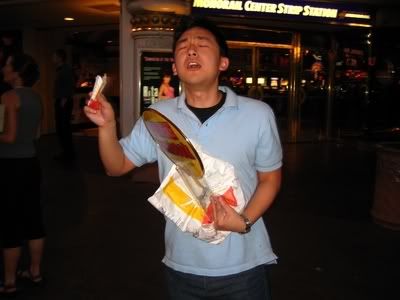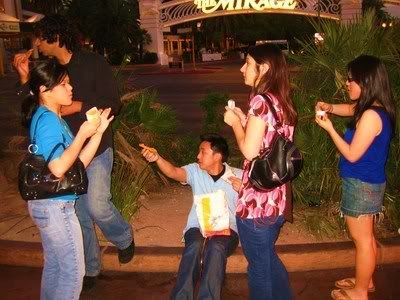 The back to the hotel room.
Bruce doing his best impression of Kevin.
Things got a little freaky in the room.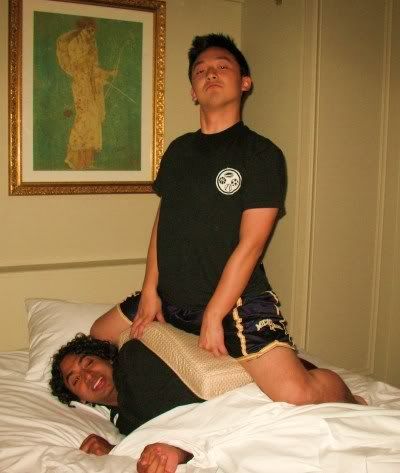 I threw a flaming match on Stephen's arm (sorry bruh). Jenny kissed it to make it feel better.
Stephen made it up to her though. One in the pink one in the...
nevermind.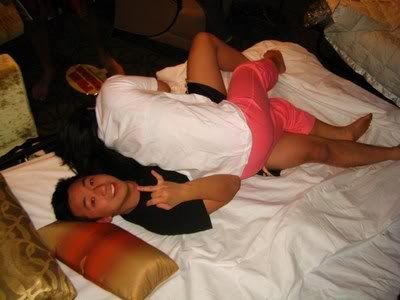 Some major spooning action went down that night. I got caught snapping pictures.
In the morning, we burried Jenny in a pile of STD pillows. What was supposed to be a fort, ended up looking like a coffin.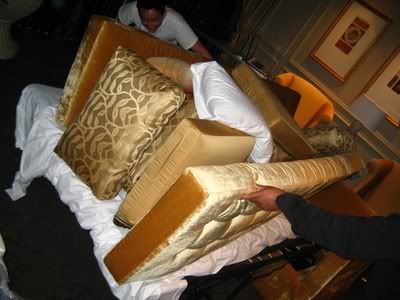 "Jenny get outta there it's so dirty!" -Helen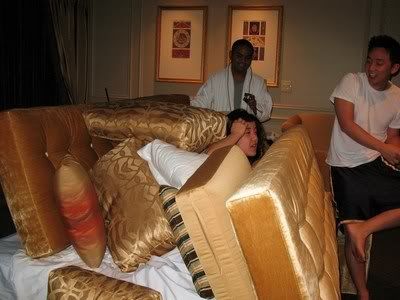 ...and then the foldout gave birth to Jenny.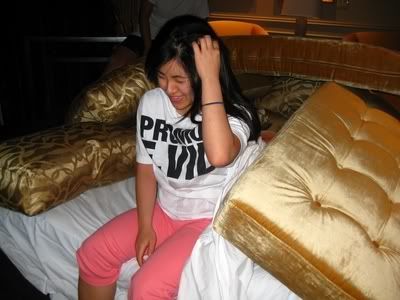 Before we started the afternoon, we had to get a workout in. So Stephen busted out the P90X Ab Ripper X workout: a 15-minute hardcore ab workout.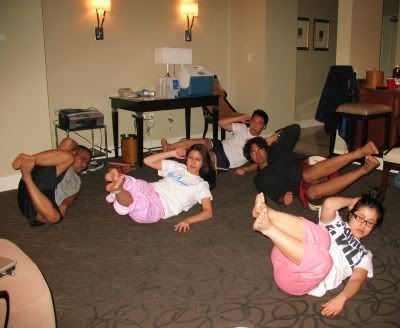 "If you kept up with us, you just finished 349 crunches." I think I did about 83... but from my sweat you would think I did a lot more.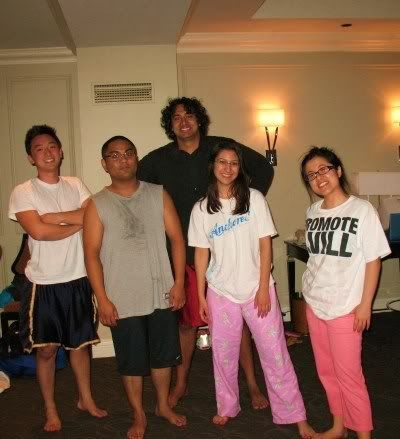 After we packed up our stuff (upgrade tip sent us to a better room the 2nd night too!) the ladies hit up the shopping mall. The guys headed for the pool. Hot as shit out there and we couldn't find any lounge chairs to claim.
We waited in the spa lobby for a bit.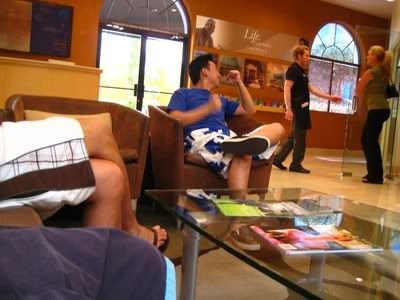 PEEP THE ROCK WALL!
We decided to just hop in the pool for a few minutes, which ended up being over an hour.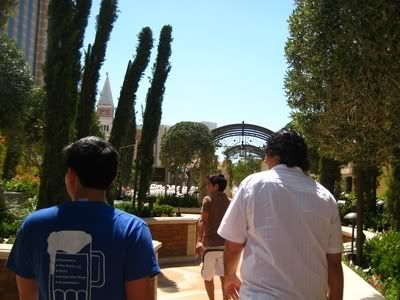 This was the only picture taken at the pool. Thanks Bruce...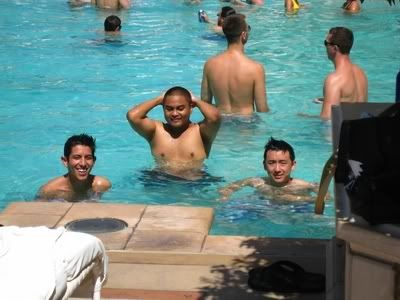 Back to the room to move our bags to the new room. Met up with Lindsay and Emanuel.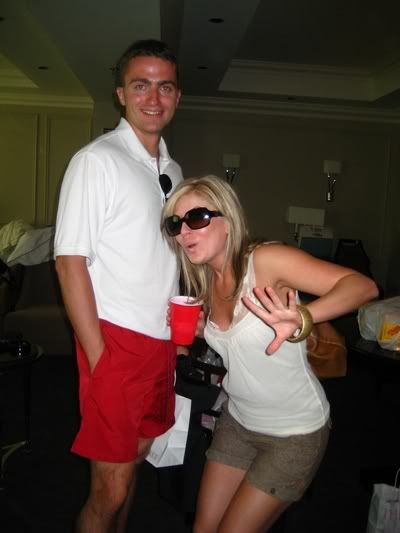 Jenny playing more solitare. Lame.
Stephpen got kinda thirsty.... This shot is pretty fucking gross.
Lindsay wanted to show off her gigantic suite on the 29th floor. I was more impressed by the hat I must admit.
The view from our new room on the 10th floor: THE POOL HONEYS! And we also got free internet from Tao Beach. Word.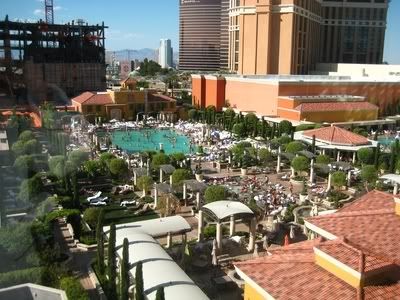 Stephen and Bruce get it on. No homo.
The girls go back out shopping and poolside and the guys hit the tables again. I just took a nap for a good 2 hours. Dogpile. Check out Stephen giving Bruce a fistjob.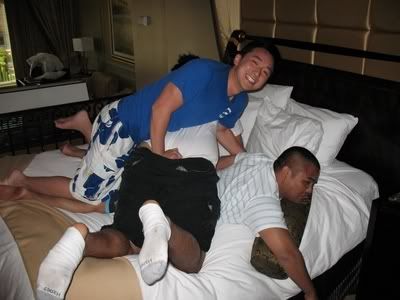 I had to get rested for the club. We all finally get ready and this wasn't looking very promising...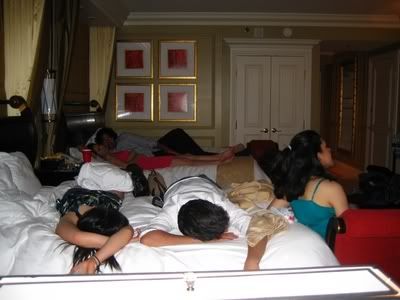 With a few Red Bulls and some drinks, things picked up. These pictures are definitely worth a millie (a millie millie) words.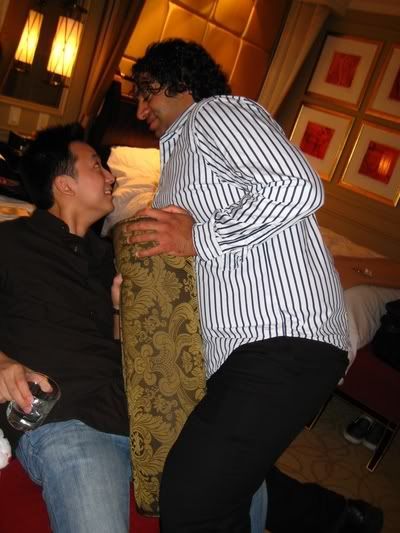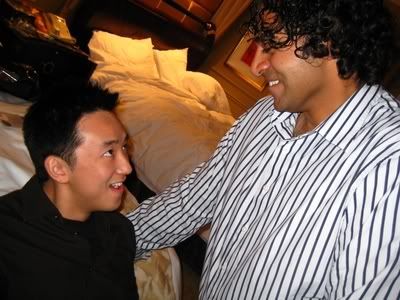 Anything you can do, I can do gayer.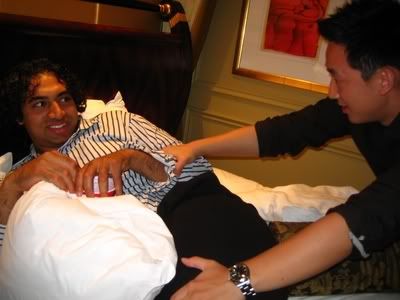 Quote of the Weekend
Lindsay: So do you think Stephen is gay?
Emanuel: Oh he's 100% gay.
(I honestly thought he was going to say straight.)
The CHS Breezies.
We hit up Tao at the Venetian (staying at the hotel where you go clubbing is definitely a convenience). Mr Randy Jackson (ABDC 1st Season > ABDC 2nd Season) was celebrating his birthday alongside Bruce. Good lookin' out on the passes dog. Well these were for the girls. Guys of course had to pay. Wack.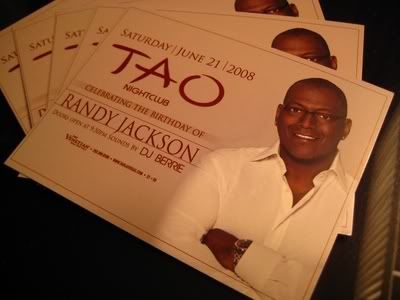 Ran into Jon (squarest jaw you'll ever see) and Julia. UCSD CATERING 4 LIFE! I really do miss you guys..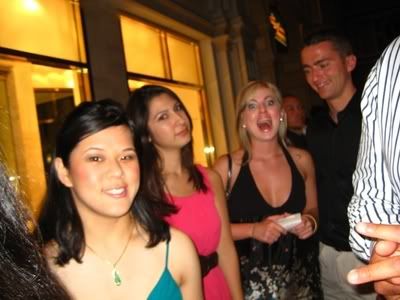 Vampire.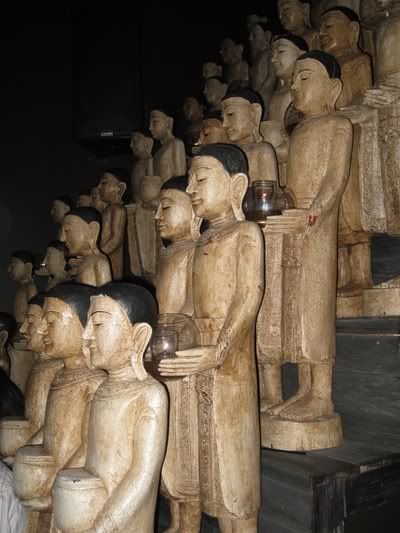 Pluto and a Native American from outer space brought out a birthday cake for Randy.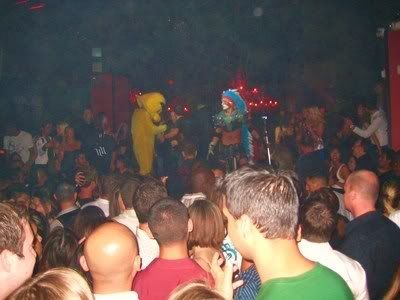 And Echo the Dolphin was also getting his groove on. Is that doodoo on your stomach?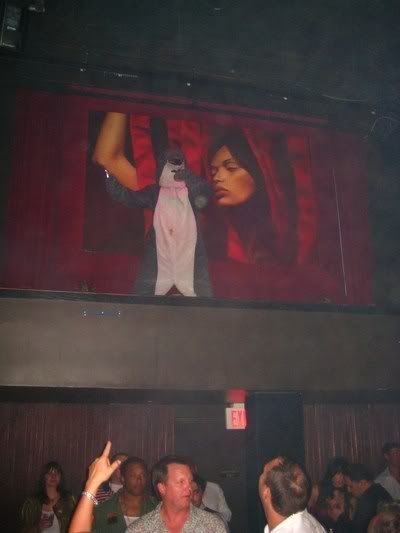 And not much to say about these pictures. Just an awesome night overall.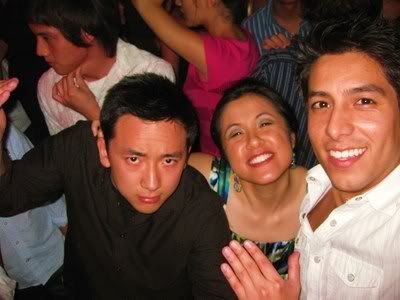 No pictures of this, but the next day we checked out and watched the Spain vs Italy Eurocup Futbol Quarterfinals in the Venetian food court. Epic finale with the penalty kicks. Too bad Bruce, Stephen, and Daniel lost $20 each betting on Italy. (Who wants it more Bruce?)
And I didn't notice this until the next day. Tip: don't try to crush Red Bull cans on your forehead; they're not like regular aluminum cans...
Final thoughts...
(Well I thought that caption was very suitable for that last picture. I look so fly and hard like a geese erection.)
Happy birthday Bruce once again. Thank you Jasmine for organizing the trip and hotel arrangements. Thank you Daniel and Jasmine for the additional pictures. Helen I hope you come through with your promise for that picnic. Jenny, you're so lame with Solitare; and I will break your shit if I see it again. Lindsay hope you and Emanuel have a safe trip to Europe. Stephen... a millie words really. Good hanging out with the high school crew again. Till next time...
a mille. a millie millie. a millie. a millie millie....