Today (YAY I'M ALL CAUGHT UP ON MY POSTS!) I was at the Cal State Fullerton Job Fair representing my company from 8am to 2pm. So basically my job for the day was to talk about my company and take any applications from prospective hires. That translates to stand outside and enjoy the weather while talking to some people. Sometimes I just love my job. :)
I also apologize for the lack of pictures as I was not in blogging mode in the morning and by the time I was, the booth got super busy. I'll make up for it with my excellent writing skills! (Yay.....)
In the morning, I met up with JFNG and we hit up McDonalds for some McGriddles, hash browns, and iced coffee (definitely my favorite cure after a crazy night). Frequent readers out there will know that JFNG is the person who introduced me to the iced coffee. Now you finally get to meet her!
JFNG is one of my new best friends at work! She may not look it, but she's so gangsta sometimes it's hilarious. Unfortunately she'll be leaving soon for Idaho (WTF?!?!?!). Have fun at the potato farms my dear.
Also representing at our booth was my friend Pam who works in Irvine. I've known this gal since my sophmore year at UCSD. We talk once and a while through our internal chat system, but I haven't actually seen her for about 2 years now. So it was like a reunion. It was really good catching up with you Pam! :)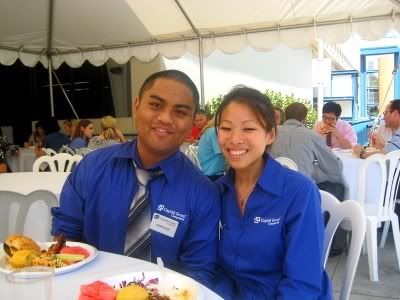 What a terrible picture of us! I'm mid-sentence and her eyes are half-closed. I should have had that guy re-snap it. Oh well.
And just for Pam, pictures of the shoes I'm wearing tomorrow to the Ice Cream/Hawaiian Themed Ice Cream social at work tomorrow. We don't get to wear sneakers at work often, so when the opportunity comes up I take advantage. Pam helped me pick these out as she suggested something green and something Hawaiian. HAH! YOU'RE A GENIUS! And Pam, it turns out that the shoes say both "Hawaii"
AND
"Aloha"!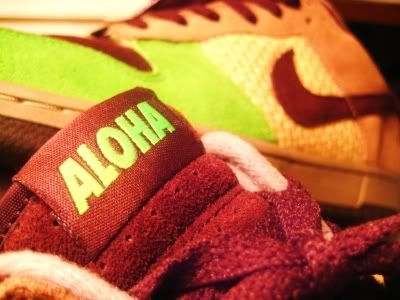 Also honorable mentions that came by the booth: Drew (
BeezWaxxx
,
PWA
) and Mr. Edgar Escobreezy (no pictures). Sorry I didn't recognize you Edgar. Your stunna shades threw me off.
And lastly, the inspiration for the blog title. The market's been taking some hard hits these days and I know there are people out there that may be in a tough employment situation. This video is to remind you that at times like these, the best thing to do is to call your homies up and have a house party.
'92-'93 Snoop > Any other Snoop.