Third blog post today?! Aren't
YOU
a lucky one!!!
Another September birthday belongs to my buddy Phil from UCSD. I don't get to see my UCSD folk very often, especially since most of us moved back to our respective hometowns. But recently we've been making an effort, including
James's birthday
a few weeks back. And I live the closest to Benihana's anyway so of course I'm coming out! Sorry for being the latest person there though. Thanks to Phil for some of these pictures too.
Jimmy, Phil, Samir, David.
We sit down and take a look at the menu.
Damn Jimmy don't concentrate so hard.
Across the grill were two brothers and one of their daughters. We certainly had a good time chopping it up with them.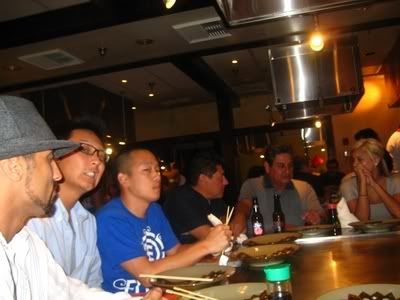 These were fun too. Sapporo.
Plus hot sake.
Equals da bomb.
Samir shows our new friends how it's set up.
He also knocks my shot into my glass prematurely (SAKE FOUL!). So we do the first bomb with drops. We end up doing 2 bombs and 3 additional sake shots too. So much for less alcohol this weekend.
Onion and mushroom soup. I need this recipe.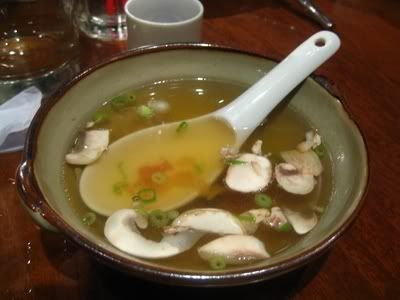 Our "rookie" chef Mario making some fried rice.
David's so serious.
Phil not so much.
Mario was definitely downplaying his cooking skills. His
teppanyaki
style was top notch. Here comes the onion volcano!
Looks pretty cool when you mess with the colors and contrast. He also did something I've never seen before which was have an inverted volcano on top of the regular one. Then he used the top half to make an onion tornado. Kakkoii!!!!
My delicious hibachi steak platter.
The crew definitely approves of the dinner. It was the first time experiencing this cusine for almost everyone at the table.
We later sing Happy Birthday to Phil. Damn fool you're still red!
Happy Birthday Phil!
Our buddies across the table were definitely trying to show off their daughter/niece. "Isn't she beautiful?!" While at the same time they were whispering to each other "hey these guys are cool!" I guess that's what chatter and free drinks will do for you. As we walk out they insist on us taking pictures with her. HAH!
Winner of the night: Samir. Don't put it to waste mang.
Let's see what next weekend brings...