October starting strong on the birthdays. My friend/co-worker Matt invited a bunch of us to The Hat in Brea for a birthday lunch. Only a handful showed up. Shows how much people really like this guy. (Just kidding Matt.) He just got back into town from Paris where he spent his 1st wedding anniversary with his wifey Angie. Welcome back Matt! I almost didn't get a chance to blog today because I left my memory card at home. Luckily I had my trusty iPhone with me and the pictures turned out great.
The Hat is best known for their delicious (and toilet-troublesome) chili fries as well as their fresh-cut pastrami sandwiches. Despite living in the area for almost 20 years and working so close for almost 2, this was my first Hat experience. I will definitely come back for this!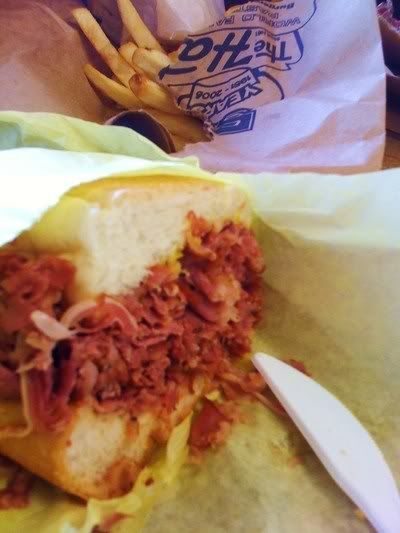 Lizel also just got back from her
World of Dance performance with Kaba Legacy
. (Click the link and watch in HD. Tony Tran's piece is CRAZY!) We split the pastrami sandwich and the "small" fries. Still blog-shy.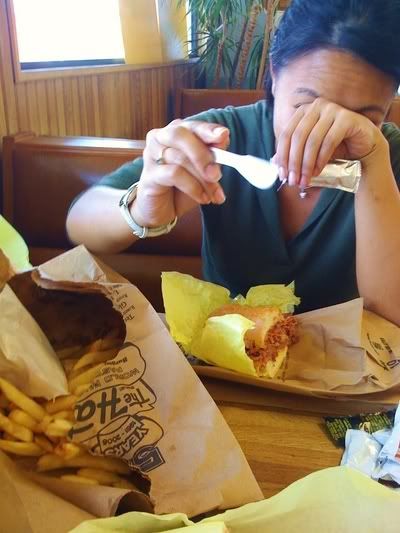 GOTCHA!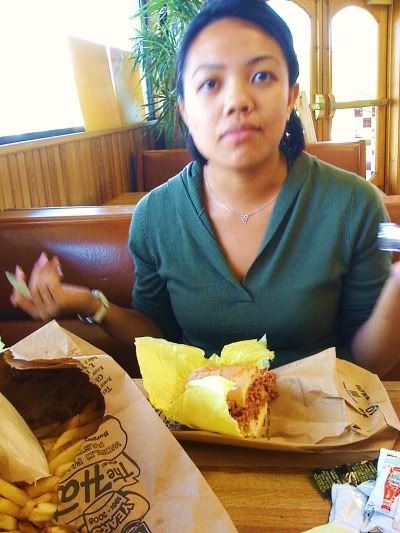 And the Matt Hatter himself (he came up with the blog title of course). We started in the same training group at work. He's such an oddball, but ya gotta love the guy for his Mattisms. He's such a weirdo. I think this picture sums up his personality very well.
Happy Birthday Matt! And thanks again for the gift from Paris. I'm definitely diggin' the old carnival poster look here. Behind the Paris glass is a glass from London that my manager June got me from her month-long trip to England and Spain. WHAT ARE YOU GUYS TRYING TO SAY HUH!?
In sporting news, the Angels lost Game 1 to the Red Sox. Damn it.