After the night in LA, I got a call from Mikey who wanted to grab some breakfast since he was in town for the weekend. There aren't that many cafes or little restaurants in Anaheim, but I remembered that there was one in the Ralph's center by my house called "Latte Da".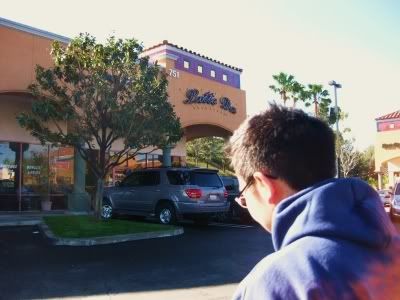 We each ordered the Joe's Special: scrambled omelette with spinach, mushrooms and ground beef. You also get a choice of fruit or potatoes, and choice of toast or bagel. A pretty good deal for $8.
We both agreed though that the taste was pretty mediocre. They didn't season the beef at all and it looked as if they just crushed a few hamburger patties rather than use ground beef.
Afterwards we were supposed to play basketball at Bruce's house, but he was in LA. I'm not sure who planned that one, but we reconvened to our Alma Mater, Canyon High.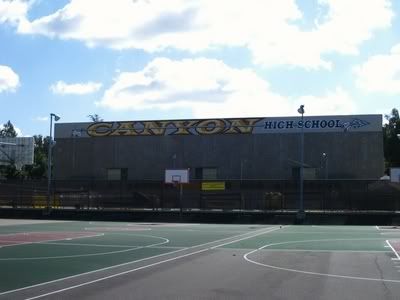 None of us have really been here since '02. They painted the courts and put up some new rims. They also have a batting cage now. Going high tech.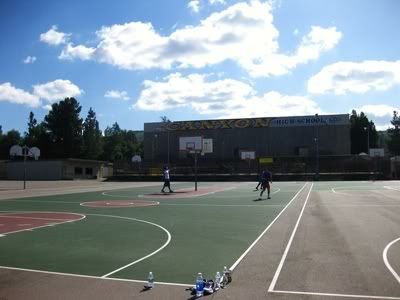 While we waited for Michael who had the basketball, we tossed the pigskin around.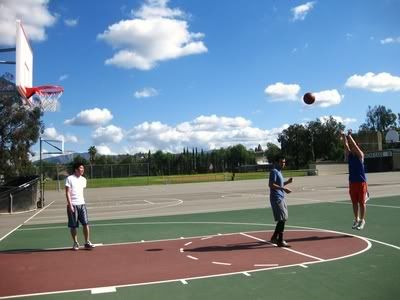 3 on 3. We played to 15 and the first game took us nearly 40 minutes I think. Pure garbage. After that though, we played 4 more games that were much better.
Michael trying on my Kobe 4 Carpe Diems.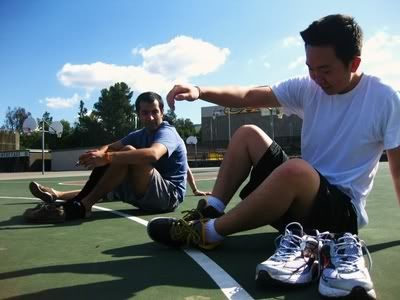 Bryan's attempt to dunk (sans Carpe Diems). Settling for the layup.
Michael dunking. It's gotta be the shoes.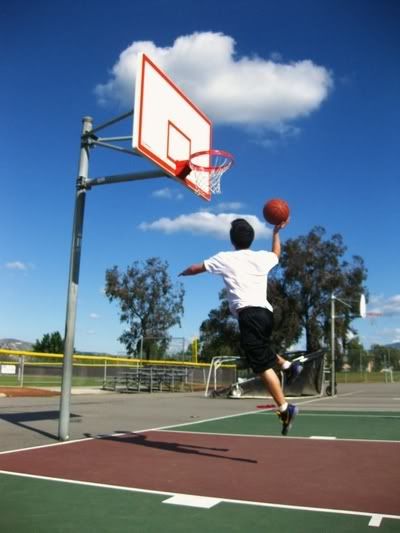 The cast: Stephen, me, Bryan, Michael, Jason (aka Neej), Clarence. We did a soccer pose I guess. Jason just likes to cup his balls.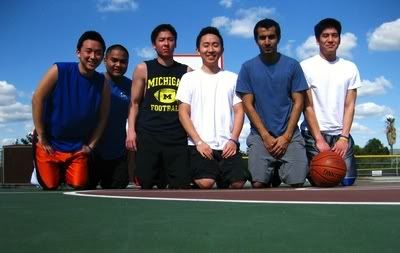 I spent my Valentine's Day playing basketball with 5 dudes. Yes! But seriously that was a lot of fun. I should play ball more.
After a long nap I headed down to San Diego and just relaxed the rest of the night. Cruised around with Gian & Josie, and grabbed a beer with Erwin at this sweet liquor store in North Park. Jenn also dropped my iPhone headset in the dirty Bumsville gutter water. Thanks... Sorry no pictures. Sunday post coming soon.