After Sunday brunch at
Café de Bumsvilla
, I stopped by
Willy's Workshop Mira Mesa
to visit
Alvin
and
Fatch
. Jeff (
5&A Dime
) was also in the house getting his game on against Fatch.
They were practicing for the
Super Street Fighter II Turbo Tournament
which was yesterday. I heard the turnout was awesome. I've missed the first 2, but hopefully I can check out the next one.
Jeff's doggie Cheeko. He's a good dog, but whines a lot.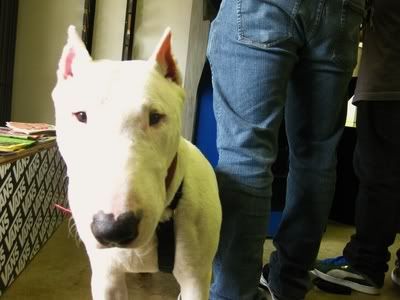 He at least plays nice with little baby dogs.
Alvin was feeling a bit under the weather and was also in the middle of his cleanse. I brought over a handful of mandarin oranges from breakfast which he thoroughly enjoyed. ADULT EMPORIUM NEXT TIME DUDE! Thanks for the PI x WW tee as well.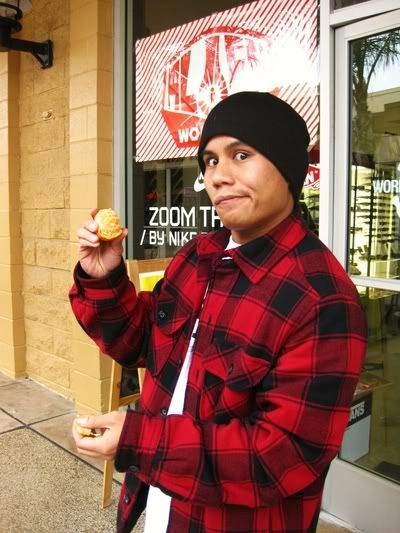 Afterwards I dropped by
5&A Dime
. There was a small crowd forming early because of the SoReal Cru Meet-and-Greet later that evening. Some of these fans were here before noon! That's dedication.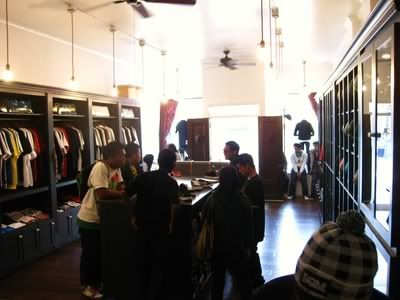 Gian was running the shop while his boy RJ was running game on some of the ladies. Like father like son.
Josie took Daisy to a groomer a few days ago and took advantage by taking some glamour shots with her new Rebel Xti.
Lovely! Now give me more passion and anger. You little ewok. Nice flower though.
Before I left they started to organize the line which was about 70 kids deep before the Cru's arrival. Much love for SoReal Cru. (Picture from
5&A Dime Blog
.)
Julz
and RJ. EAGLE!
I left before the festivities to get some shopping done with Jenn at Fashion Valley. I haven't been here in years. She recently lost her sunglasses so we were on a quest to find a new pair. At the end of the line we found this baller pair by Roberto Cavalli.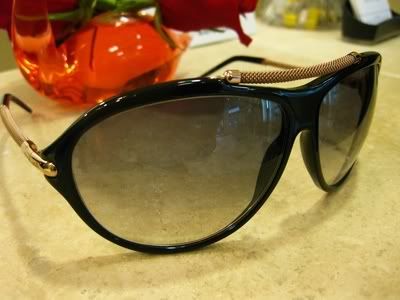 Because of Jenn's "Asian" nose bridge they had to fit it a little bit. After some trial and error, it was a success and she dropped a pretty penny for these. Lookin' fly!
I personally picked up a nice navy blue coat from H&M which I've been looking for for some time. We got a quick bite to eat at Sarku which is a new Japanese sushi/terriyaki bowl spot at the food court.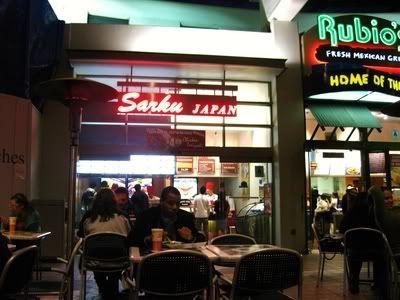 They definitely hook you up with a decent portion and veggies for a little over $5.00! For an extra dollar you can also get a 2nd serving of meat. Take that Flame Broiler!
I got back to the store just in time to meet SoReal Cru. Yesssss. The doors were closed to let the Cru have a little private shopping lesson. Josie aka Josiewockee. (Pic courtesy of
edROC
.)
Toe-Knee
and Steven were the personal guides for SoReal. TK took Bin up to L.A. for the time of his life. They were there from Thursday through Sunday. Bin's exhausted trying keep up with his life. This smile is hilarious. (Pic courtesy of
edROC
.)
A quick solo picture with Ailyn of
SoReal Cru
. Cutie. I SWEAR I WAS SUPPORTING YOUR CREW DURING SEASON 2!
SoReal Cru
x
5&A Dime
group shot! Left to right: Brian P, Ailyn, Gian, Brandon, me, TK, RJ, edROC, Brian F, Julz, Mark, Andrew, Jackie, Pat.
A great and productive afternoon of shop hopping. Afterwards was the party at House of Blues. Post coming later tonight!