So in recent history (last season and this season), the Angels are 0 and 2 when I am in attendance. It's improbable that I'm the cause for the losses, but superstitions are embedded in the world of sports.
Nevertheless, I had a great time at the game with my dad, Brian, and Hana! I bought a rally monkey (useless), a new Angels New Era, and tons of food. Our seats were the most awesome I've ever sat in. Thanks again Hana for the free field level tickets! Please think of us when you get them again! :D
Blogpost and pictures via
KaYoTiK
.
hanananana scored some tickets to the angels game on sunday and invited my brother and i along. she so nice. diamond parking too? walking is for suckers.



angel A stadium eh?



hat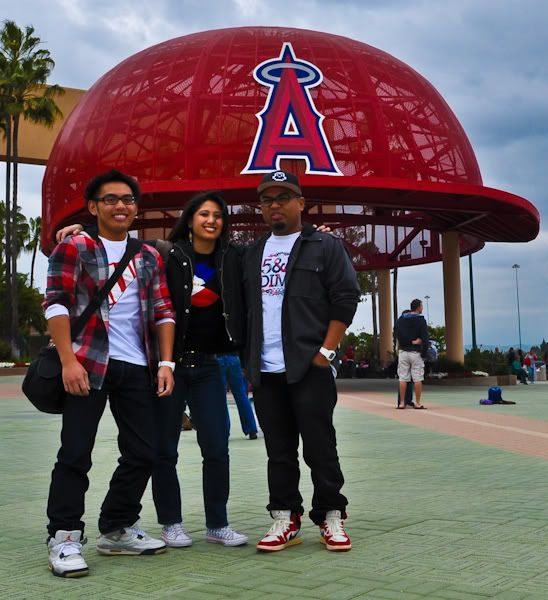 after asking around all our friends in the area to take the 4th/last ticket, everyone was too school for cool.



so our dad ditched our mom at church and tagged along



walked by the first booth and decided i needed a rally monkey in my life



view from our seats. well done hana.



exciting first inning, boring rest of game. food and shoes shall follow.
retro jordan day


notice peanut and hot dog wrappers

hana wore her "brian moreno" shoes.
(i bought them for her when i visited SF last year.)


notice peanut and hot dog wrappers

$8.25 for kettle corn??!? instant cop.



chili cheese fries were actually worth the $37 price tag.



i hope you were posing for this one hana.



snookers!



after winning for most of the game, the As decided to ruin our fun and score some runs. bust out the rally monkeys!


alas, they didn't even work! but i still love you rally monkey.



thanks again to hana for inviting us along. you're the bestest.