After a crazy night at the HoB SD, it was time to chill out today for some good ol barbequing. Bumsville emptied out pretty fast as Terry had errands to run, Annabelle was helpin' her brother move, and Mark & Guil had to peace out. So I helped myself to some breakfast.
Took a few timer shots, cuz I was home alone for a good 3 hours.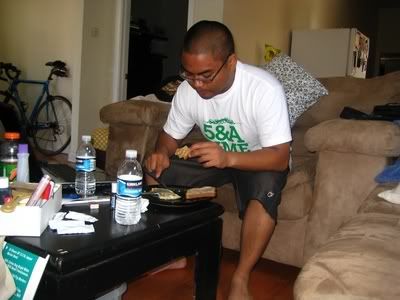 Bummed.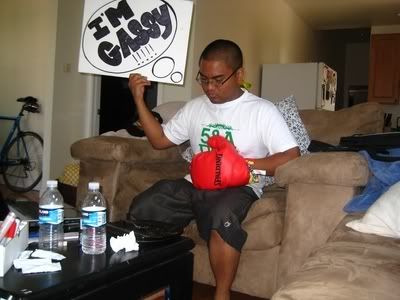 Toe-Knee came by with his homie Tristan from Virgin Airlines (TK's key to the jetset lifestyle). Kicked it with Terry for a bit, and used my blog post as
his guest blog post
. Now I'll be famous like TK with some referrals from his blog. HOLLER!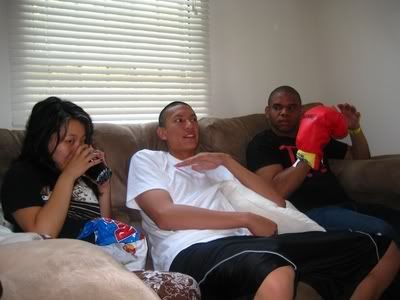 Tristan brought this devil-bastard concoction for yesterday's party. It's basically a $15-bottle of drinkable rubbing alcohol, and I use the word "drinkable" very loosely.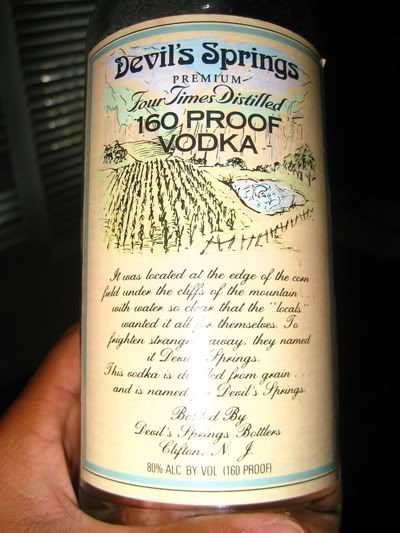 "DO NOT DRINK AT FULL PROOF". Edwin from Blends SD drank two swigs at full proof last night. Bad move.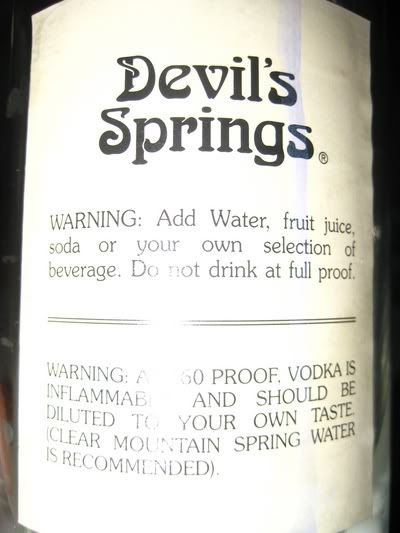 Brandeezy fo Sheezy dropped by as well. He's still thinking about
his sweet House of Blues experience
. Bummed.
Brandon, Mark, and I headed out to Embarcadero for some of the barbeque action.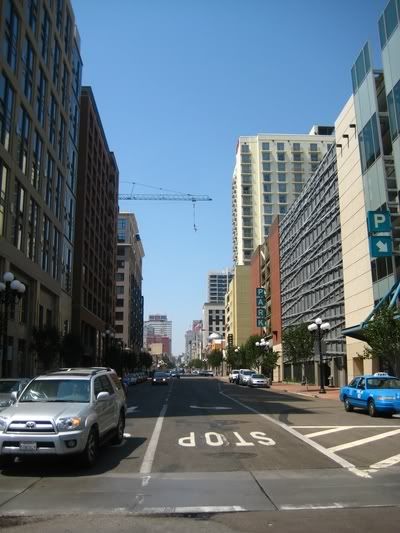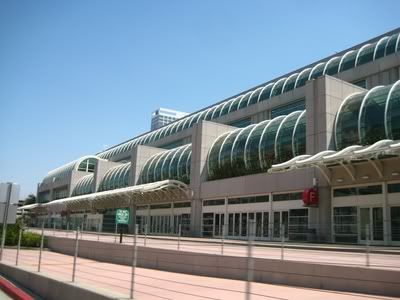 Parking was definitely an issue, but we finally made it.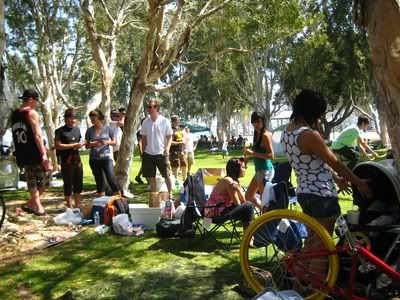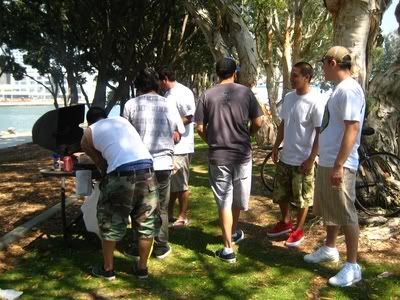 The non-meat eaters luckily had a Joe's Crab shack across the sidewalk for some seafood eats.
Rhandy with his baby boy Royce Legend.
Keep your bike away from this dog. He popped two bike tires and two people had to walk their bikes to the nearest pump. Bummed.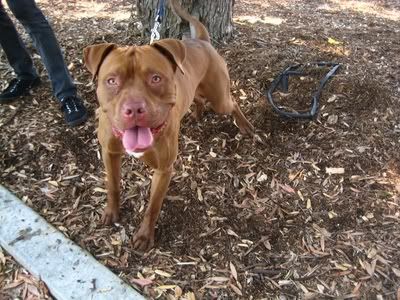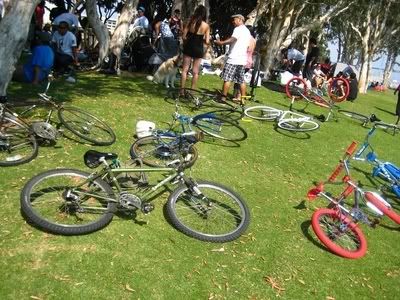 Irwin (
Blends SD
) was one step ahead and tossed his bike into the tree.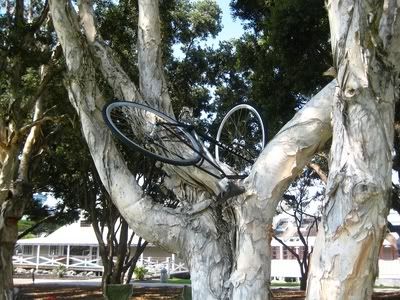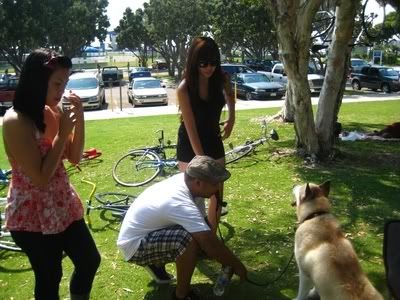 Lack of chairs all around. Bummed.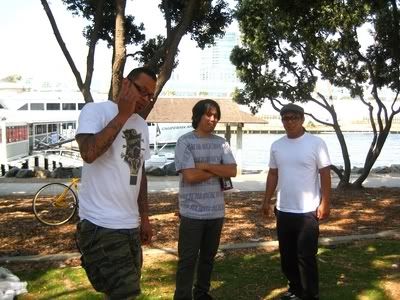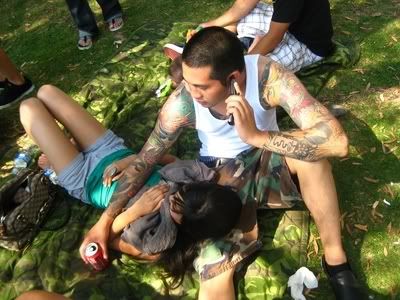 "Royce, if someone tries to come behind you, just say no." -Rhandy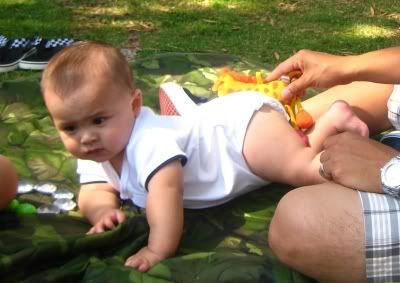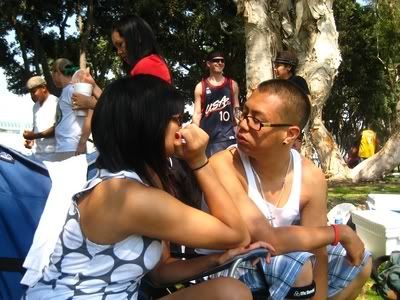 Brandon's still bummed.
Tossed the wiffle ball around. Barry Yons swinging (and missing) for the fences. Suck my bat bitch.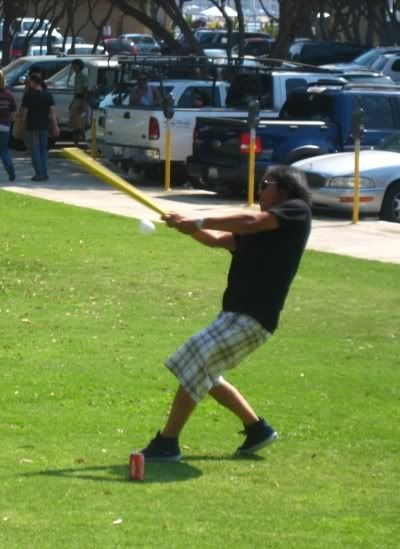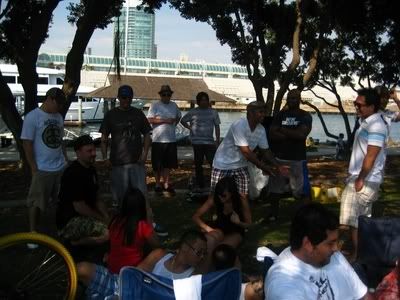 Josie couldn't wait for Darcie with the veggie patties anymore. Joe's Crab Shack it is.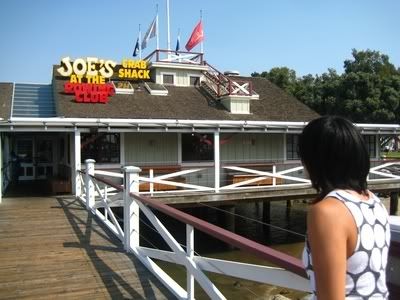 Popcorn scrimps took over 30 minutes to make (for real?). Irwin, Frankenstein, and Frances were enjoying some crabmeat and pina coladas out of mini trashcans.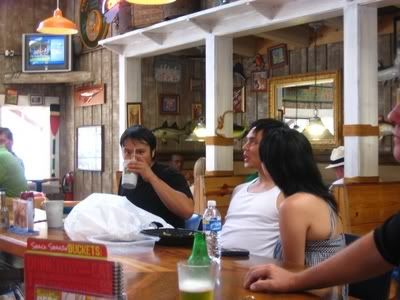 Back to the BBQ.
JUST SAY NO GIAN! Gay.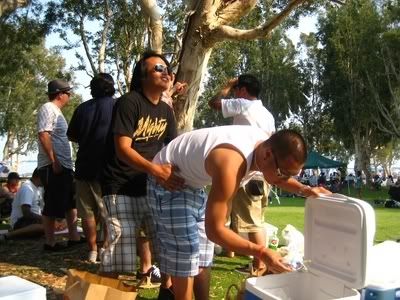 Jay had a lot on his mind this weekend. Bummed.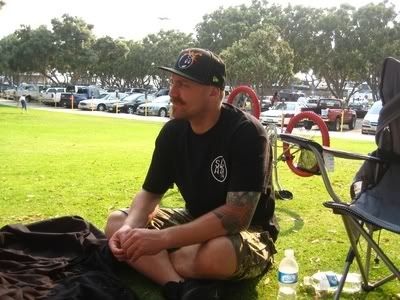 Cassius!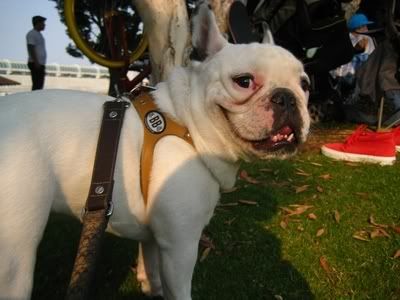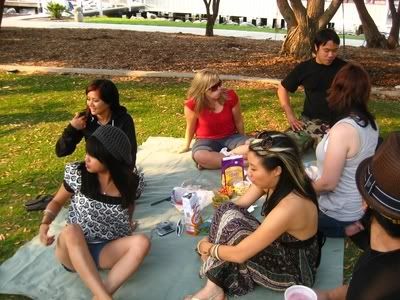 Irwin and Josie tossed the old foam ball around.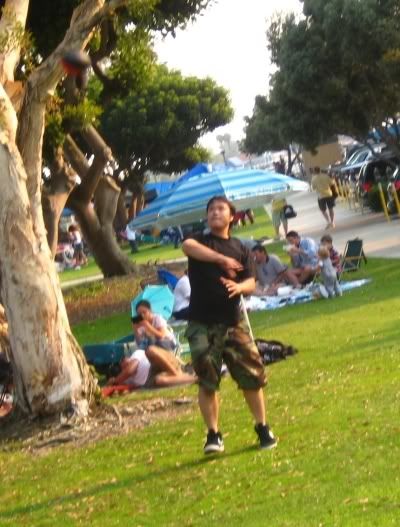 Brett Favrin'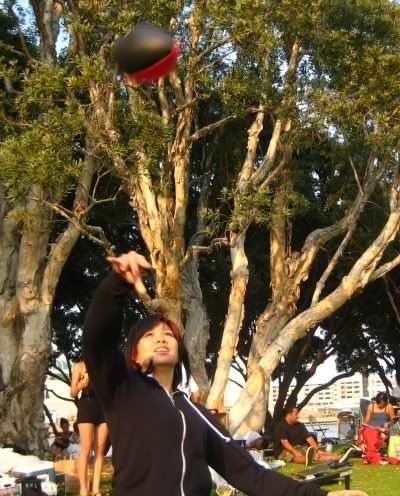 Aldridge rolled his ankle while skateboarding. Yup. Bummed.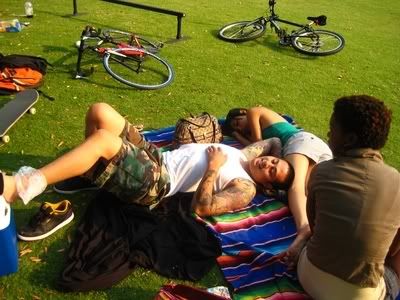 I left the BBQ early to chill with Stephen and some of our visitors from NorCal, Aviv and Duy. We met up with some of Stephen's Michigan homies.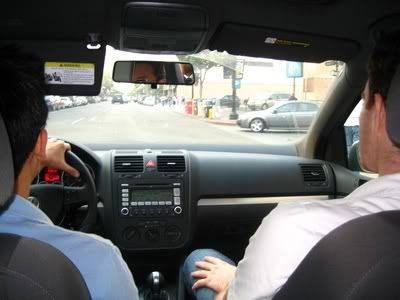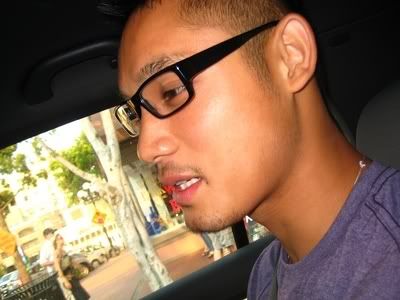 We first went to Catherine's and Brent's house for more food. While they prepped, we played some soccer.
2 hours later (notice the sky), we were able to hit the ball 10 times (no hands of course) without letting it hit the floor. Of course we hit a plethora of walls, cars, and rooftops.
The feast. The chicken skewers were cooked to perfection. Kudos.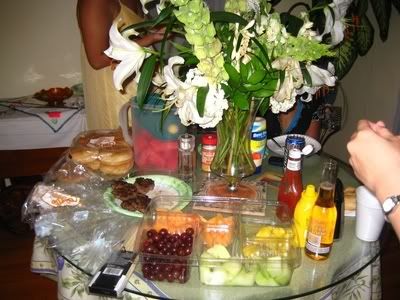 9:00pm was rolling around and we couldn't see any fireworks from the street. We climbed onto the rooftop to get views of 4 different firework shows. The view was amazing.
Tref & Stephen reminisce over Chicago and Michigan.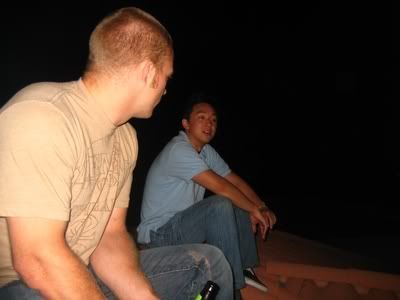 While climbing onto the roof, I got red rooftop clay all over my shirt, shorts, and kicks! On top of a that, a nail ripped a hole in the butt of my shorts too. Bummed.
Stephen had some trouble getting down...
But when he did, he kissed the first person he saw. Gay.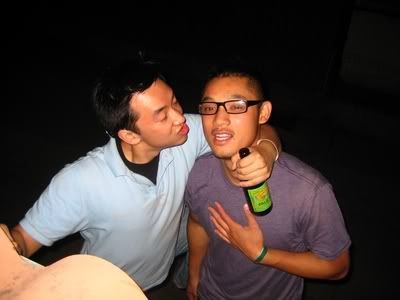 Shoe circle.... (yay?)
GAY!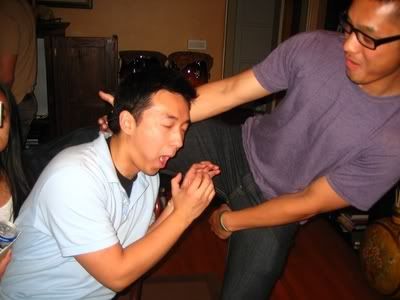 Then we headed out to PB for more drinky time.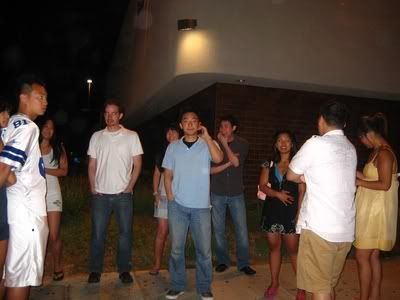 Our boy Adam (one-fourth of
BitofChange
) is always willing to offer his spot for a good time. He and his roommates were already hosting a kickback anyway.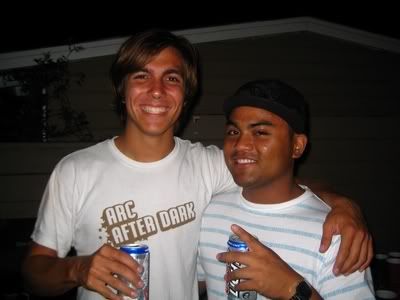 Cleaned off the tabletop for some flipcup action.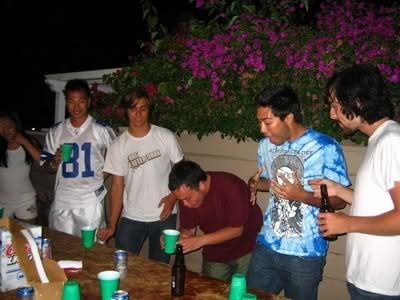 FLIP THAT CUP.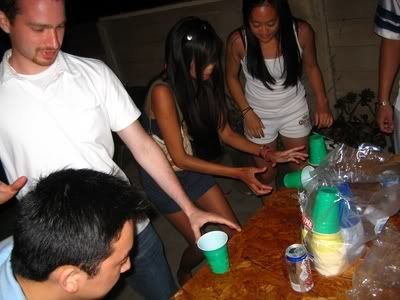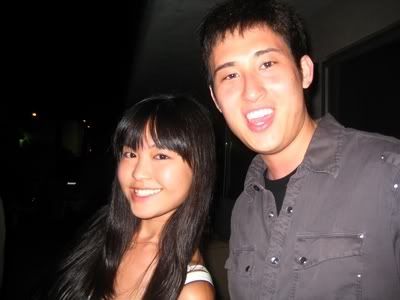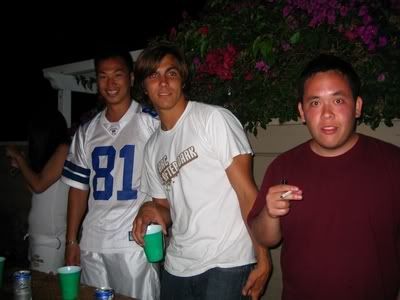 We ended our night with some Mexican food across the street. Fresh carne asada fries and rolled tacos.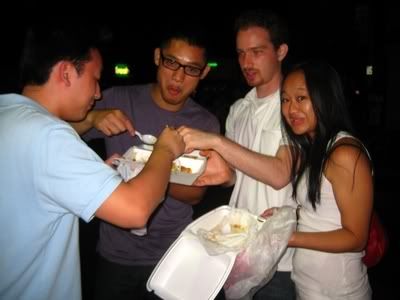 Tomorrow, Stephen will be hosting his Cinco de Julio party at his place in Anaheim Hills. I hope I don't see this too much. SUPER GAY!
Happy Birthday America. (I seriously heard this more than Happy 4th of July.)