Damn what a night. Stephen you easily topped off your previous 3 attempts at a great party with this one. The turnout was simply dumbfounding. Several pictures and memories were made that night, and we definitely appreciate everyone that came out to make Stephen's dream come true. And if I spelled your name wrong (or if I'm just completely off) please let me know.
UPDATE:
A video compilation of the party by
James Yonten
.
First off though, the end of the SD trip. Annabelle's enjoying the pictures from the House of Blues from
the other night
.
Headed downtown to the shop. Stopped by Blends SD to check out the sale. Irwin and Edwin man the canopy. That's a lot of shoes.
The other view from 8th St.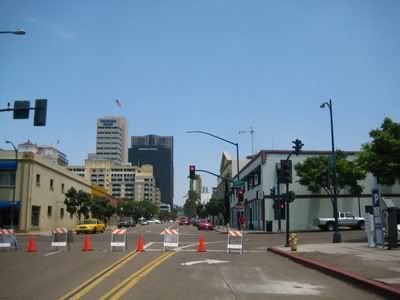 Dude, Annabelle will you just marry me already?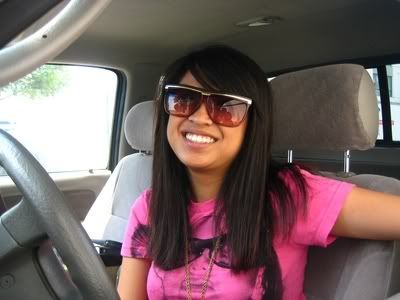 Big Geeoner opened up shop.
Flo and Julz came through at opening too. Had to take a quick timer shot.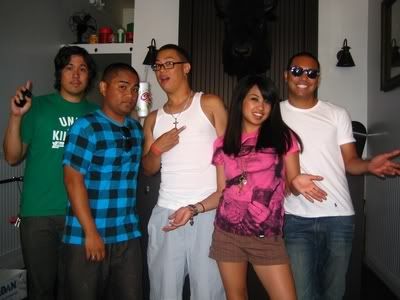 Gee and Flo checkin' out the pictures as well. "I was so FADED!" -Gian
Bossman Jay talkin' business with the employees.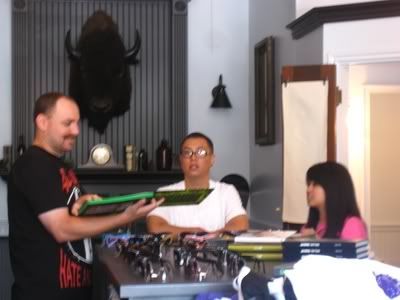 Eric (
steadyBOUTIQUE
/
Unsteady
) made an appearance as well.
Arsalon (Neighborhood) did some shoppin' and talkin'. Seriously, stop matching.
Roxy aka BLACK SUSHI!
Drove back home to Anaheim and got a few last minute items. On the way to Stephen's! (That's Brimo behind me.)
The tabletops from
Home Depot
. These were a great idea.
Stephen and Duy put up some decorations. The decor was not promising of a great party, that's for sure...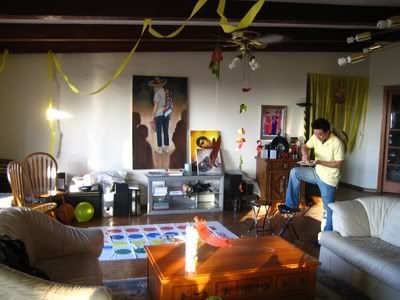 Balloons. Seriously?
This was the only decoration I really liked. Great custom of your
original piece
Amy!
PHASE 1: Tacos (Stephen started yelling these random phases throughout the night)
The taco cart was a major hit. They ran outta food! Brian enjoyed it very much so.
John, Wilson, Vic, and Jessica.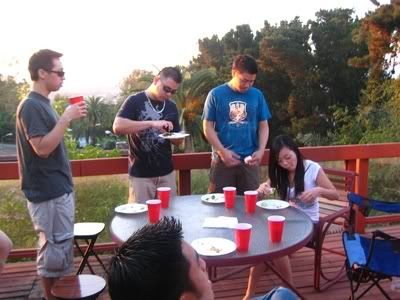 Jeff, Marcos, Barbara, and Harrison.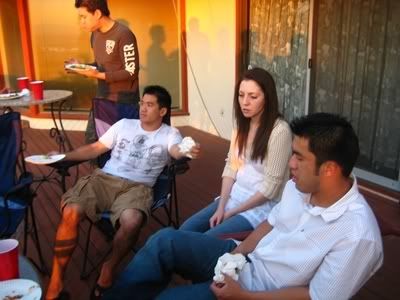 Anna and James.
Clarence, Jason/Neeraj, and Duy.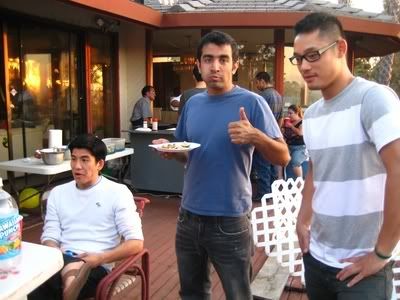 Bruce, Jasmine, and Adam.
Terry came through!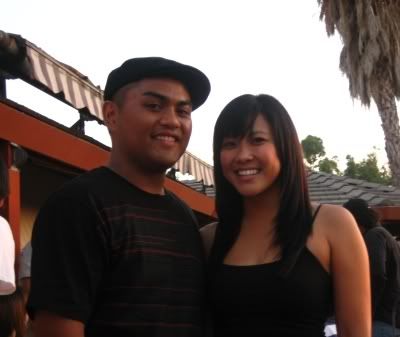 Hmmm... more people are here now..
Cesar enjoyed the tacos as well.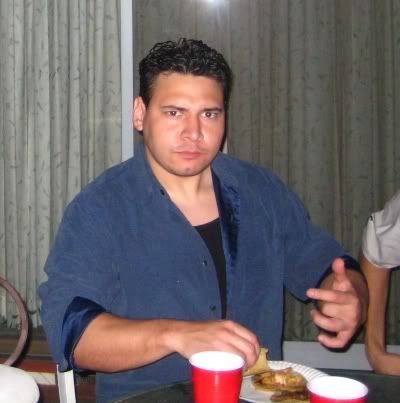 HAI HAI!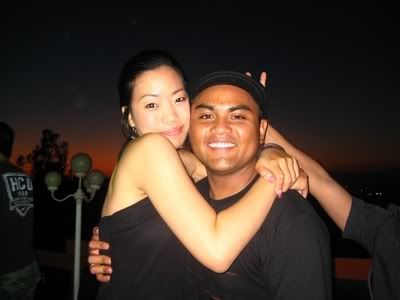 Jared and Lina came through too! (I'm excited just cuz it wasn't expected at all.)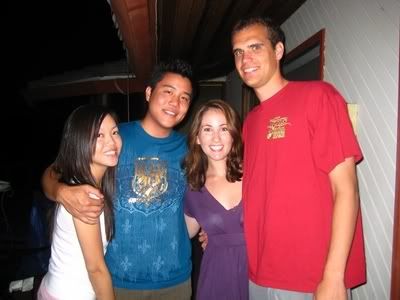 I remember when he used to tower over me. You're not THAT much taller... (when I stand on my tip toes... on a step....)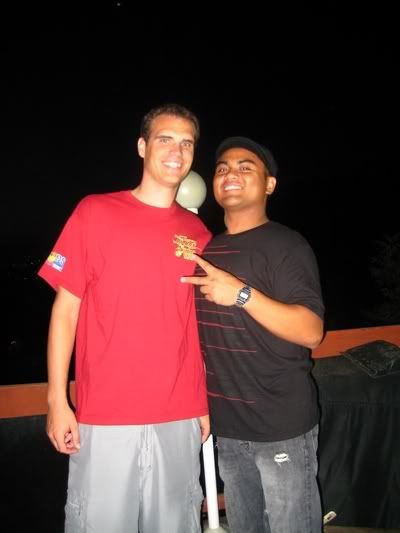 Me and Anna Louisa, the maker of the tacos.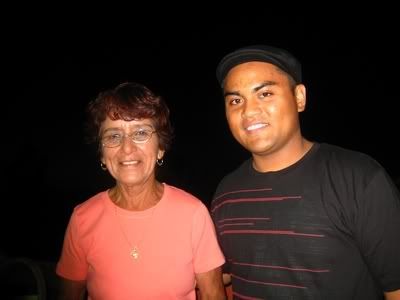 PHASE 2: Games and Light Drinking
Stephen busted out the piñata. No pictures of the actual destruction.
Twister was not a big hit.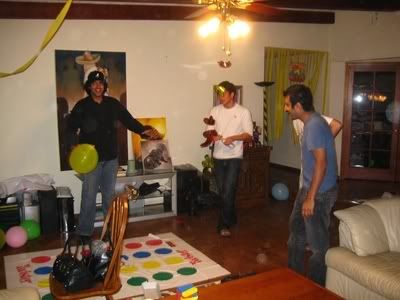 The kids from Alhambra started off the beer pong. Apparently Vic, Jessica, and Cesar were down the whole game by several cups...
But they made a comeback. Down to one cup each!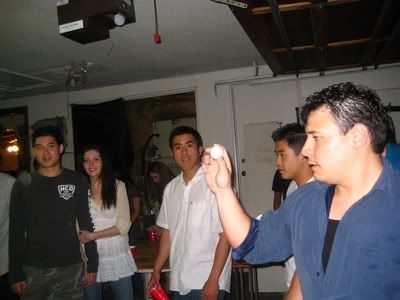 William, Wilson, and John ended up winning. Not much left for the losers to drink though.
Juliana and Jinny's crew got the first shots going. The whole "PHASE 1, PHASE 2,..." thing went out the window at this point. TIME TO PARTY!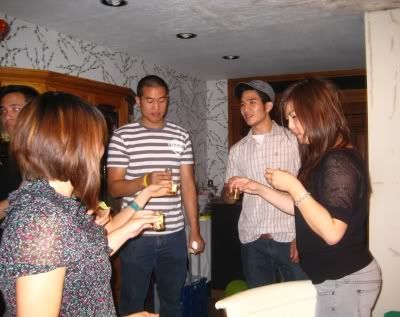 Aviv gets his tap on.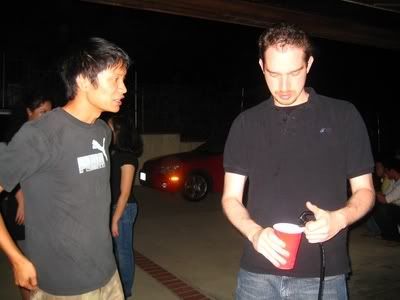 "Jomo, take a picture of me and my brother!" -Jenny. See what happens when you don't come through in the clutch and bring your girlfriends?? THAT'S WHAT YOU GET JENNY!
In other news, Mike is lookin' very stylish in his white short-sleeve buttondown. Very summer.
Barbara and Michael came through too! Saved them a few tacos from the cart. Sorry I couldn't do the same for you Channy and Gaston! :(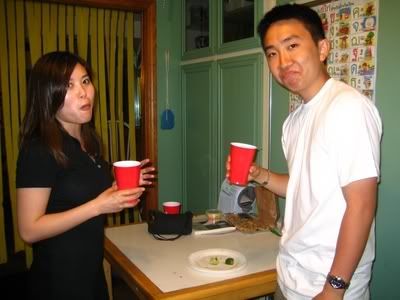 Wow, holy shit for real? This many people showed up?! Stephen, Cesar, and I were expecting about 35 people to turnout, and shooting for 50 people as a joke . The final tally was around 70! Awesome.
Yup. More flipcup action. MATCH UP!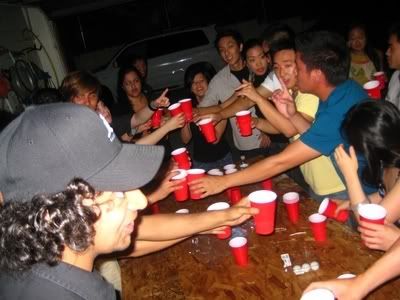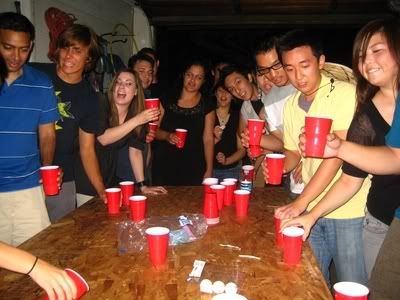 Duy gets one in the stink from Jenny. Igniting old
San Fran flames
...
and traditions
.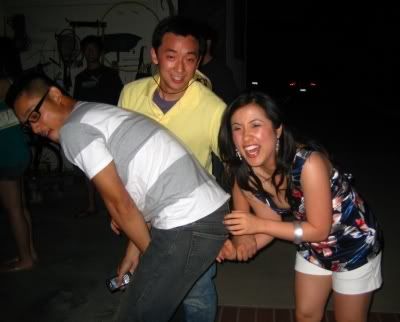 Brimo getting his drank on.
JENGA! (I could not find a decent youtube video for that one.)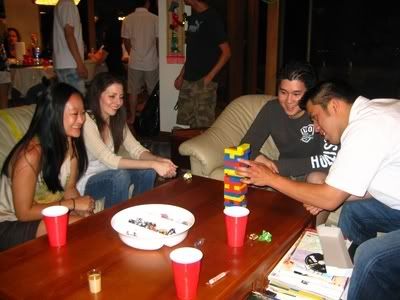 Clarebear!
Jenny and Marcos. Hahaha. Sorry to make you do that Marcos.
Me and Señor Esteban.
Cute.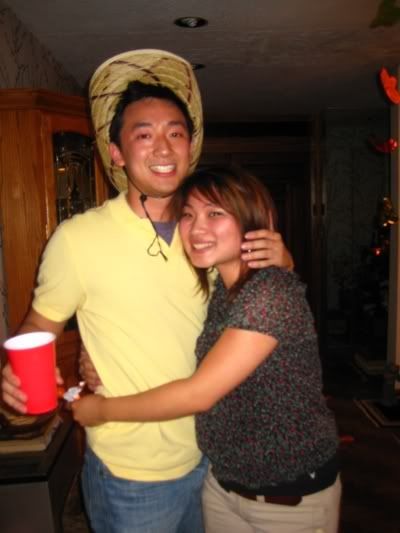 Stephen's friend and former dormmate Cindy from U of M.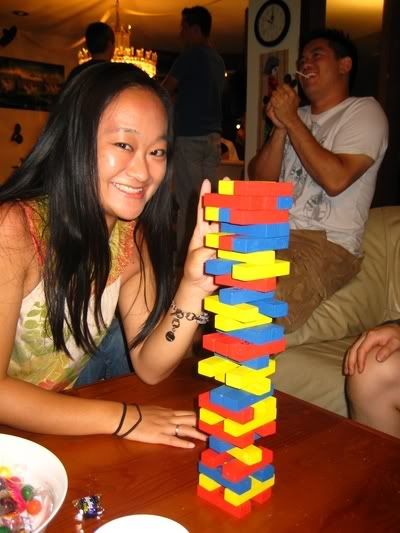 Same ol Stephen and Jenny...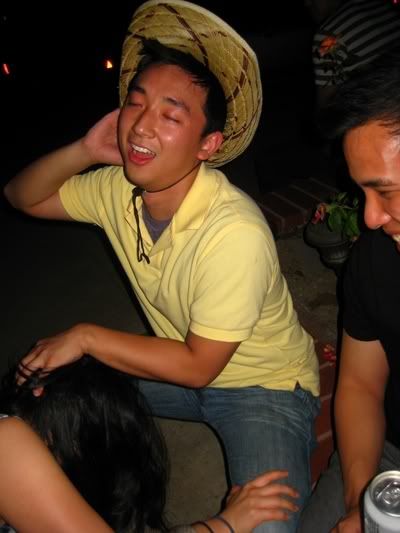 Shots outside.
Cindy, myself, and Jenny (Michigan).
Stephen cannot take pictures.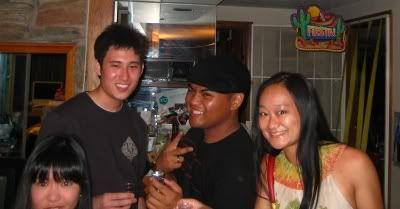 More shots.
MORE SHOTS?!?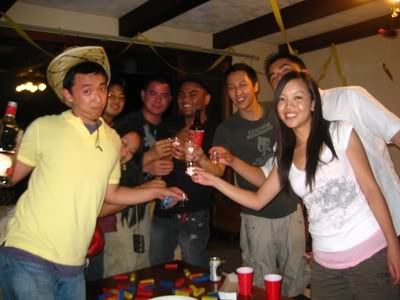 Now I see how I ended up all over the place... The past few shots pictures were taken within 15 minutes of each other... And am I seriously turning red?? I'm already brown!
I'm seriously astonished by this turnout.
KEGSTAND!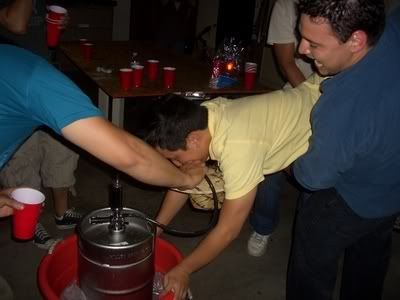 Me, Michael, and Cesar.
We knocked Michael out and stole Barbara away. SUCKER!
James, Jenny, Corwin (HAPPY 25th birthday!), and myself.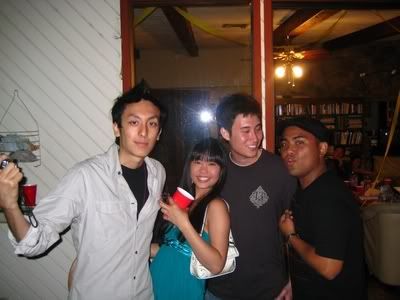 Papa Bruce giving me the heimlich.
Yea.... So I guess I was dancing a lot..
And I battled someone and topped my set with a suicide flip..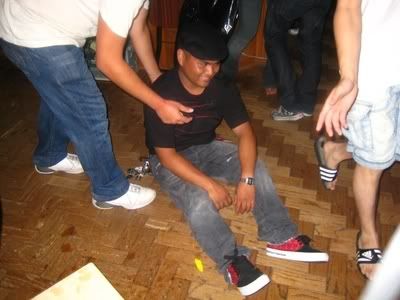 I seriously don't remember this..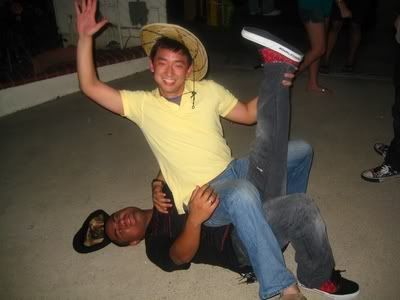 Sorta remember this. Diana!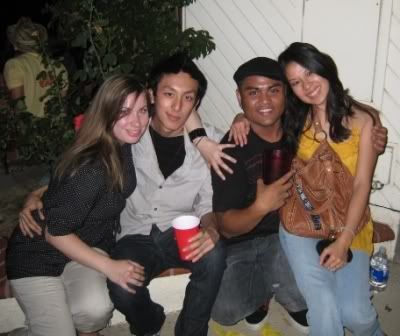 Me and Amy!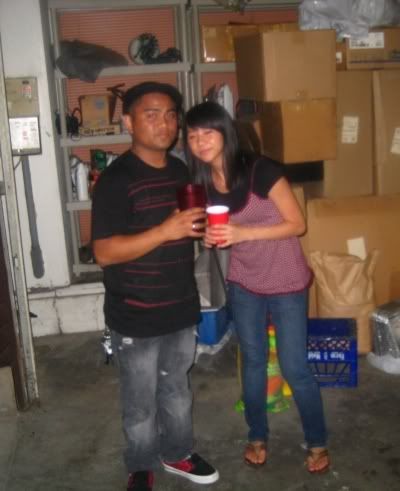 Bruce and Stephen getting their velo on.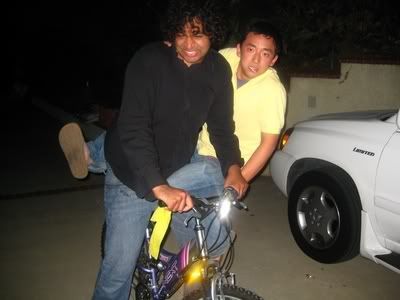 Quote of the Night: "Bruce, please get Stephen laid so he stops humping guys." -Amy, Stephen's sister.
Looks like Bruce failed.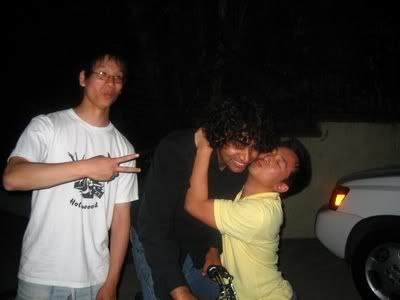 I think this is where Bruce had my camera for the rest of the night. Thanks for continuing the picture-taking B. Jasmine is stylin' in the cap.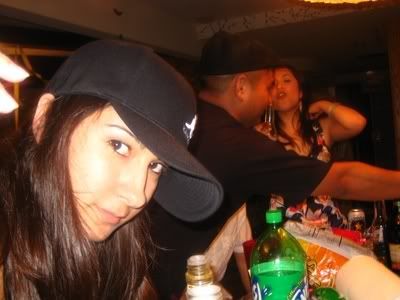 Whoever gave me this cup of water, I thank you.
Jasey-poo!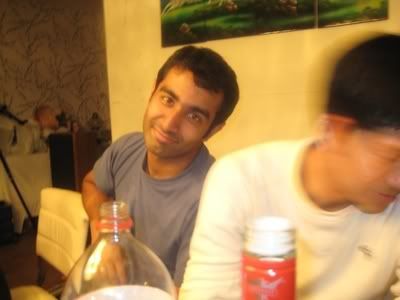 This looked kinda serious. Michael, we were just kidding. We didn't even kiss her!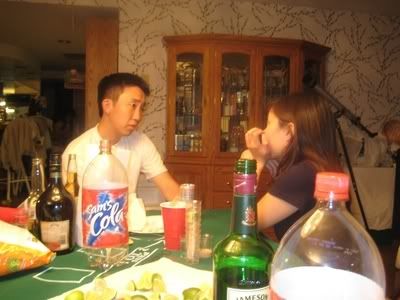 Nice close-up.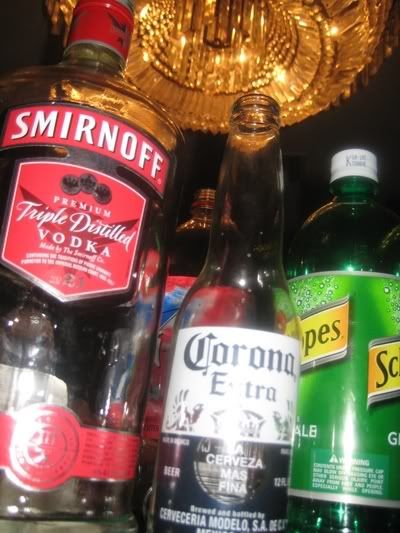 Even nicer close-up!
Apparently Stephen set his crotch on fire for a good 10 seconds. Will and Eileen console him.
Well maybe Stephen's turning back to the other way...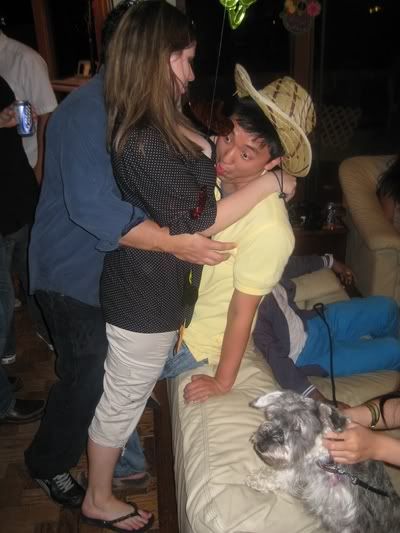 Helen and Arine!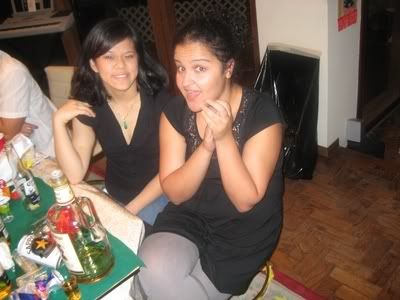 Winter Formal 2002!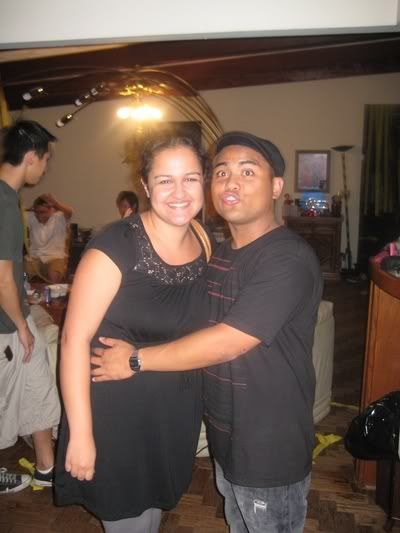 And looks like someone took my camera to Del Taco. Thanks Bruce for Del. I THINK I had some...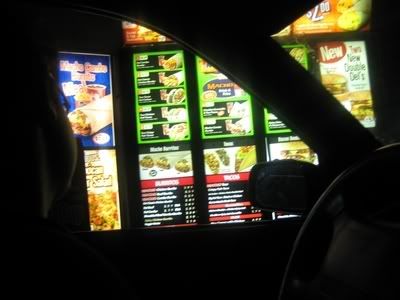 Duy, Stephen, and I made a trip to Jack in the Box for some breakfast the next day.
Stephen lent me a pair of his gigantic flannel shorts, and honestly, I need a pair of these. Too comfortable.
We were waiting for the Wimbledon Men's Final (CONGRATS
RAFAL NADAL!
) to resume after rain delays.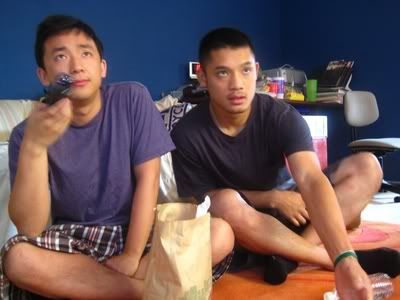 Irony: they were watching
I Now Pronounce You Chuck & Larry
. Also notice that Stephen is wearing Duy's shirt from
yesterday
. Still super gay.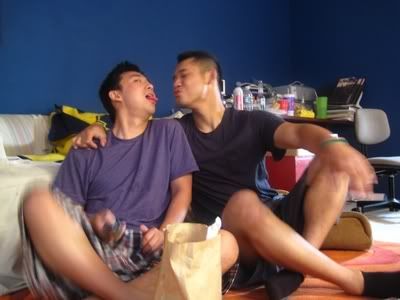 We cleaned up after breakfast. Stephen and Duy were laughing at the balcony.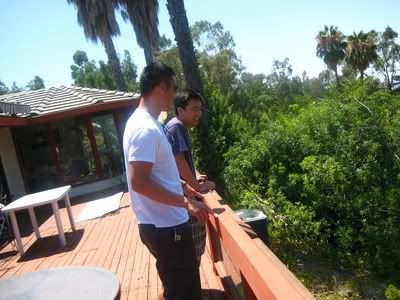 Stephen threw my camp chair over the balcony last night. DICK!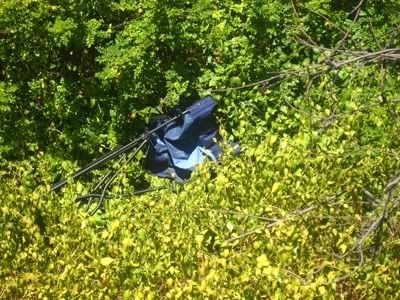 Cindy found these two dogs running in the streets at 2am. We kept them overnight and left a msg for the owners. Meet Charlie and Shailai.
They're the sweetest dogs I've ever seen. Very playful and well trained! Cindy and I took them for a walk later after cleanup. Aren't they beautiful?
Duy, Stephen, Aviv, and I made a trip to Chipotle for lunch. Stephen dropped off the keg to BevMo as well. The final tally of consumed alcohol, this keg, 60 bud lights, 6 handles of hard liquor, 6 2-liter sodas (that was not enough), a couple bottles of Coronas and 24 water bottles (definitely not enough).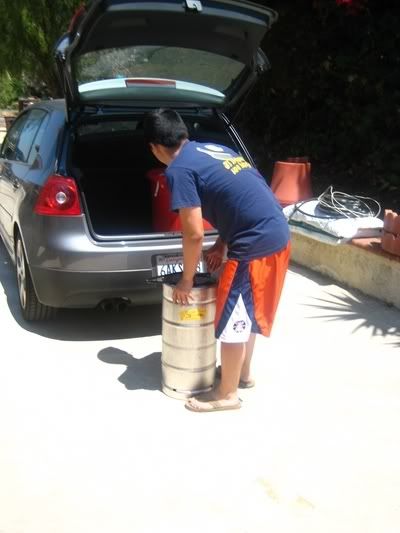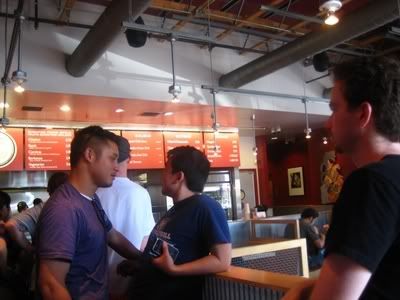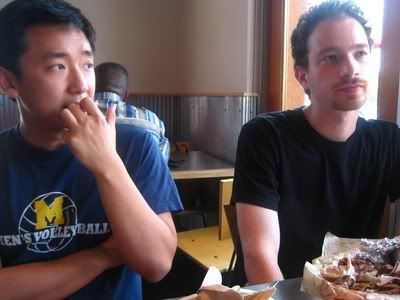 Once again thank you to everyone that came out last night. The house was relatively clean for a party, and there were no remnants of puke in any of the sinks/bathrooms/floors. I'm glad that everyone from the different groups actually talked to everyone else and got along (Vic's friends from Alhambra, Juliana's friends from College, Amy's friends from college, Stephen's friends from college, and of course the elementary/middle/high school friends). That was the most random collection of people that I've seen here. Seems like everyone got home safe as well. Hope everyone enjoyed themselves (and I apologize if I did anything to offened/alienate/weird-out any of you). If you've got pictures, lets trade! And of course congratulations to Stephen for hosting an epic,... nah fuck that, a LEGENDARY party. Fuck the "E" word.
When's the next one?
Also, if you have any additional links to pictures or videos, please feel free to post them in the comments section. Thanks!