On Saturday we celebrated 2 of my favorite November babies' birthdays: Stephen (Nov 7) and Jasmine (Nov 9). I'm not sure how Stephen came up with this idea (he was probably watching
My Super Sweet 16
or something) but he thought it would be nice to go for a limo ride. None of us have really been in one so definitely another new experience for the group.
To sum up the night: we drove around Huntington and Newport Beach, hit up a few bars, and head back home. The problem: my memory blacked out before we left Huntington (a little before midnight). Lesson learned: EAT A MEAL BEFORE YOU GO TO AN OPEN BAR LIMO. I'm basically piecing this blogpost together with the pictures and by talking with the others who didn't pass out. Many thanks to Jasmine for letting me use some of her pictures.
The Group: Cesar, Jasmine, Helen, Julia, Bruce, Stephen (not pictured here are myself and Daniel).
The limo came by at 10pm.
Here we go!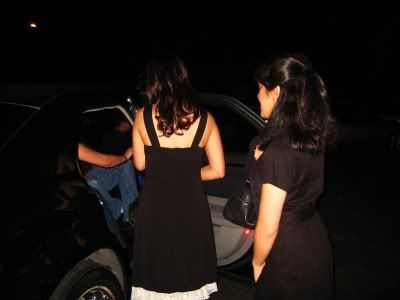 The coolest shot of the night. I caught some of Daniel's flash. The limo had cool lighting, open bar, and an ipod jack. Notice how normal Stephen looks. Trust me when I say that that's now he ends his night.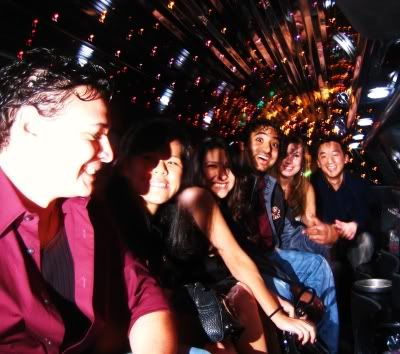 Vodka and orange soda. Sure why not.
The night starts fun and innocent. Just good times chatting it up.
Stephen. Notice how he starts to transform: redness appears as well as a vain in his forehead.
Bruce and Helen.
Then we start drinking the brandy. I had 2 glasses of this I think. Normally this wouldn't knock me out, but I hadn't eaten anything since my early breakfast.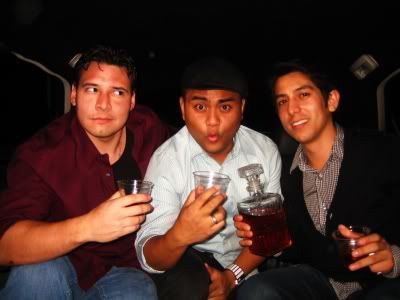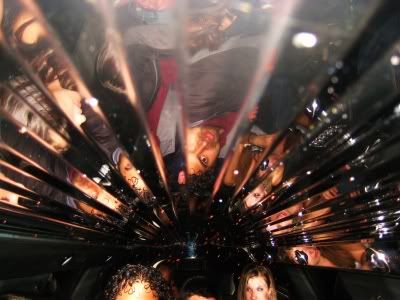 Bruce and Jasmine.
We pull up to Huntington and people must think we're some kinda big deal with the limo in this locals-type of area.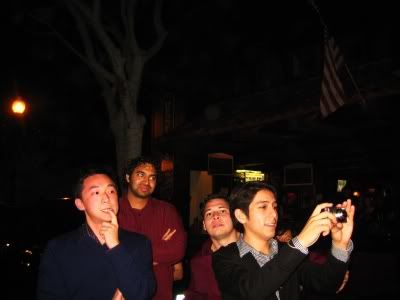 Me and Helen.
Yea. I'm not sure either.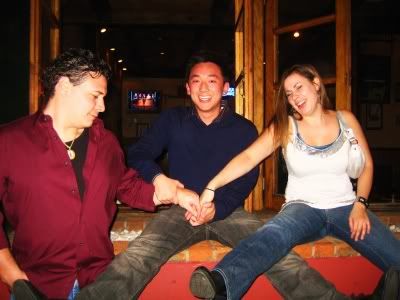 To my surprise, Juliana and Will meet us up!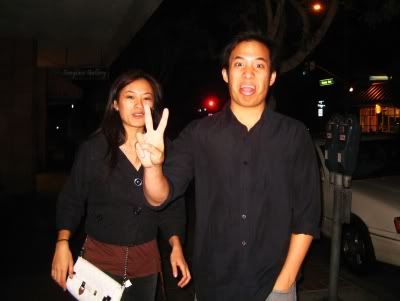 The spot we stopped at was basically a dive bar. We figured that we're better off crusing in the limo with the free drinks. Juliana and Will come for a bit of the ride. I guess that's my 3rd cup of brandy. That one definitely put me over.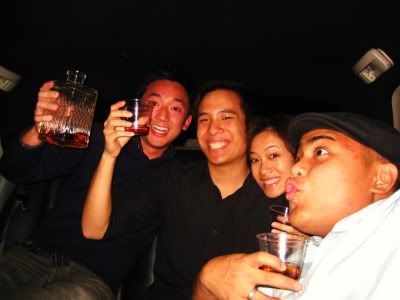 Here's where the night gets a little sour. It looks like the limo was open bar, but he was only stocked with 2 small bottles which were pretty much gone already. After a little bit of a heated conversation between Stephen and the driver, we stopped at a nearby Ralphs to get more.
Cesar and our new prez.
And then basically after this point I have little or no recollection of what happened. I don't remember taking ANY of these pictures or going up to Newport. This part of the limo ride didn't exist in my mind until I saw the pictures.
Stephen kicks my butt.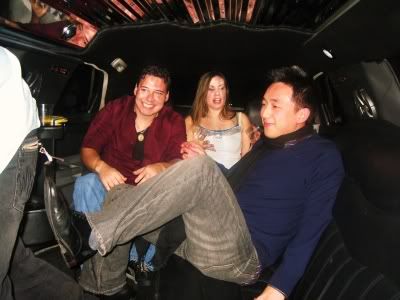 And then tries to stick his head in it? (WHAT THE F**K?!!)
Jasmine. Damn we look good in this picture!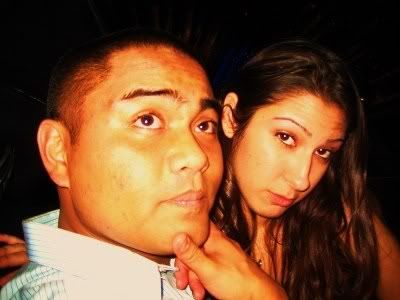 Not so normal now huh...
Peep the spill. I hope that's your drink Stephen. Poor Jasmine.
Brucey B.
I guess we're in Newport now. And Stephen bought a round. Idiot.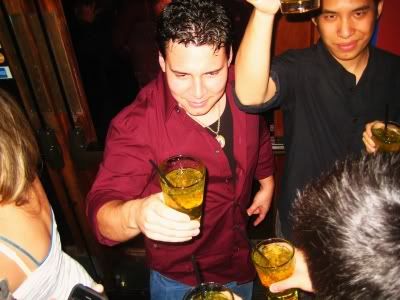 Damn really!? Another reason why I hate blacking out. Where's my hat?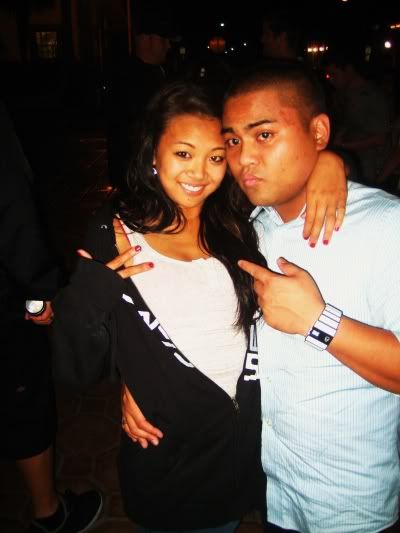 Is that a bum?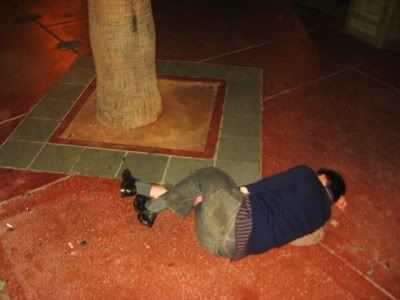 Nope it's Stephen. Apparently a girl went up to him, looked him in the eyes and said, "You're Chinese. You're better than this!". Stephen responded with, "I'M JUST A CHINK!". Wow.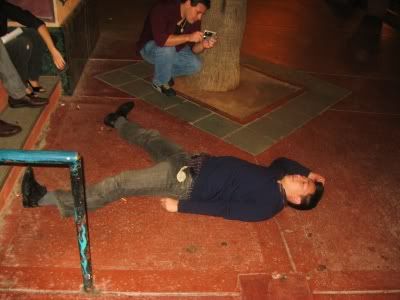 Also you can check out Stephen's new MySpace profile picture.
CLICK HERE
. You can add him on myspace under his alias "JUSTACHINK -.-"
Sooo.... I guess after this point we got back in the limo and went to Del Taco near our houses and then back to Teco. Bruce and Jasmine taxied Stephen back to his house and me back to Bruce's. Many many thanks to you and all of my other friends for taking care of me. Don't mind the "X". It's blocking the puke out.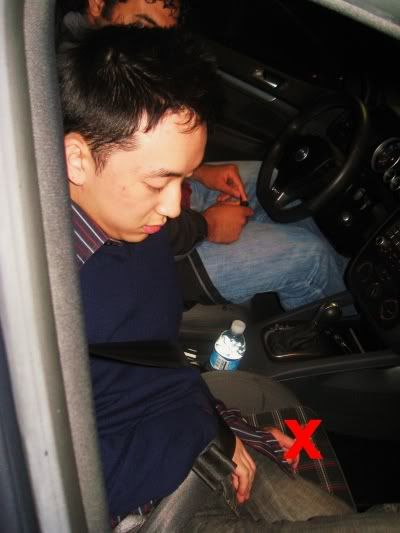 Yep. Tired.
The next morning (8am) I woke up and freaked out. I didn't know how I got to Bruce's house and just remembered that it was a pretty short night. I drove back home and got back in bed. For some odd reason my socks were wet...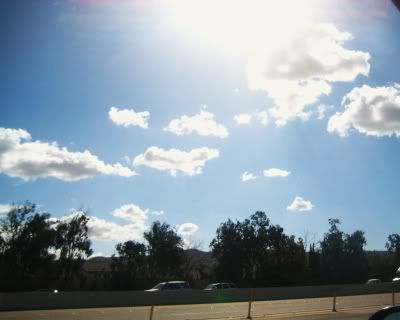 Met up with Bruce and Stephen at Oggi's Sportsbar to watch some football and get some much needed food. We were also able to recap the night. It was mostly Bruce talking about how crazy Stephen and I were. Some stories include Stephen eating his bar tab receipt, and humping a random stranger (of the male gender I might add). Also, we were only at the bar in Newport for like 10 minutes before Stephen got us kicked out. So I'm still puzzled as to what we did for the last 3 hours of the night. Oh and as for my wet socks. Apparently I was standing in the parking lot at Del Taco without my shoes, giving high fives to people coming by. Really?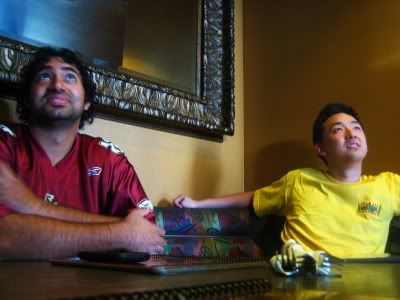 Some food shots of course. Wonton nachos.
The Heavyweight: pepperoni, ham, and ground beef.
The best part of the meal was the Italian quesadilla which had chicken and bacon with Italian dressing on the side. Delicious!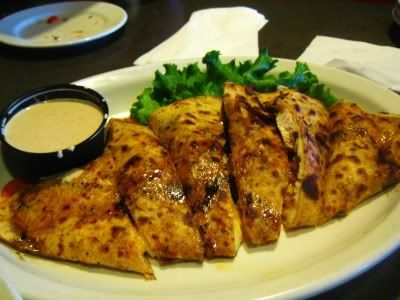 We walked around the mall for a bit and Stephen was walking kinda funny. Like he shat his pants...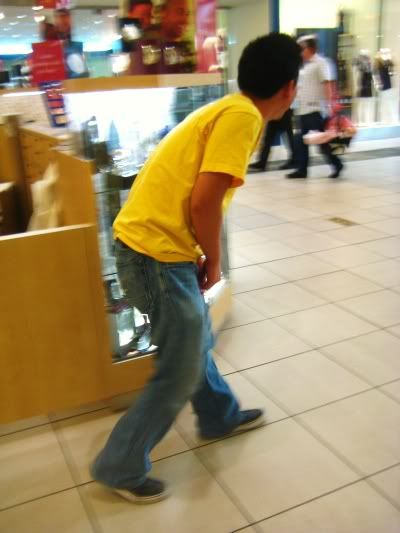 Still not normal.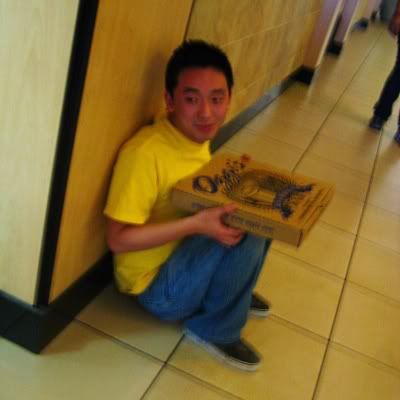 We stopped by Teco to see if any of the carnage was left over. Bruce said that before we left, we just had Del Taco trash and alcohol bottles all over the parking lot. Stephen's dad came by in the morning and thought the day-laborers were partying and drinking in front of their building. Sorry Mr. Chen. When we got back most of the mess was cleaned up except for this un-eaten chicken soft taco.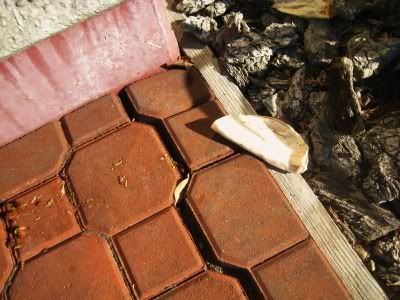 Once again, I thank my friends for taking care of me and putting up with me at times like this. I hope you all had as much fun as I seem to have had. I definitely owe you all one. Also another set of happy birthday wishes to Stephen and Jasmine. No more drinks for a while. Please and thank you. :)