I got the call around 12:45pm on Saturday from my brother that they were evacuating the house. The signal was pretty bad so I couldn't understand much of what he was saying. Then about an hour later I got word that one of the houses on our street caught on fire. I had to postpone the rest of my San Diego visit.
Here are some shots from the 5 freeway as I was heading back. This was from around San Clemente.
As I approached the cloud of smoke got bigger. Here's Irvine/Tustin.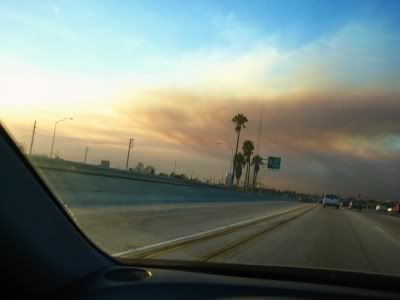 And now from around downtown Anaheim.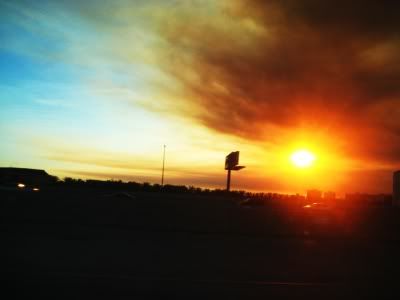 And here's a shot of the smoke from Serrano which is the hill opposite to mine. Thanks to Jennifer for this picture. I can't imagine what it looked like from our own street.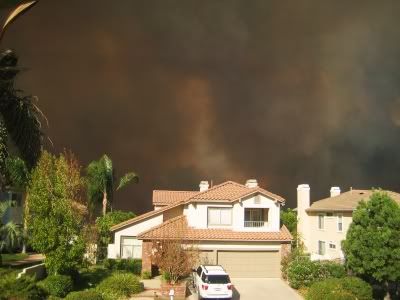 Many thanks to the Kaiklian family for letting us crash the pad for the evening. We turned it into a "family party".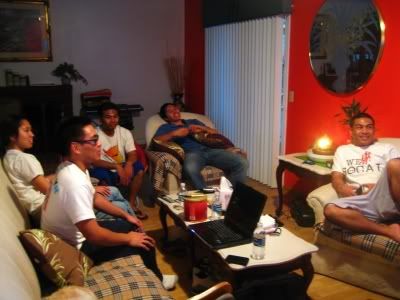 Much to our dismay, our street (Morningstar) was being highlighted frequently on the local news.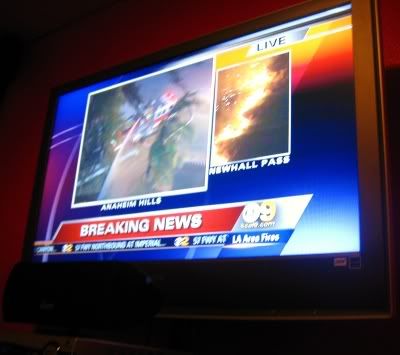 We took a break to make a quick Target run. Some of us needed some toiletries and other necessities for the night since we wouldn't be going home anytime soon.
Brian also picked up Apples to Apples. Jennifer got some old school Fruit by the Foot and string cheese (not pictured).
I also picked up some Carl's Jr since I've been craving it for the past 2 weeks. Hellz yea.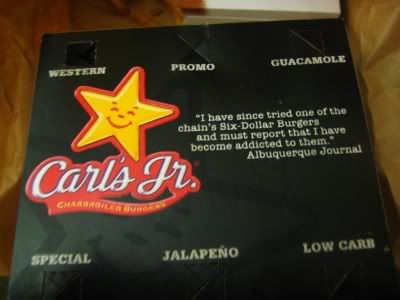 Living in California, you sometimes think about what are your prized possessions and what you would take with you on such short notice. Luckily for myself, I already had my computer and a set of clothes to change into from San Diego. Here are Brian's priorities.
Our parents spent the night at an uncle's house. Brian and I took up Michael's offer to crash at his place. Bruce, Jasmine, and Stephen also came by to hang out.
We grabbed some DT.
And a dozen donuts.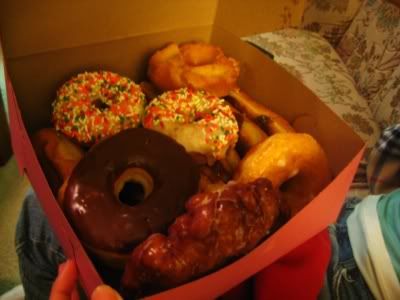 We got a long f*cking game of Apples to Apples going. About 3 hours long.
It came down to a tie. The judges.
And the finalists: Brian vs Michael. Brian prevailed in the end.
I was exhausted by the end of the day. I couldn't wait to get to bed since I got about 4 hours of sleep the night before. But rather than sleeping, I accidentally clogged Michael's toilet and we were up until 5 or 6am (I'm not sure because I fell asleep here and there) keeping the floor dry. Sorry dude.
As far as our house. Judging by the arial shots of the fire on our street, our family was fairly confident that ours was safe. I mentally prepared myself for the worst and hoped for the best though. By midnight however, it appeared that the fire was pretty much contained in our area. Coverage shifted over to Diamond Bar and Chino Hills. Brian and I tried to get back to our house but the streets were blocked off from everyone.
What a long day.