The next morning we got a call from our parents that they were able to get back to the house. Brian and I were pretty eager to get back to the house so we tried to leave. Michael's mom wouldn't let us leave without a little breakfast first. This takes me back to about 12 years ago when I used to spend the night at Michael's house. When we woke up, Michael's dad would have breakfast ready with classical music playing. His dad would also quiz Michael on the name of the composer and symphony. He was a drill sergeant you know.
Fresh squeezed OJ, bacon, scrambled eggs with bits of ham, and hand-diced fried potatoes. THE BREAKFAST OF GODS! It was so delicious. Thanks Mrs. Soh! You guys should open up a bed and breakfast.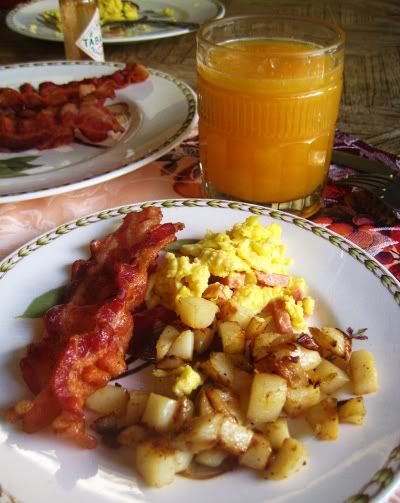 I also took a quick picture of Michael's licence. I think I'm gonna start a collection so watch out. Look who's birthday is coming up. KP for life.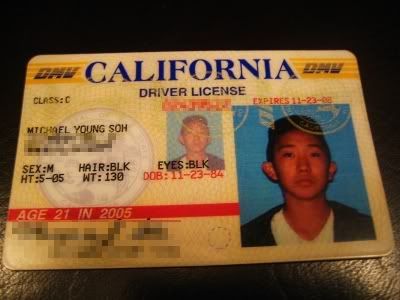 Brian and I headed back to our neighborhood. We stopped by the bottom of the hill at The Cascades apartment complex. Something around 86 units were lost here. A lot of worried people here.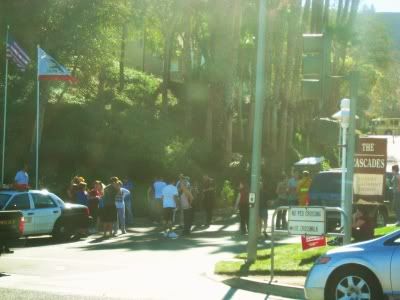 Then up the hill to our spot. Unfortunately they still weren't letting people in. We later found out our parents snuck behind the lines while the officers were occupied. Badass. But the awesome news that morning was that I COULD SEE OUR HOUSE!!!!!! It's the fifth one on the left. What a fucking relief.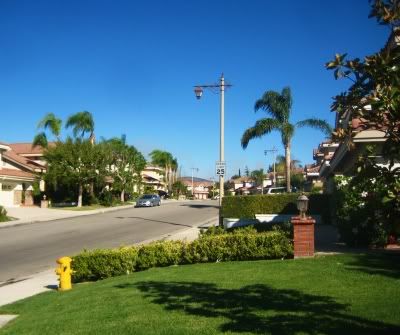 Since we couldn't get in, Brian and I drove down to Savi Ranch to see if Costco or Best Buy or any of the other shops burned down. Turns out that they were ok. Check out a screenshot of the place we were at. Notice the blue stream/river.
Well whatever water was left was probably used to put out some of the water. Either that or it was already dried up. Nothing left but charred tree skeletons.
Brian ruining a perfectly good pair of Jordans. There were a few brush fires in the parking lot which left a thick layer of ash.
Some flare ups were still occurring in Yorba Linda. Damn that's pretty close to that house but we watched the fire fighters put it out.
Since we had nowhere to go for a while, we went to Best Buy and played Rock Band for like an hour on a super sweet sound system. We also spotted some fire fighters taking a break from a long night playing some Mario Kart. Even heroes deserve a break. Thanks to you and all other fire fighters out there.
We decided to go back home to check on the status. Coincidentally, when we got back, they just started letting people back in. We were pretty stoked. I gave a huge yell of joy when I walked through my garage and ran up to my room. On the way up, I noticed I tracked a lot of dirt and ash into my room. Turns out that my dad left a few windows open throughout the house so a lot of ash got into the house. But thank God that was the worst of our problems.
As soon as we got back Brian and I walked down the street to check out the damage. We weren't the only ones there.
Before I post the aftermath pics, here are some shots of the fires courtesy of the OC Register. Here's the Angeles's house.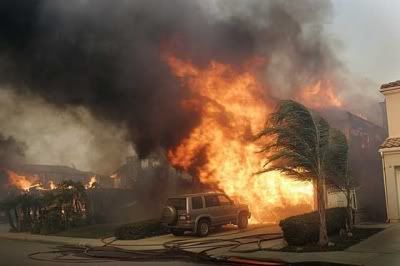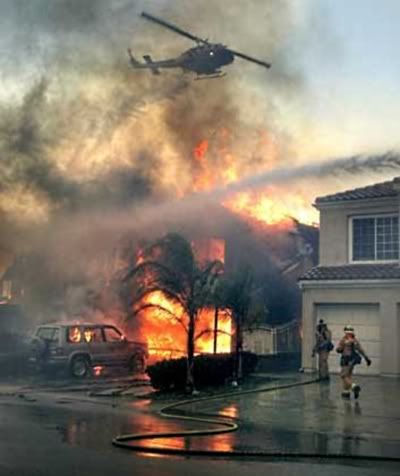 And the house with the long driveway.
And here are some of the pictures I took.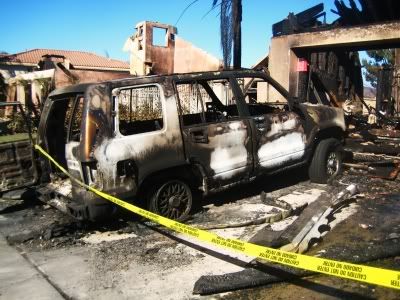 It's kinda crazy that the house to the right was untouched (except for a broken window).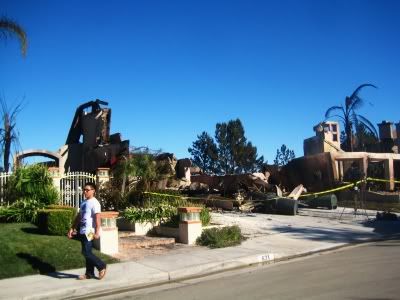 And here's our house which was 18 houses away from the fires. Our house was untouched. No fire or smoke damage. It's hard to feel so happy for ourselves while others suffered.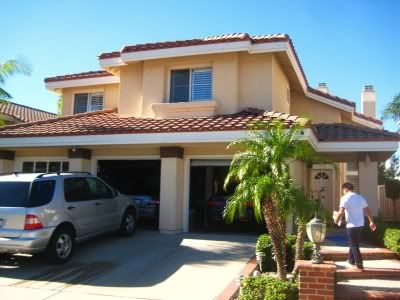 And here's a map of our street. My house is circled in blue. Tunde's in green. And the 6 red X's are the houses that burned down. A few of the houses around the burned ones were also damaged.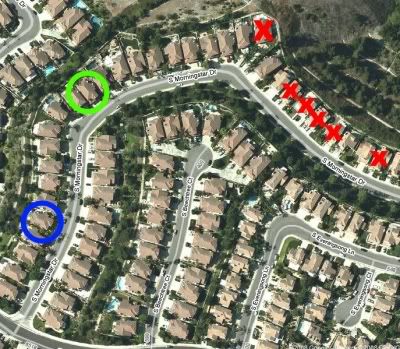 The untold story of our block: my next door neighbor Mr. Carey is a firefighter and had a firehose in his garage. Rather than evacuating, he stayed behind with his son and popped open a fire hydrant. He sprayed his house down and also a few of our neighbors, including our own. Thank you sir. You may have saved our house.
I want to also thank the entire fire department for the effort they have been putting in for the past couple of days. It's amazing that more homes weren't destroyed.
And lastly, I want to thank everyone who called, texted, and messaged me to check on our family and home. The concern and outreach was amazing and heartwarming. It's nice to know people are out there for me. I always knew you were, but this was very reassuring. Thanks again. I love you all!
I wish the best of luck to those who live in areas that are still experiencing fires. Also my thoughts and prayers to those who lost (or know someone who lost) belongings and homes.