An annual tradition. We play some football every Thanksgiving because most of our friends from high school are back in town from wherever they may be to visit family for the holidays. We thought that our game would be rained out, but by the time we all got to Peralta Park, the rain stopped and the sky cleared up a little. IT WAS DESTINY! The fields were also cluttered with a bunch of other groups playing. So we walked down the field and ended up at Crescent Intermediate. ALUMNI OF 1994-1996!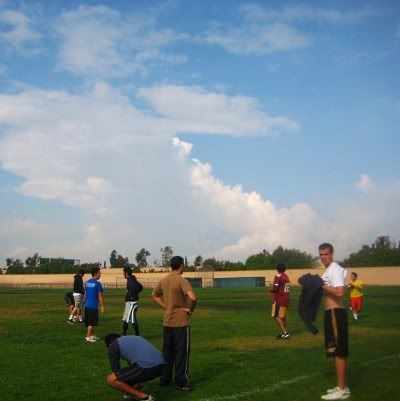 The teams were decided by Justin's dad and Jared. Damn how many of your dad's play football with the crew? Jared somehow ended up with all the guys that had cleats. Good strategy.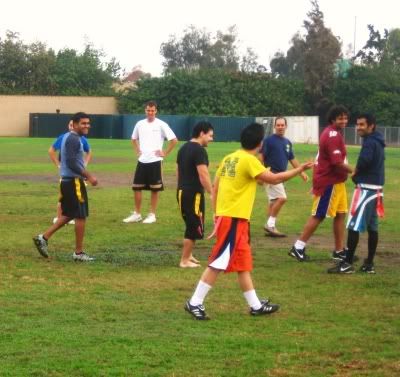 Nothing like some football on a cool crisp day on some muddy grass fields.
Kickoff!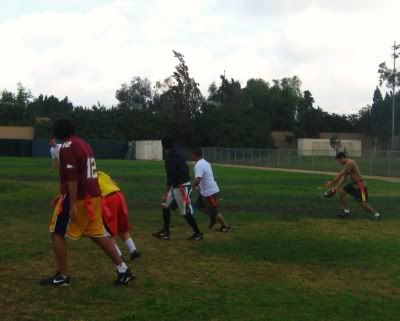 A lot of pregame sh*t-talk was going on over the mass email. Specifically about whether or not cleats should be allowed. Because of the rain situation, a lot of us bought a pair to avoid any injuries. Cesar on the other hand was the anti-cleat player. Not only did he not wear cleats, he didn't wear any shoes! Crazy bitch.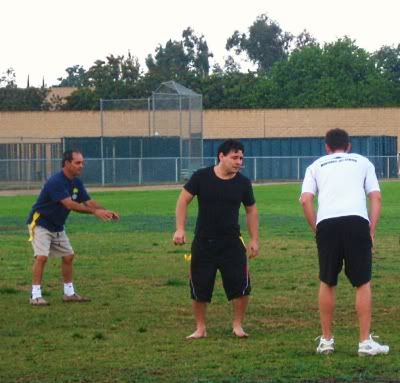 Team cleats: Jared, Hiral, Justin, Stephen, Jason, Bruce, and Me.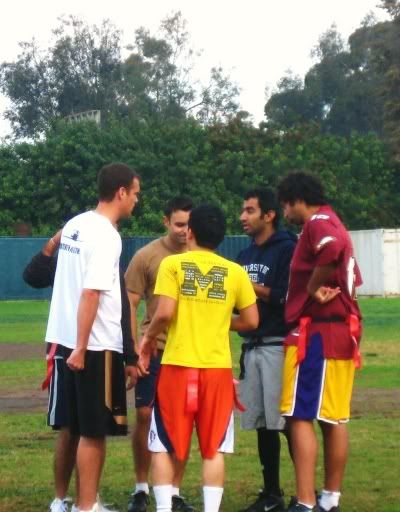 Team no cleats: Suraj, Brian, Cesar, Garrett, Mr. Estrada, Michael. Clarence came a bit later and added a boost with his own pair of cleats.
Get open!
Talking strategy without Michael.
F**K YOU TOO BITCH! GET IN YOUR HUDDLE!
Not sure why Jason's dancing. The play is about to start.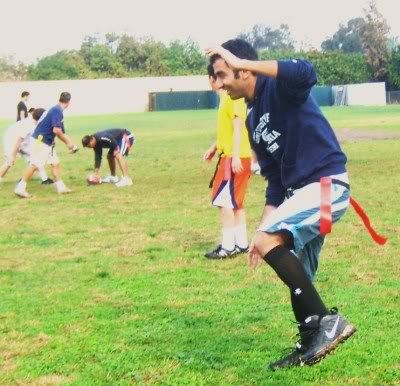 DIVE FOR THE BALL!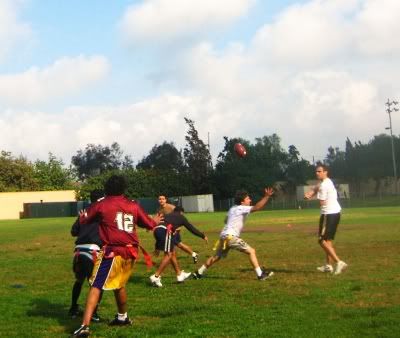 The last picture on the field. When Clarence came, the teams were evened out and no one to take any pictures.
In the end, Team No Cleats won 36 to 30. We were up 2 touchdowns too! Ugh. Chalk this loss up to Jason who threw a late game interception and also let this guy score the winning touchdown.
Kinda ironic how a guy with cleats was out run by Cesar without shoes. Check out his feet! That was after he scrapped the mud off.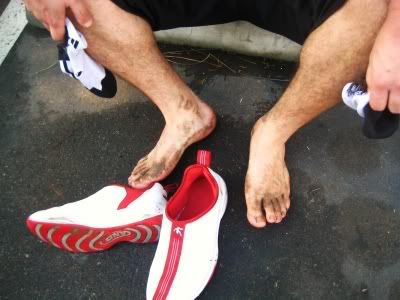 A shot of the old parking lot where we used to wait for our parents to pick us up. Lots of good times at this school during 4th through 6th grade. This is for the Crescent Bulldogs!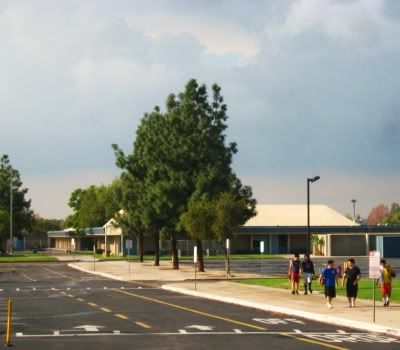 Good game everyone.
Time for turkey soon... I'M SO HUNGRY!!!