So Friday night/Saturday morning I was up till 5:30am editing and uploading pictures from
Cesar's birthday
and also
Eileen & Diana's birthday at Libertine's
. I figured that I would just knock out and wake up around noon, pack, and then visit the homies in San Diego. I was going to take Bryan with me too but he was just completely on the fence about it and decided not to go in the end.
I woke up on Saturday at 8:30am. F*CK MY INTERNAL CLOCK! SD would be a no-go since I was just so tired and probably would have just passed out at Bumsville. So I let Jenn know about the situation and that I would just be chillin' at home. Then I half-joked that they should come visit me instead and after a little discussion with the other peeps, Jenn, Terry, Josie, and Gian were Orange County bound! ABOUT TIME YOU F*CKERS VISITED! We decided to meet at the Irvine spectrum for lunch at Yardhouse.
Jenn & Terry aka the Korean girls in Gray always on the phone. They were actually getting plans in order for their trip to New York next month. I might be out there in April too, but I would be there at the end of the month.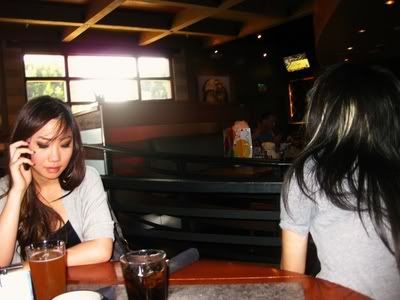 My brother from another mother, Gian. And my sister from another mister, Josie. I've known these two since the summer of 2006 (or maybe 2007) when 5&A Dime was at the old spot and they were there for the ComicCon BBQ with Wheaty Wheat. They're like my family.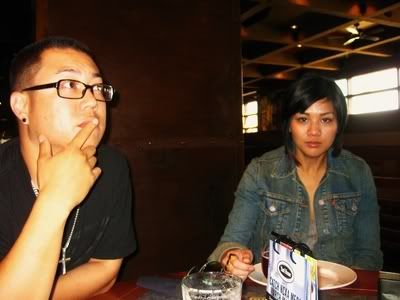 Terry's spiffy specks.
Still on my vegetarian tip. Ordered the garlic, basil, mozzarella, and tomato pizza. The garlic was sweet and the tomatoes were roasted perfectly. I will need to order this again because it was DELICIOUS.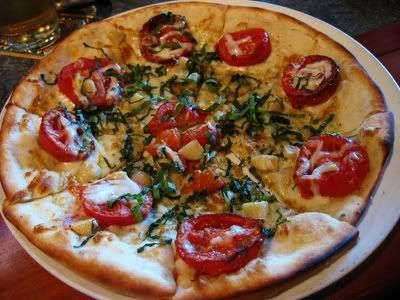 Jenn ordered the gigantic chicken potpie. FATASS! Just kidding. But goddamn, that's the biggest potpie I've ever seen. The look on your face is classic.
The magic words for Big Gee are "I'm full". It's like a bat signal for him to swoop in and finish your plate. They call him The Maid. He'll clean up house. He's definitely GRUBBIN'.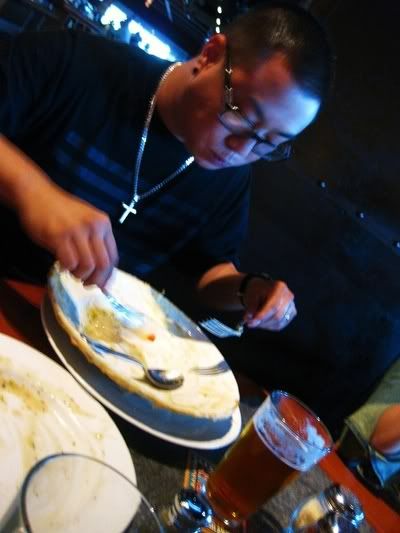 Afterwards we did a little shopping. Well the girls did at least. Gian and I were people watching in the plaza. Saw a dude drop his faux-Fendi shades causing his lenses to pop out. Bootleg. 30 minutes later we decide to see what the heck took the girls so long to peruse the selection at Cathy Jean.
Terry and Josie ended up getting the same pair of heels. Jenn picked up these hot pieces after my consultation. We're shopping buddies haha. I really hope you wear those in. Animal print. RAWRRRRR.
Then checked in at the Urban Outfitters. Gian & Josie are ready to try out for Mindzalike. Ipod DJMixer > Serato. Not really.
Gian tried on a few shower caps. Strawberry Shortcake steeze.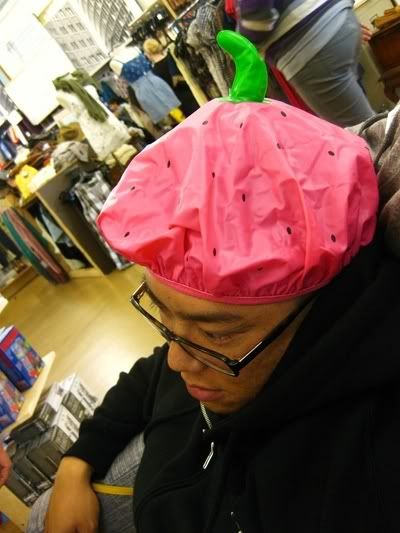 He looks like a crazy old lola.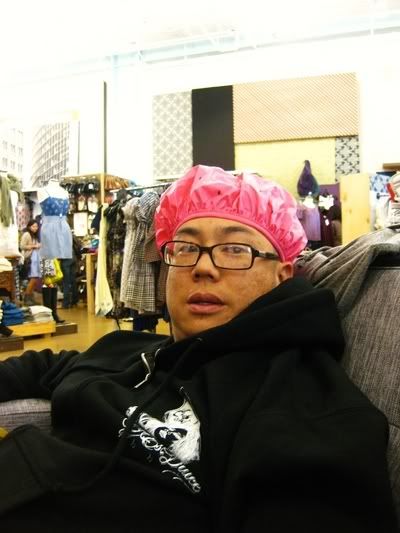 Panda cap ftw.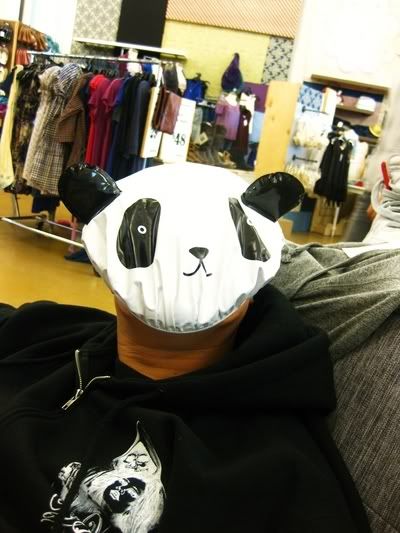 Terry loves to sleep. Anywhere she can.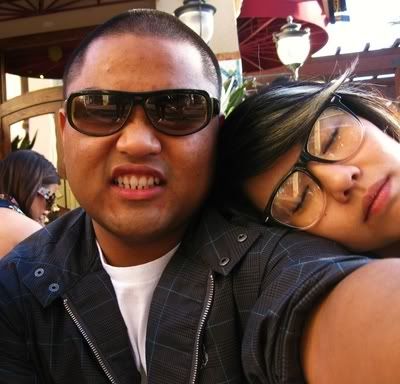 And I guess I didn't take any pictures for the next 3 hours. We went to Levi's, Metropark, back to Levi's (Jenn fails) and also bought some girl scout cookies from a scout and her dad who had a little red wagon posted up like a kiosk. We also drove out to Newport Beach aka the PB of Orange County where I thought I was going to a nice bakery. It turns out that it was just a popular "sai-tai" donut shop. Another fail. So we head back towards Irvine to a Korean BBQ place that Jenn recommended, and when we got there she forgot I don't eat meat! FAIL x3!!!
But luckily we were in a plaza with lots of different places to eat. We at at this tofu house: Kaju Soft Tofu. I HEART SOONDUBU!!!
Hands in for finally finding a place to eat. We were all pretty starving. TEAM BEEF JERKY! (Maybe Team BJ will be another post in the future.)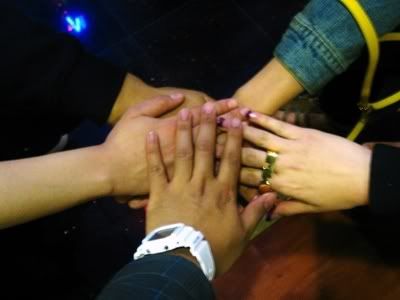 You're a superstar.
Terry you always make sexy faces. STOP IT!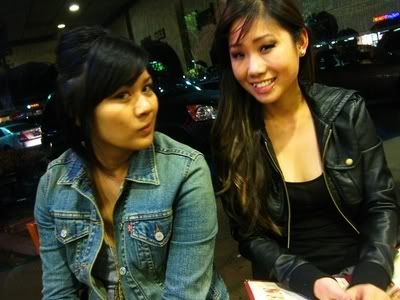 While we waited for our table, we went next door to the Asian bakery.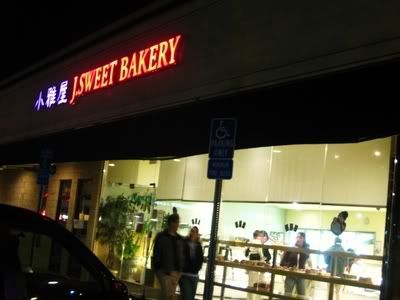 Because it was pretty late, most of the stock was cleaned out.
The packaging is kinda cute. The bread is fresh and shiny and makes a high-pitched "BING" sound. And it floats!
I ended up purchasing a sponge cake and a green tea/red bean cake roll. I like Asian desserts because they tend to be lighter and have a more subtle taste that doesn't overpower my taste buds.
The decorations were very aesthetic and the ambiance was busy and jovial. These are definite signs of a good restaurant to me.
Jenn
! Thanks for planning the visit! You have no idea how happy it made me.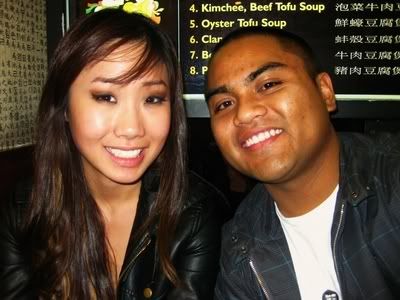 They actually took our orders down before they seated us to expedite the meal. We finally got to sit down which in itself felt so damn good. They brought out the complimentary dishes. I don't really like fish. Nemo.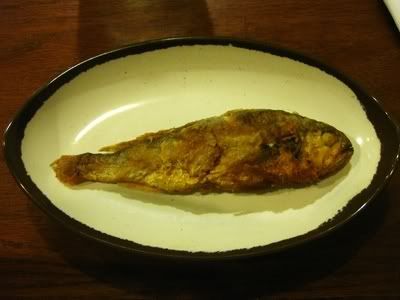 I don't know what each of these things are called except the kimchi. All I really cared about was my pot of tofu soup (plus the egg).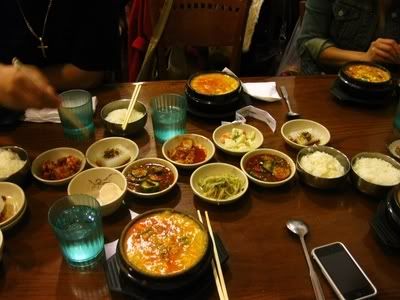 Vegetarian soondubu. The spiciness was to my liking and the serving size was good (probably because there wasn't any meat so there was more room for tofu). It's the best feeling on a cold night to have something warm and tasty in your stomach. This is probably the dinner equivalent to pho for lunch for me. I want more...
Dinner was awesome. The only negative side effect was that we all smelled like Korean food at the end of the night. My jacket, shirt, undershirt, and jeans. So did all of these fools in my car. So naturally, my car still smells like Korean food at this very moment.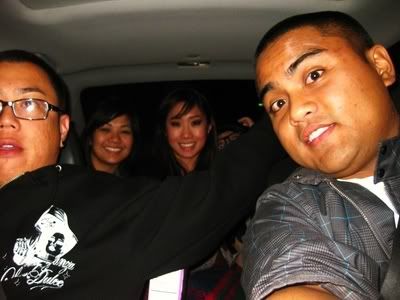 I dropped the crew off at Jenn's car at the Spectrum parking lot. One last group shot before you guys head back to SD. Before they got out, Terry got kinda comfortable in the car and unbuttoned her jeans. Come on now dude...
Josie, Gian, Jenn, Terry.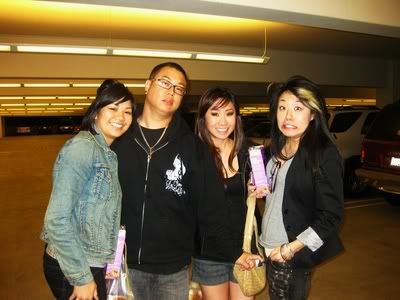 Thanks again for visiting guys! You're always welcome up here. We'll get that concubine business going Gee. I miss San Diego a lot. Till next time. TEAM BJ GO!