This weekend was really non-stop. After
the BBQ
, I headed to Bumsville to pick up Terry, Jenn and Scott and head out to The Office where
5&A Dime
was holding an event:
Mustache's Are For Lovers
. I brought Brian along so that he could check out this supposed "Bumsville", but unfortunately we were running late and he could only catch a glimpse from the outside.
We got there around 10:30 and the house was packed early! And it was hot as f*ck.
Josie, Terry, and Jenn rockin' the 'stache. This is what, 3 times I've seen y'all this week? (Josie's 4th!)
With the red hat Gian pulls of a pretty good Super Mario.
Mark and Suzie are a great lookin' couple! It was good seeing you two. Prom pose.
Who has the real one here?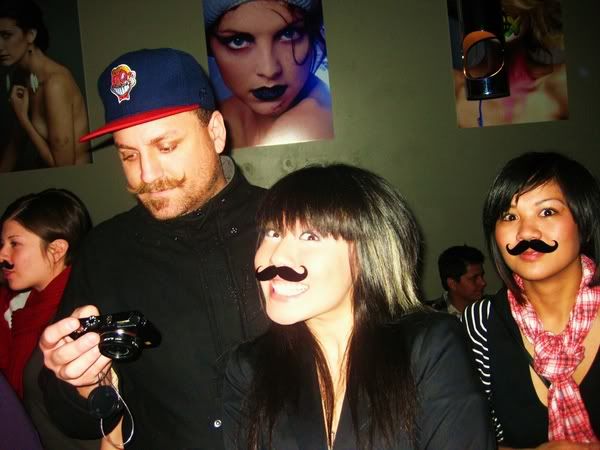 Cha, Josie, Judy, Vince, Terry, Jenn. Be sure to check the
5&A Dime Blog
for more pictures as well as a video recap soon.
Then we headed back downtown for the event at Red Circle around 11:30. I wish we videotaped the conversation during the car ride in which we discussed body features, which lead to sex, body hair, shaving, and Jenn's shower/post-shower routine. ::double take::
I dropped Brian back at the condo (he had his fill of clubbing for the rest of the year haha), and switched him out for my "cousin" Mark and proceeded to Red Circle. The event was to celebrate Jenny's aka Ms. China's and Razo's birthdays. I dropped Jenn, Terry and Scott off because they had to use the bathroom while Mark and I went to find parking. We circled around for a while and when we finally found a spot, they said that TK couldn't get us in for free. We lagged hard! My fault. So Terry along with Erwin went back to The Office and Jenn and Scott checked out 923 to see Flo spin. Mark and I wanted to say wussup to the rest of our group before we would just walk around downtown.
When we got to the front everyone is just loungin' on the outdoor patio. We had to get in! So Mark pulls the photographer card: "Hi we're with photography. We were in earlier." BOOM. We were in and avoided the $20 cover charge. (Works everytime.) Back to the pictures and captions. Hi-Def pictures courtesy of Mark.
Red Circle was definitely crackin'. And when I got there, I'm pretty sure everyone was already drunk.
Some of our crew: Mark, Russell, (forgot your name), Denson, and Sheryl. OC in the building.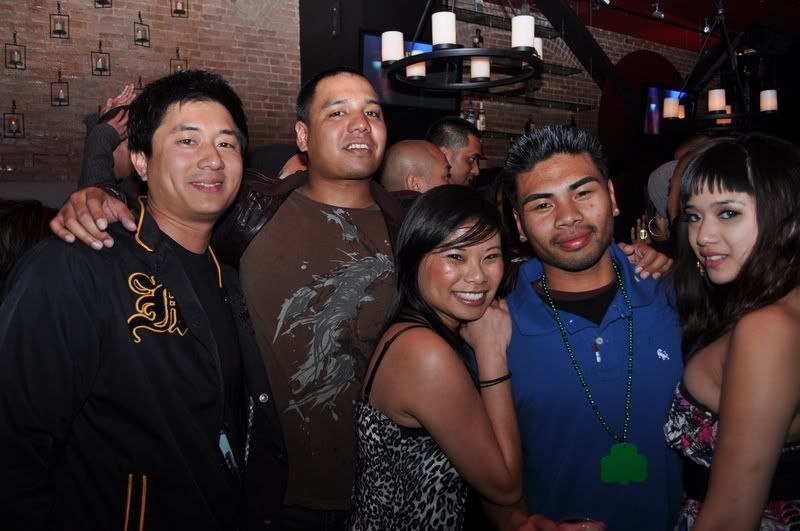 FYI Julz: this is the gal that jacked the $5 from you for Del Taco food. She says thank you and she's gonna spend it well. It's the damn economy that's causing everyone to steal!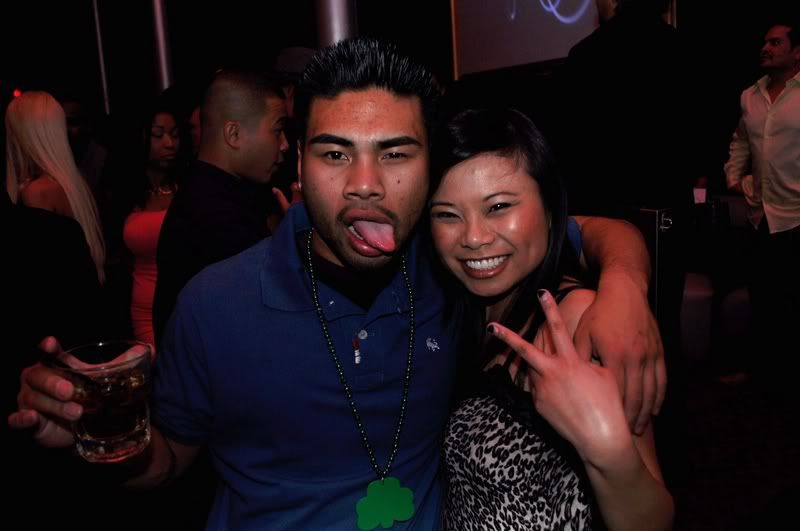 Not only did Mark get in late without following the dresscode or paying a cover charge. He snuck in a red cup of vodka. Check "HUSTLER" in the dictionary and you'll see this dude's picture.
Mark aka Chauch and... I forgot. (Fail.)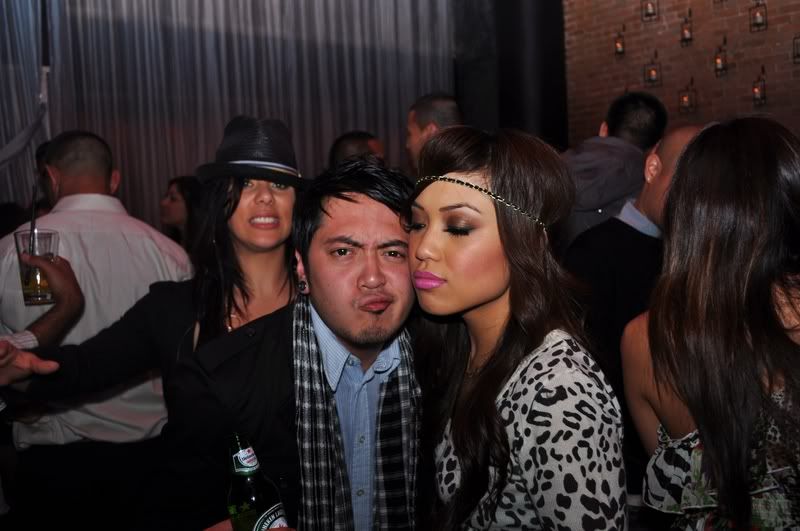 Mark didn't shy away from using his camera throughout the night. TMZed!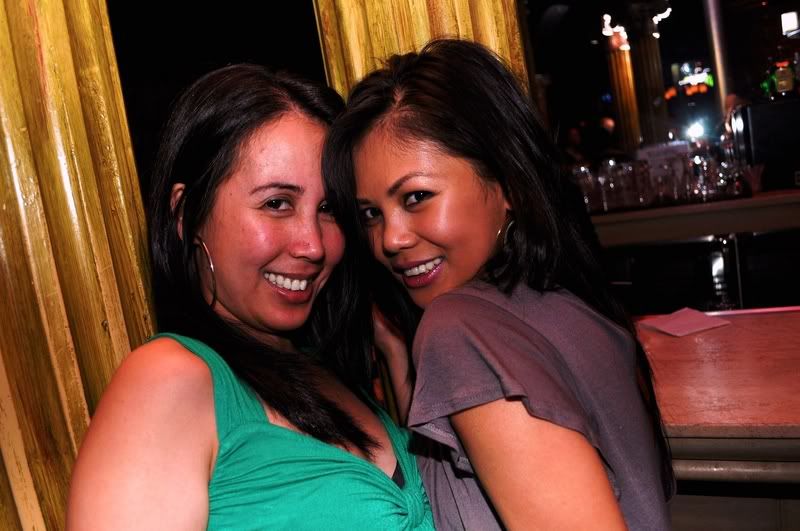 The waitress in our VIP area. She has a slight resemblance to Aubrey O'Day.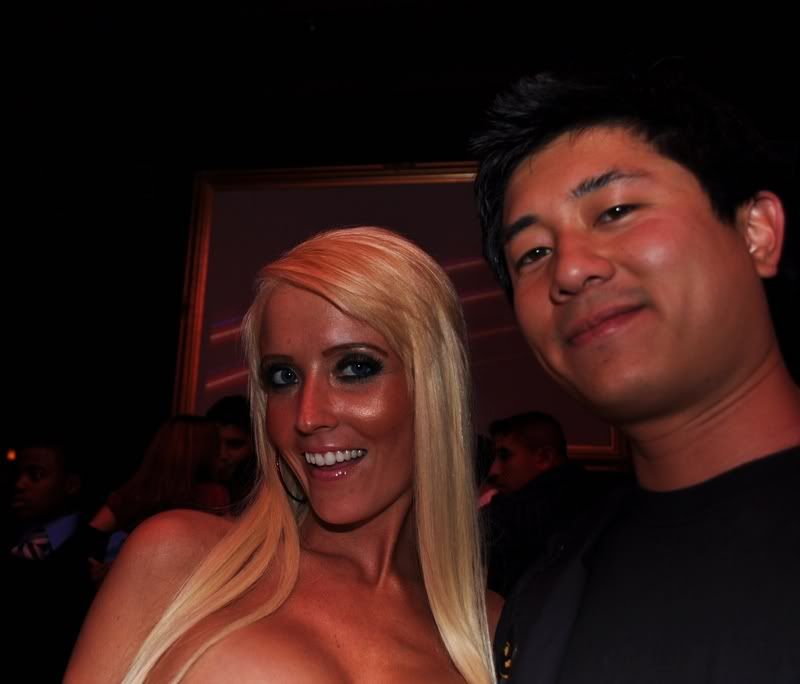 Angelo gettin' his swerve on. Known this dude for a while too. His mom used to be my dentist!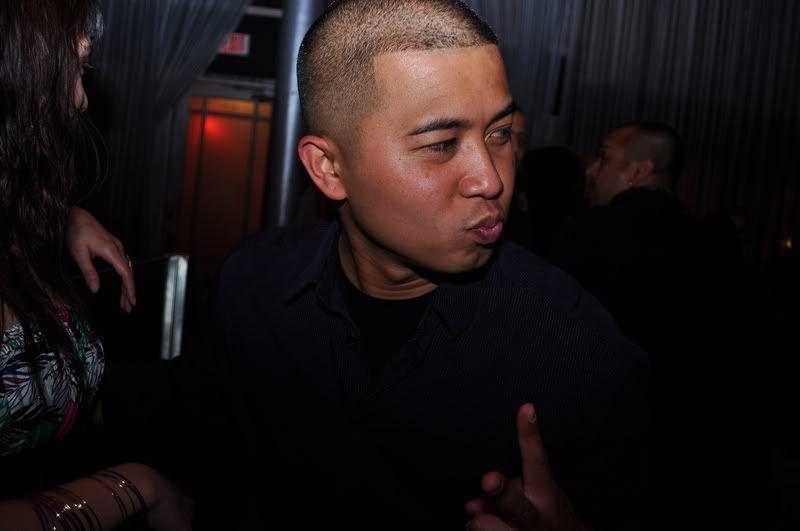 When I got in, I went to the patio to say wuttup to some of the SD homies. Fels! Haven't seen you in a while! (Aside from
Tuesday
.) I got a twit the next morning from her. She didn't even remember seeing me! You obviously don't remember snappin' this picture then. DRUNKARD!
Ollie. My longest running SD friend (since '05). Be sure to check
his blog
! He recently got a new job at a web design company. Congratulations dude.
Julzzzzz (Mindzalike).
One-half of TAA: Bin and Guil. Bin just got a new job at Scripps Hospital in Encinitas. Congrats homie! Damn it's good to hear that people getting jobs these days. Guil's current job: taking pictures for my blog that night.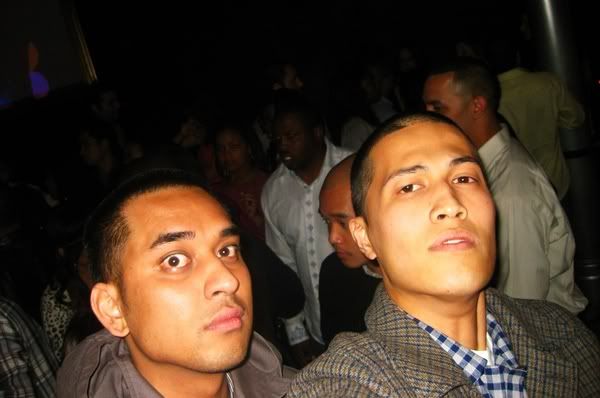 Joe Iggy (
Avnt/Grde
). Dude has big plans for the shop (which has recently been re-opened with new inventory). Hey doesn't Julz have that same jacket? Twinsies.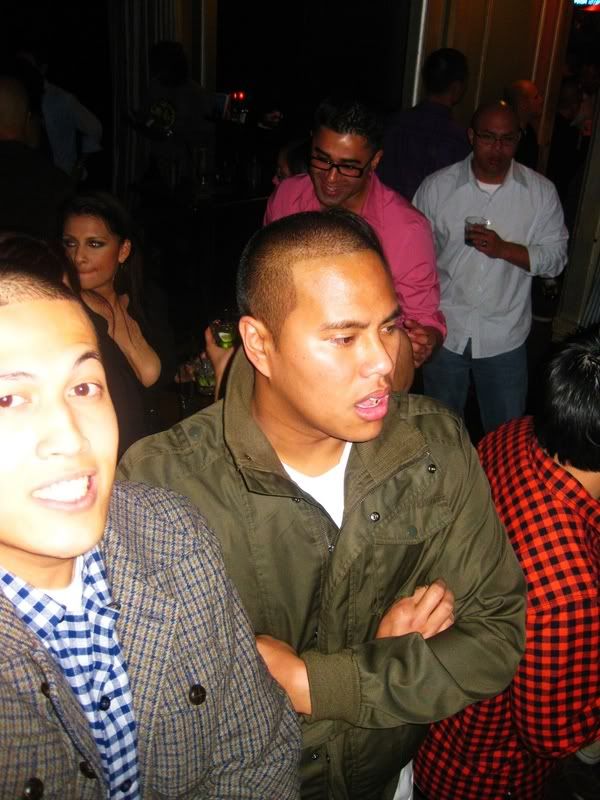 JR aka Fatch and Freddy (
Willy's Workshop MM/PQ
).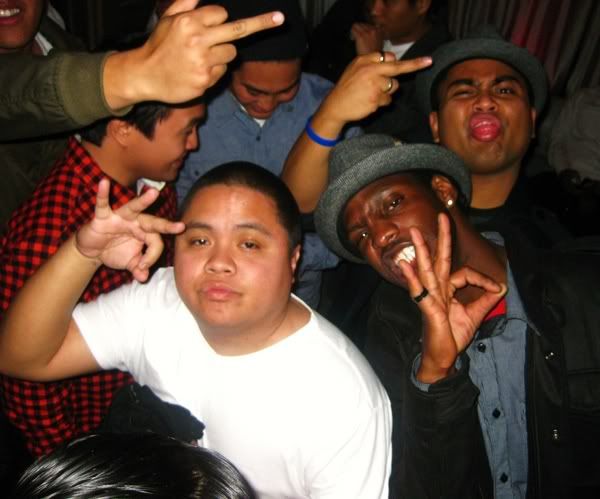 Toe-Knee
(Victory) gettin' downnn. Nice O-face.
Vince (
Willy's
) ain't about to be outdone though.
Goddamn that's a dope 'stache. You should've been at the other party too Vince!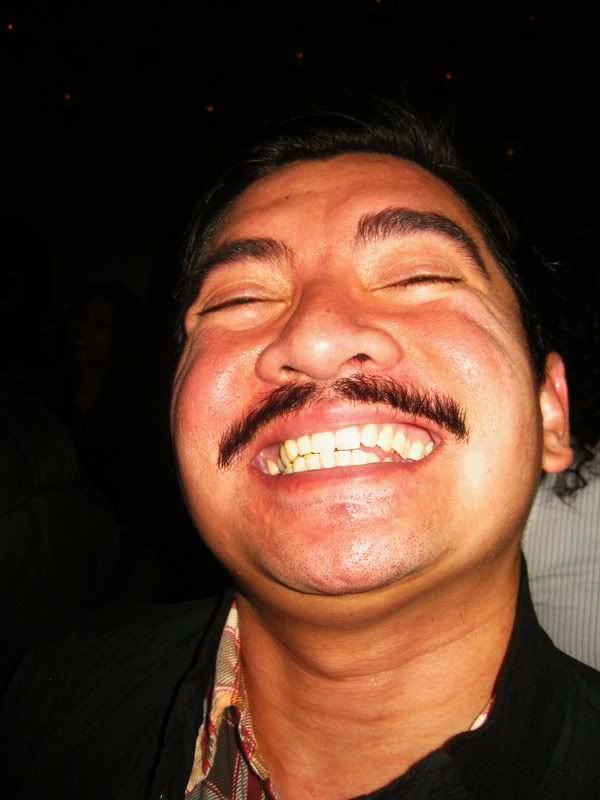 TAA x SAA.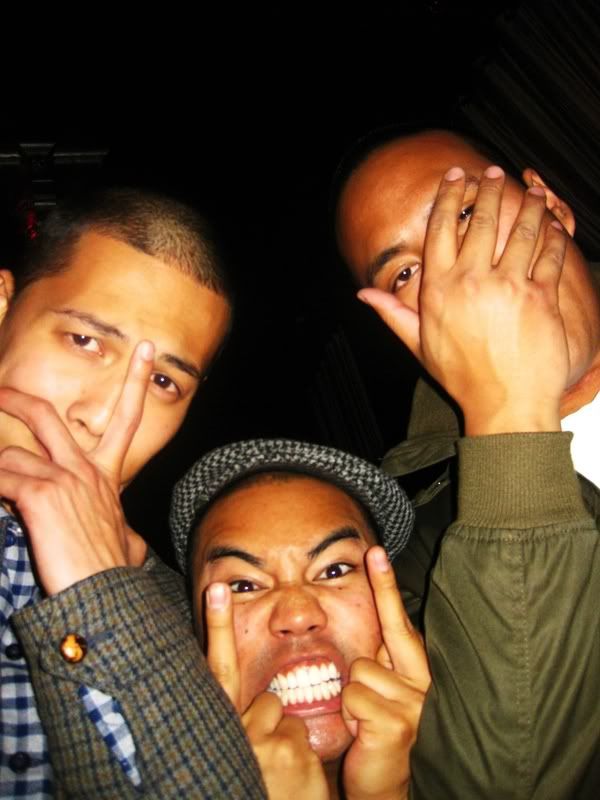 Bin and Sheryl aka V-Day Couple! Hahahaha. Nice face dude.
Awwwwwzzz...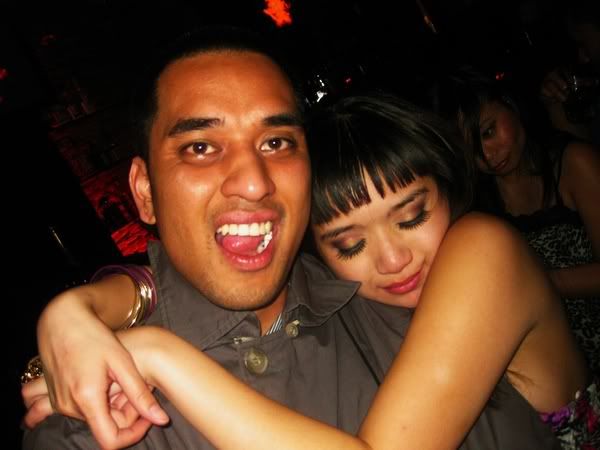 And where's the birthday girl? Well when I tried to say wuttup, Jenny was just plastered. Here she is getting escorted out.. =\ Sorry. Happy Birthday!(?!?!)
Chilled outside for a bit and spotted Jeff (
5&A Dime
) and Zarah who were next door at another birthday party. Man everyone was out that night.
Sheryl and her homegirls from OC.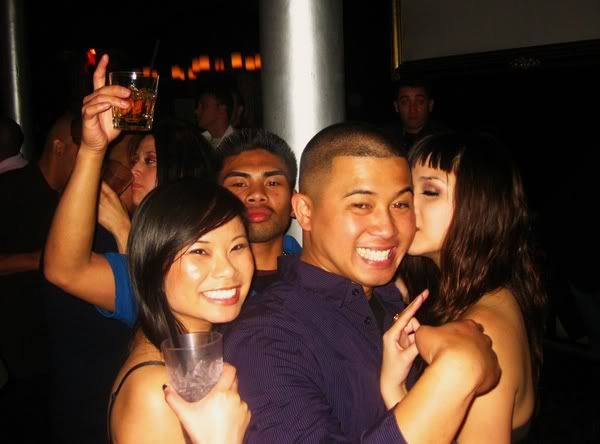 Denson likes to get behind the camera too.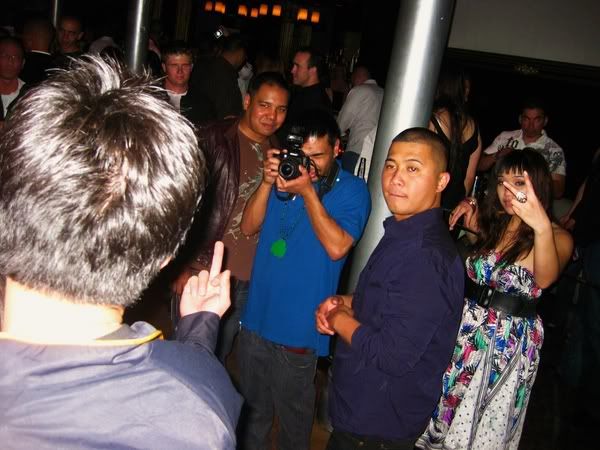 Photobombed!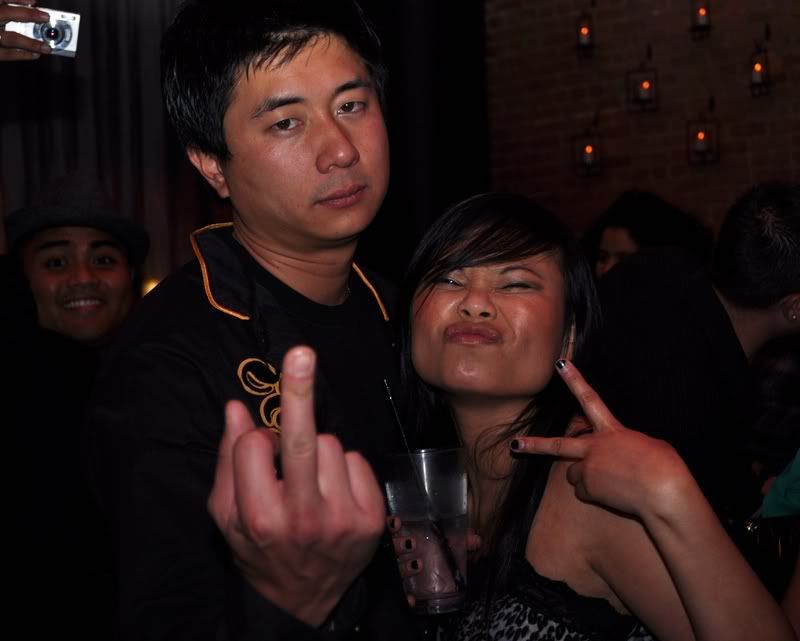 Ollie and April aka
APES
.
Scott and Jenn joined us from 923 eventually. They got in for free too!
Thanks for the "water" Scott (
OPP
)! Be sure to check your local and online retailers for the spring and summer lineups of
One People Project
. Scott's always got some of the best lineups.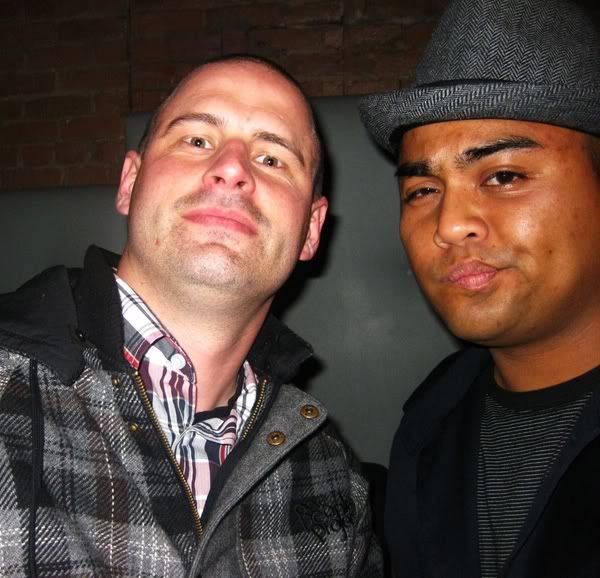 April and Toe-Knee are dancing machines.
Me? I make epic faces.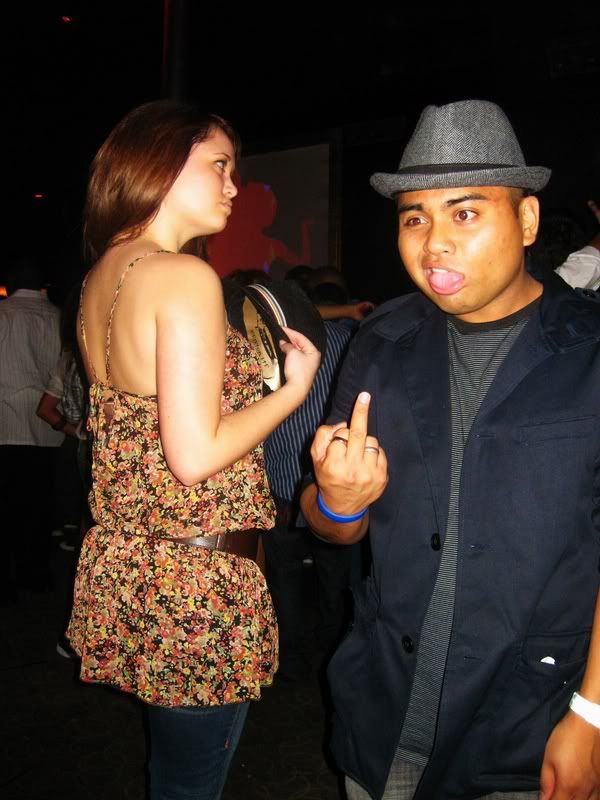 Hat tilted forward.
TAA x SAA again. Nice face again Bin.
Julz x Jenn. Prom pose!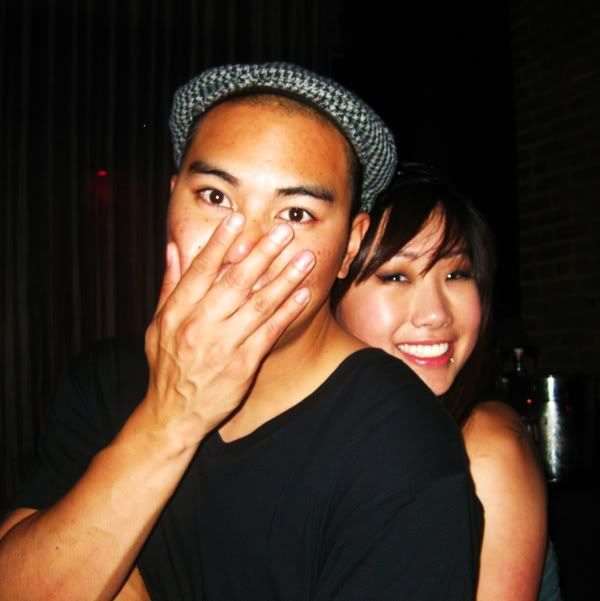 Fatchie was vibin' all night.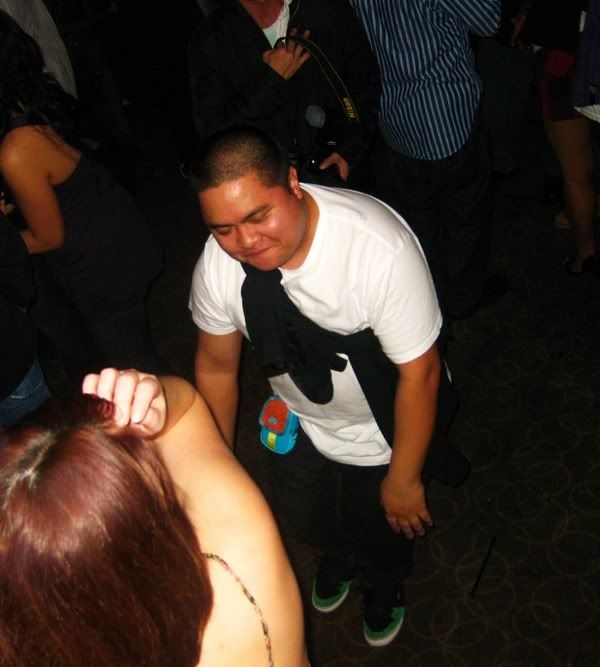 Mark x2.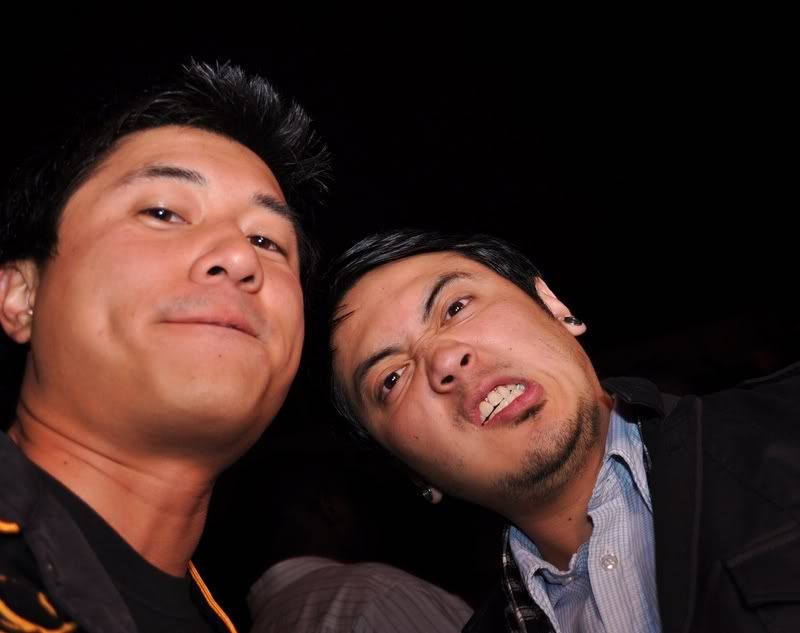 It was closing time and the VIP area was pretty much empty. April and I saw the check and called Toe-Knee over. TK got stuck with the bill. "FML!" I'm pretty happy I caught this candid moment.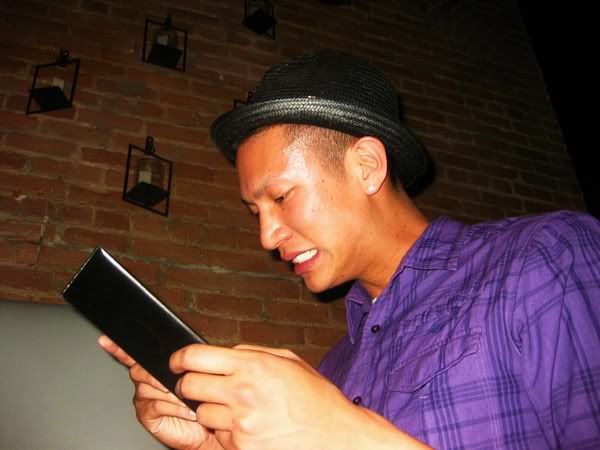 "Fuck it. I'll drink my sadness away!"
April had an idea...
Julz and Guil held me down. I got vodka raped.
Chauchy took a swig before he left. "Why are you sucking on the bottle you dirty motherf*cker?!?!" -TK.
Chris aka CO of the Wildboyz. Good meeting you dude. Glad you like the blog!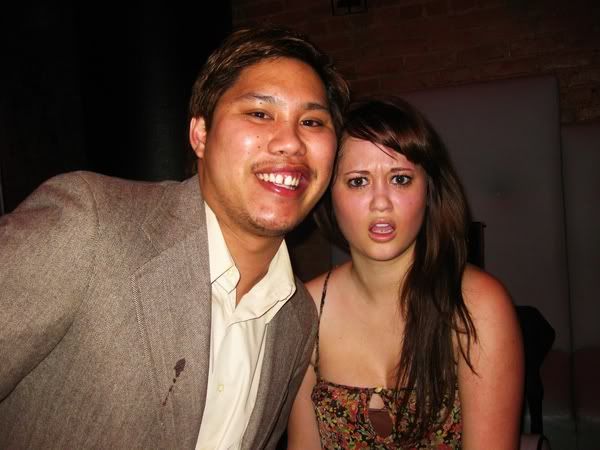 TK x Jomo. Who you know do it better than we do? Toe-knee's blog gave me a hit boost when he linked me on
his blog
. Be sure to check
his blog
out too!
Outro. Even after the music stopped, people were draggin' their feet along. Everyone just wanted to keep partying. It's a good look for SD.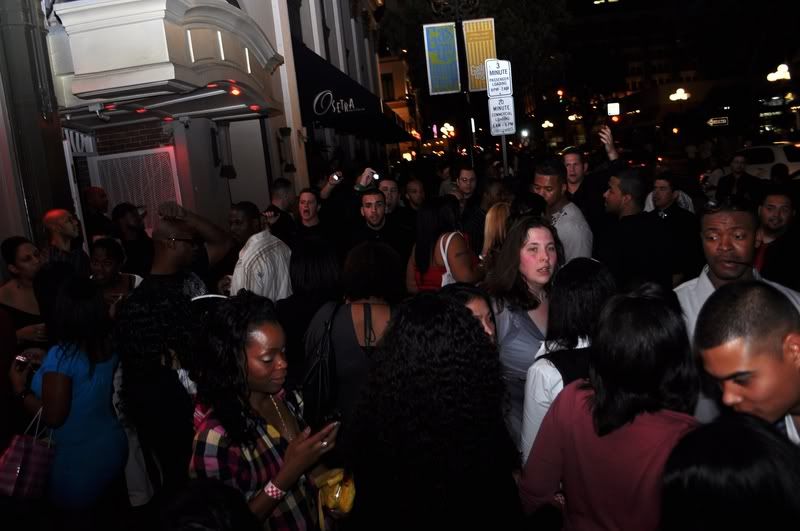 Denson's always got the best poses, despite never really changing his facial expression.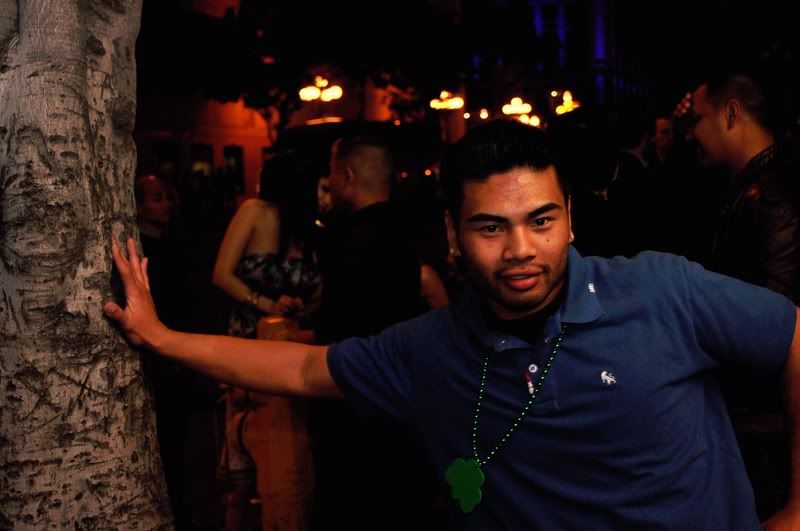 This picture is hilarious. The girls look like they're peeing on the fire hydrant.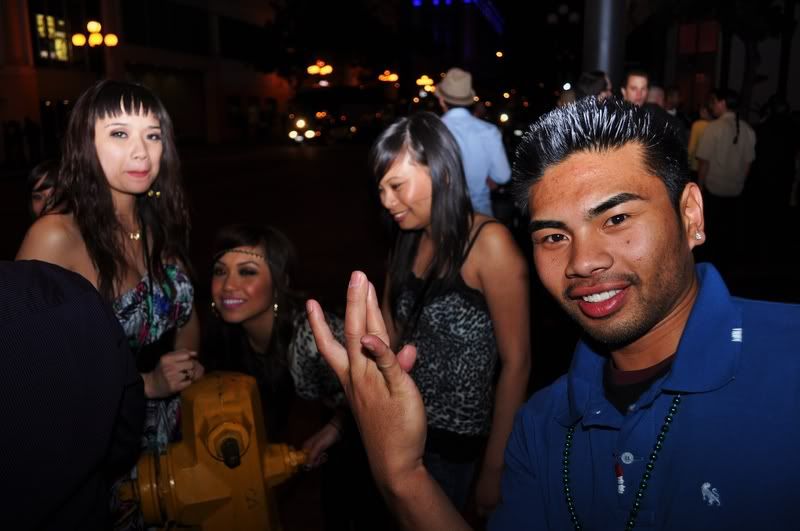 Russell x Chauch x Denson.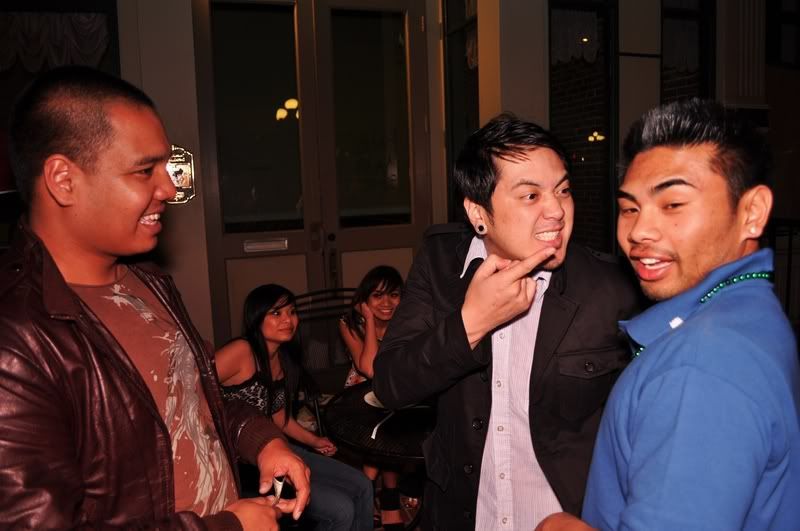 My OC crew went back to their hotels/condo. I cruised around with Scott and Jenn to get some food at Adalberto's (Del Taco and Humberto's was packed). I got a bean and cheese burrito which was pretty weak in comparison to a California burrito or Pollo Asada fries (or a ham torta). I can't wait to eat meat again! Waitin' on our food.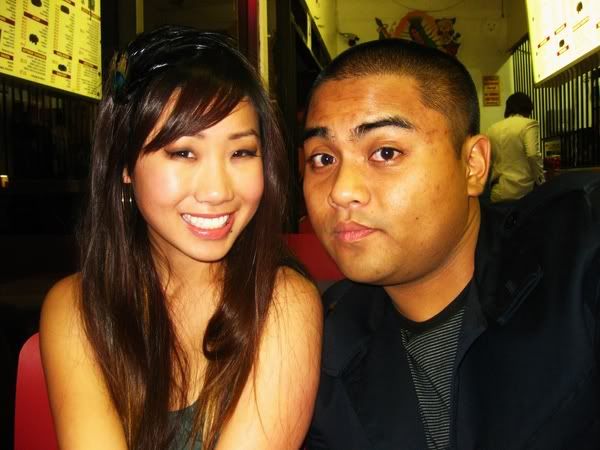 Our retarded "SHARK!" stamps from The Office. This f*cking thing was smearing all over the place.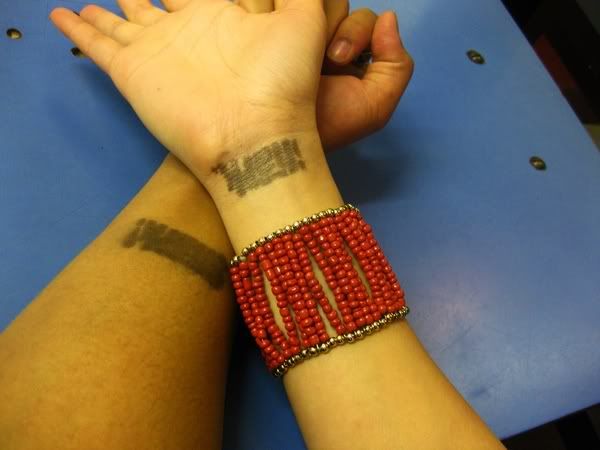 We got back to Bumsville to find a bum sleeping on the porch steps. Nevermind, its
Julz
. He just smells like a bum (hah).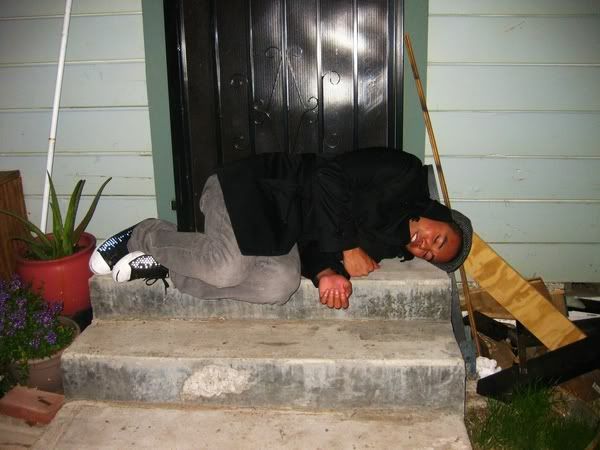 Julz telling some crazy story to Terry. I miss it here.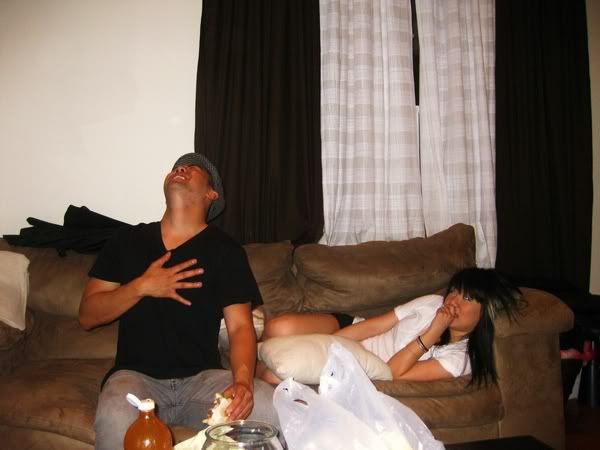 After Jenn and Scott left, Freddy and TK dropped by to eat too. This place keeps bringing people together. Freddy you're one funny dude with a baby arm. Irish ate some of your puke btw.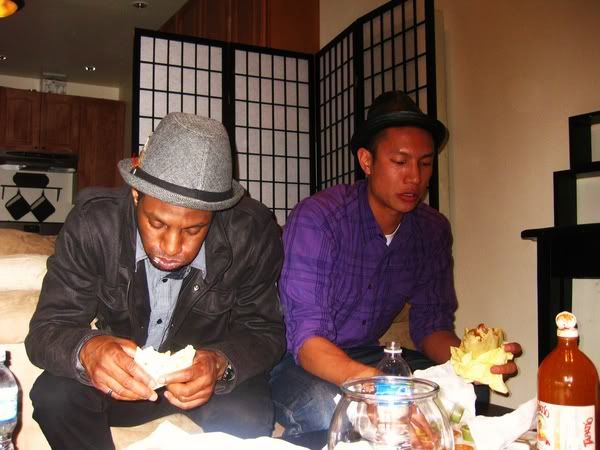 And then I passed out. The house was empty except for Michelle which was kinda weird since this spot is usually filled to the brim with random people. Ah well. At least I got some sleep! Wow that had to be one of the longest posts ever. 60-something pictures (cut down from 170). If you're on my Facebook, more pictures will be up tomorrow.
Overall, probably one of the craziest nights of partying without getting drunk at all. So I was able to remember the entire night! I love my SD and OC fam. When's the next party?!