Yep. That's the classic end of the night quote from my dad which was said as everyone was cleaning up and packing their gifts away. It was pretty much epic fail status for him during the last hour. Epic for how he tried to keep the party going. Fail for... well basically embarrassing himself. (It's still all love.) Check the bottom of the post for 2 videos.
The Pangan's invited the local families over for Christmas dinner. I got to the party a little late and dinner already started.
Jennifer and Jeremy (our little chefs once again) made these little bundles of heaven.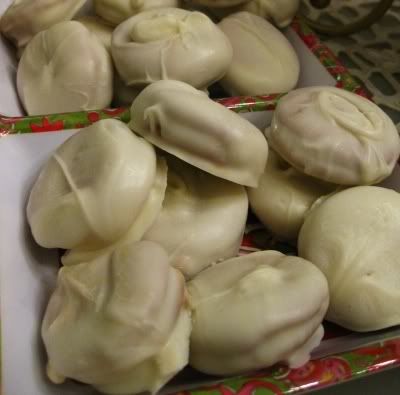 A vanilla wafer and peanut butter sandwich, dipped in white chocolate. They tasted like gourmet nutter butters!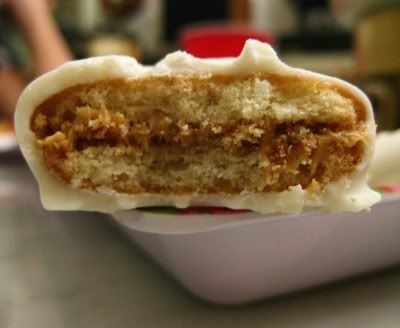 Our family didn't get a chance to put any Christmas decorations up around the house this year. No outdoor lights, no poinsettias, no tree! So seeing this was kinda comforting.
The Moreno and Pangan kids! Nice face Brian.
David and Eva. I can't believe she's three already!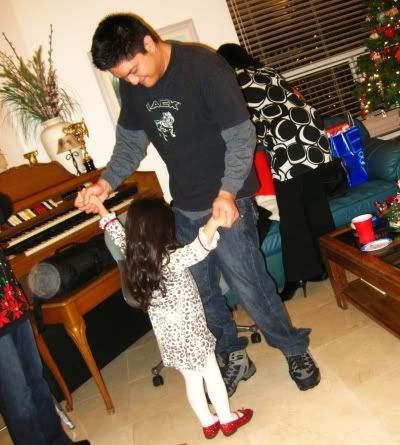 Peanut the Reindeer.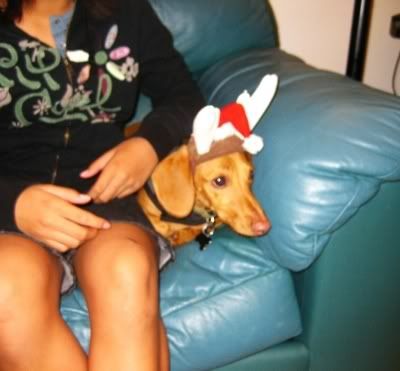 Mark opened one of his gifts early. Here's a magnet.
And here's Pong Head. Basically two guys playing beer pong over their heads. The tall guy wins everytime.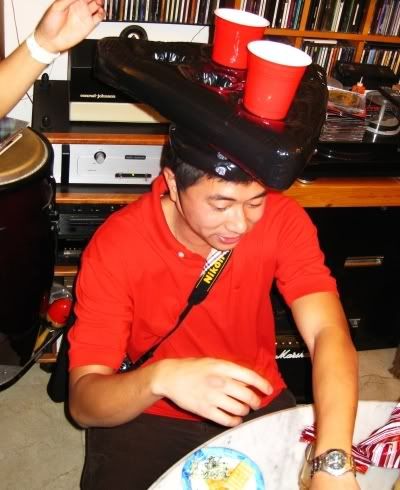 Jennifer made these delicious Christmas shots of Bailey's and some mint liquor. She also made some custom shotglasses with our names on them for each of the youngins. Thanks JenPen!
After dinner the whole house gets together for the white elephant gift exchange.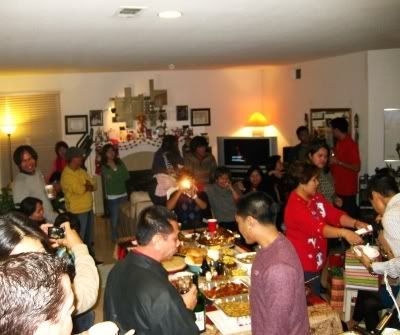 Ooooh look at all the presents...
The Kaiklian boys were hoping for a TV.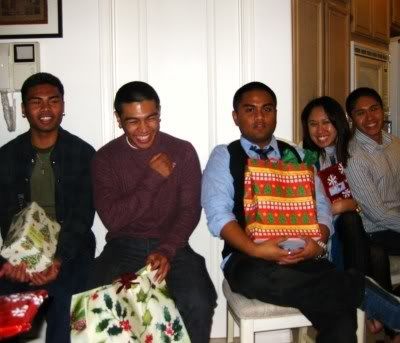 Brian started off with the biggest present in the game. But then we found out that there's some story that involves passing your gifts left and right. He was pretty bummed.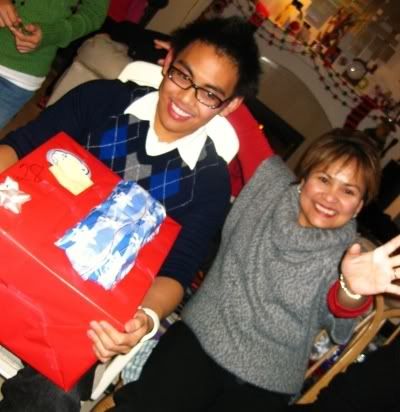 Ninang Razel telling the story.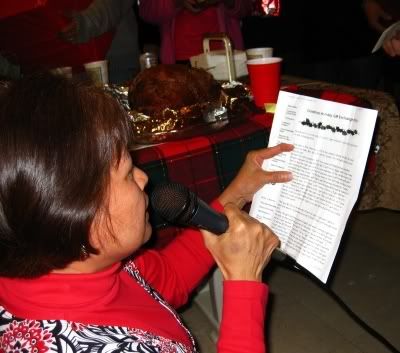 I ENDED UP WITH THE BIG GIFT! It was a coffee maker. Thanks Mark & Peanut!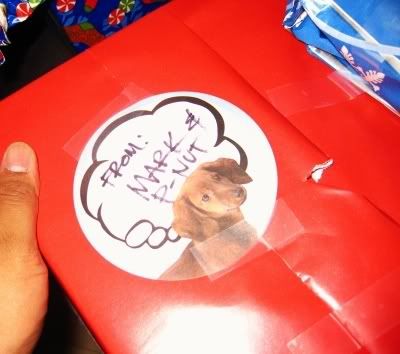 The dads poppin bottles.
Denson and his Ninong Ed.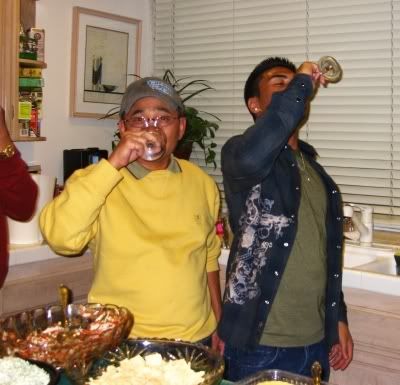 Bang(???)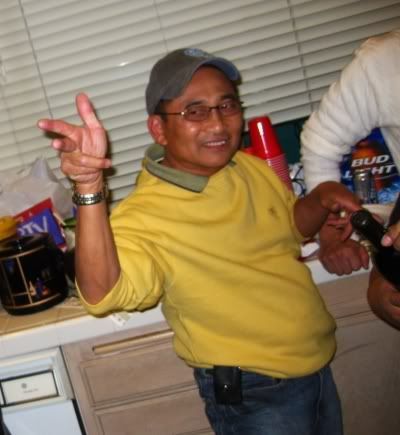 Derrick and Denson's dad gets down too.
Mark and Eva.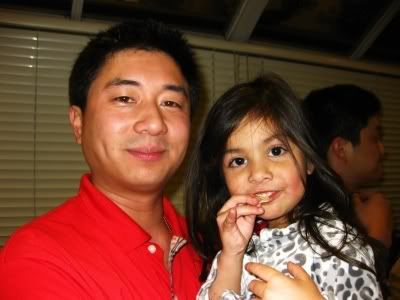 The '86 baby boys: Derrick, Brian, Jeremy. Their birthdays are Oct 17, Nov 3, and Oct 26 respectively so all of our moms were pregnant at the same time with their 2nd child. Derrick had his on theory on how it went down which I'd rather not say. (Sick bastard.)
"Heyyyyyyyyyyyyyy!"
At the end of the night we got a few rounds of Jenga and had a jam session. (See bottom of the post for the video.)
The Elders: Denson, Mark, myself.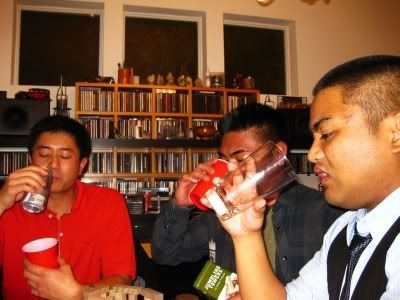 We're definitely gonna carry on the family traditions of getting together and having fun.
Damn we look like our dads already!
Jennifer rockin' her new gift from Trishia: a super sweet one-sy PJ. Nice.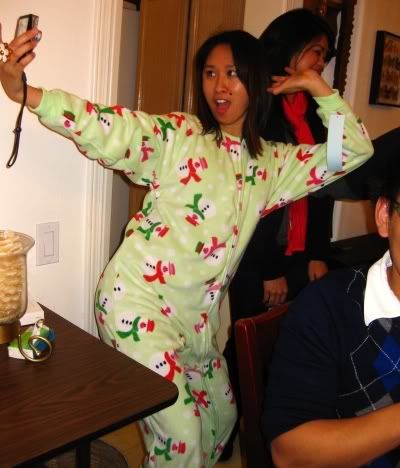 While we were in the other room, we figured that the dads stopped drinking because they were relatively quiet. We were ABSOLUTELY WRONG. Between th 6 of them, they must have finished at least 9 bottles of red wine along with some beers and hard liquor. Epic fail.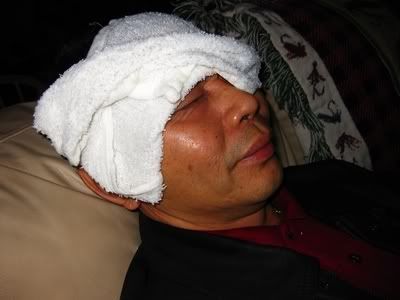 Double epic fail. (Not Tito Bong though, he's straight.)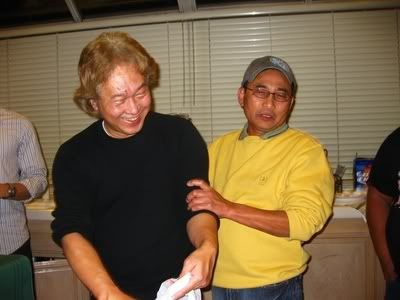 A quick little video. Not much to say except that my dad is kinda wack sometimes. But this is probably funny to everyone else in the world so no worries.
And here's the video of our little freestyle rollcall starring Glen on the guitar, Mark on drums, and David on the mic and tabletop. You may not recognize the names David's calling out because he's using all of our childhood nicknames. It's a couple videos put together so it's choppy and doesn't flow together. But there's not much to edit. Just enjoy.
And that was the end of that. We didn't get a chance to do our stairshot picture before the Contreras' left. Next time we will for sure! I love these guys. Our ties are thicker than blood to this very day and that's hard to find sometimes.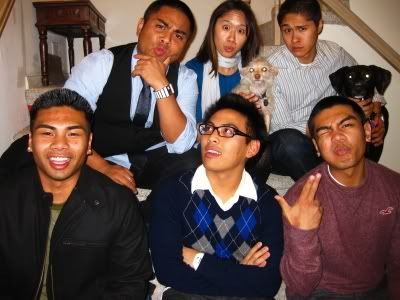 Thanks again to the Pangan family for being great hosts. Merry Christmas everyone!