The pictures from the rest of the weekend will be much better as they're all from Mark's Nikon D90.
The morning after the Segue-Mag party was spent recovering, sleeping, and eating. Mark left early to play 18 holes with his coworkers and the rest of us bummed around the condo. While some of us slept, Johnny Drama and the cronies went to the market to pick up some goods.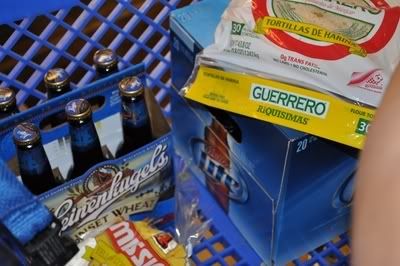 The plan for the afternoon: rooftop barbeque and chillaxin'. Philip, Derrick and I went up with David for round 1 of the barbeque. This 7th floor patio is pimped out with plenty of seating, outdoor sound system, LCD TVs...
Firepits...
And a marvelous view of San Diego. I can see
5&A Dime
from here.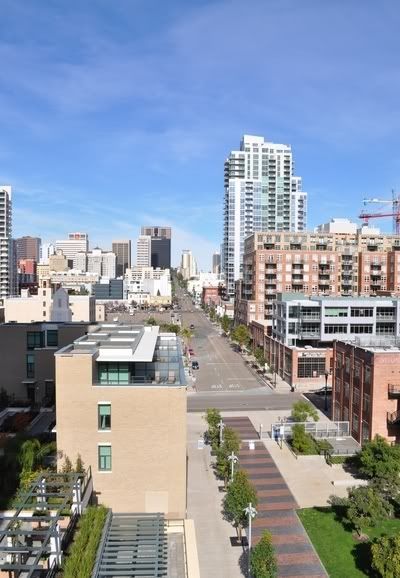 Derrick doing his Vinny Chase x Entourage pose overlooking Petco Field. You can actually catch homerun balls from this spot. What an amazing view. Too bad the Padres aren't that great.
A cute couple.
Damn I look fly.
Johnny Drama is the family chef.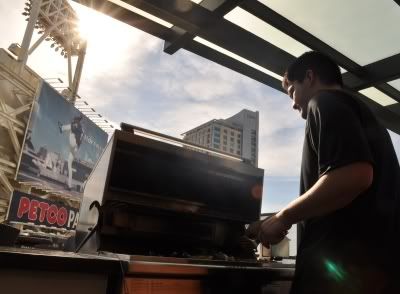 "Don't mess with my tastebuds."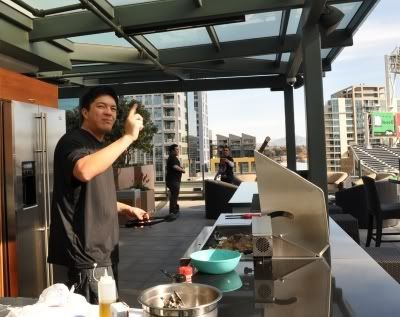 Slow-cooked boneless chicken breasts basted with seasoning and beer. Because of this method, the skin was able to retain the flavor of the seasoning and beer, as well as trap all the heat inside keeping the chicken hot. Well done Johnny.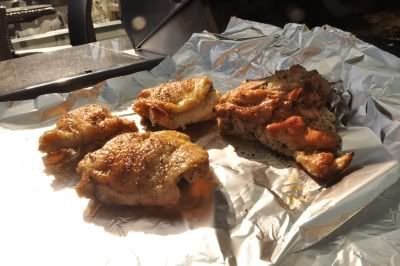 Across the field was this building. The crew wants to buy this place out and turn it into "The Candy Factory": your one-stop shop for clubbing, drinks, discount warehouse products, and filipino food. Any investors interested?
3 hours later we get hungry again and have round 2 of our BBQ. Drama and Russ man the grill.
Denson doing his Ice-T x MTV Cribs pose. "KISS, MY, ASS!"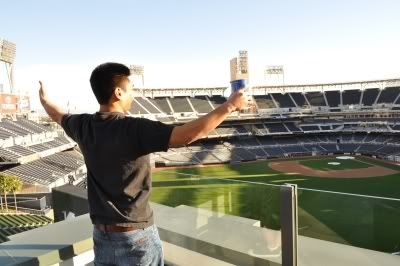 And now his... I'm a homo pose?
I like being behind the camera, not in front. Hah, not really.
Yams' chipmunk/I'm starving pose.
Chilllllax.
Mark arrives from his day of golf and we get a roundtable discussion going around the firepit. The discussion: whether or not we should stay another night. Only Derrick had to be back for work so we tried to rationalize reasons to stay. After outlining about 10 options, the plan was to just have the guys drive back at 4am so that they would get back to Anaheim by 6am. Time for another impromptu night.
The spot is sick. I wish I lived here. If you know any responsible families looking for a place to stay, Mark and David's fam is looking to rent the condo out. Contact me if you have any questions. The only conditions are that you keep the place clean and that you let me stay whenever I'm in town. Thanks.