Yesterday I got out of work a few hours early and took a quick nap. Then kicked it with Taraneh for a bit at a local Starbucks. It was really good catching up with you! I'll be sure to visit you in the Bay soon!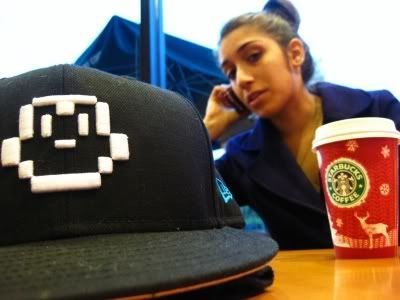 Went to Christmas Eve Mass with the family. Michelle Baello was singing with the choir and she sang the best rendition of
O Holy Night
that I've ever heard. It almost brought tears to my eyes.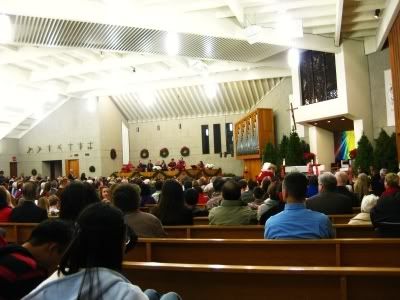 Then back to the house before we went to the Pangan's house. My dad needed a family picture for his high school reunion program and we hadn't taken one in a while. Rather than taking a quick picture, my brother and I turned the living room into a photoshoot packed with tripods and "natural light". Here we are testing the set out, Manny Pacquiao style.
Another test. Our cousin Gerald drove in from Chino. Brian calls this our
Rock Band
still shot. Photoshopped it a little for a dramatic effect. I think it's pretty legit! Especially with my dad making a thizz face.
Do you guys like Picture 1?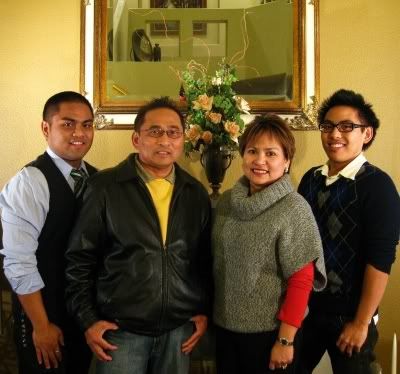 Or Picture 2?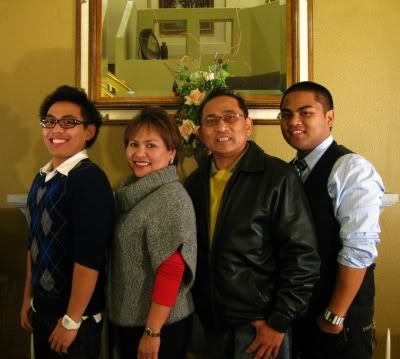 Then we got the awesome idea of modelling a picture after one of our old family portraits. We used to have this picture in a huge enlarged gigantic version hanging in the hallway upstairs. I think it's my first communion picture. My dad had some steezy eyeglasses. Here's the one that sits on our piano. Brian could be a hand model.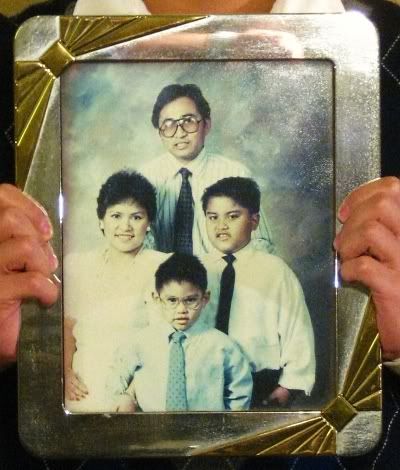 So I guess this is Picture 3. I just noticed that both of the pictures are slightly off-centered by coincidence. Amazing!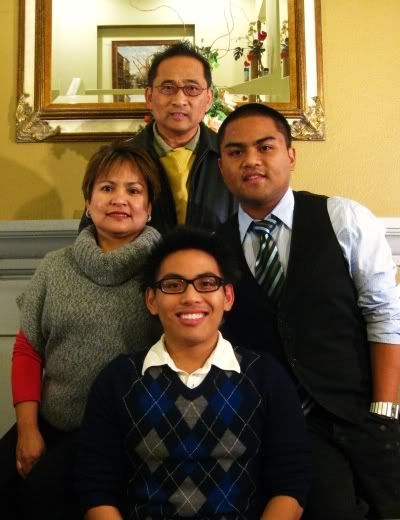 We finally wrap up. We were already late and all the other families were waiting for us. Ever notice that whenever you're the closest to an event, you tend to be the latest?
More pictures from the party later.