Another beautiful day in San Diego. I didn't have much planned for the day except to enjoy some rest and relaxation. I got a personal invite from Annabelle and Michelle to join them at the weekly Kobey's Swap Meet at the San Diego Sports Arena. Time for some quality time with 2/3rds of my favorite SD bitches. I haven't been to a swapmeet since I lived in Fullerton (20 years ago?!).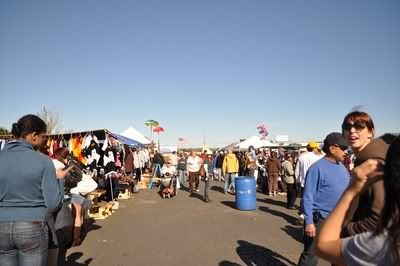 The primary objective for the ladies was to get a rug for the living room. Mission accomplished early. Michelle got the steal of a lifetime. A large area rug that probably retails around $180, usually sells for $120 at a discount furniture store. She copped hers for $60! The trip was already worth it.
We the rest of the morning/afternoon ahead of us we perused the selection. Are you about to sneeze dude?
Next stop was a booth equipped with pet tag engravings. Dude had all shapes and sizes.
Irish is in store for a brand new clover tag! Representing Bumsville for life.
More perusing. Fruits and veggies.
Mini pineapples.
THE CHARGERS ARE GOING TO THE PLAYOFFS BABY!
And the Lakers are playoff bound. This is pretty sick.
And then I think I died... and went to heaven. Nintendo cartridges for days. Everyone remembers blowing the cartridges when the game wouldn't load. WHO HAD GAME GENIE!?!?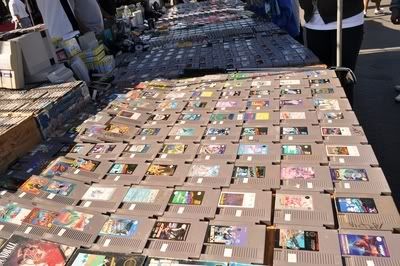 Rampage.
Spot! (You know, the 7-Up mascot?)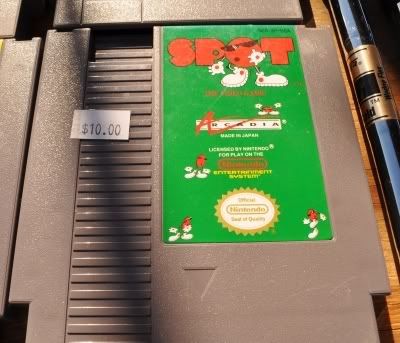 T&C Wood & Water Race. Skateboarding was pretty cool. Surfing was impossible! I love this game. ::instant erection::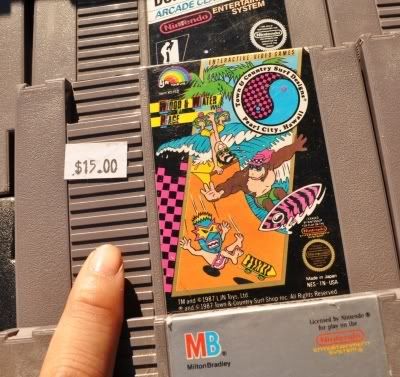 The Batman and Ninja Turtle series. Batman 1 > Batman 2. TMNT 2 > TMNT 1. I never understood why the TMNT 1 cover had 4 Rafaels?! And it was only single player! TMNT 2 conquers all.
The Legend of Zelda and Adventure of Link. GOLD CARTRIDGES! That's so 80's.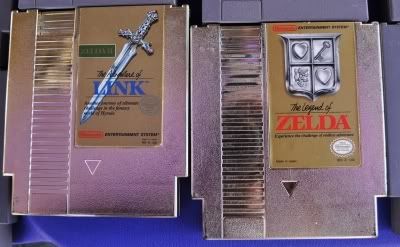 The units themselves were $40 with warranty. (I'm not sure how
THAT
works.) I was tempted to buy, but maybe next time around. Check out the OG Power Pad in the back!!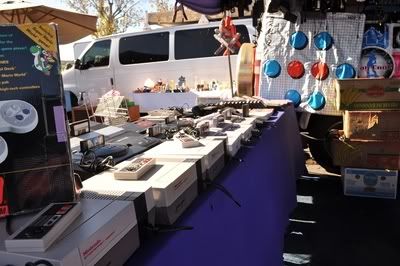 Snack break. I felt like I was at the SD fair. Michelle copped funnel cake with powdered sugar.
Annabelle and her rasta sno-cone. Yellow ice?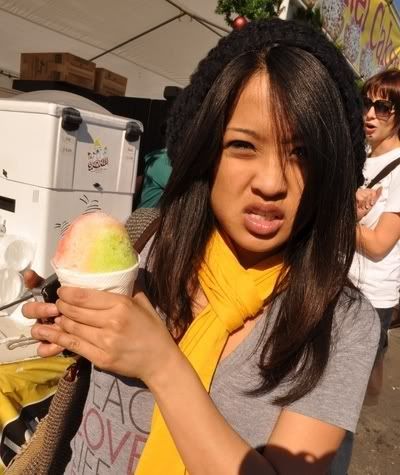 Kettle corn ALWAYS makes me happy.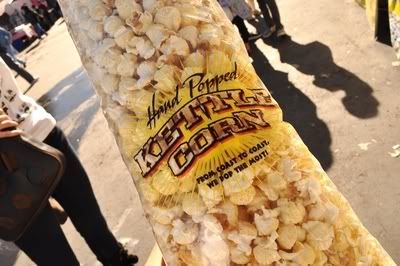 More treasures. Not exactly
the Zack Morris phone
, but still nostalgic.
Sorry Brian. Coke owns Pepsi. (But Pepsi comes 2nd?)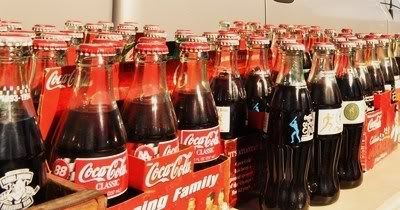 View Master. My favorite set was the old Disneyland one I had a long time ago.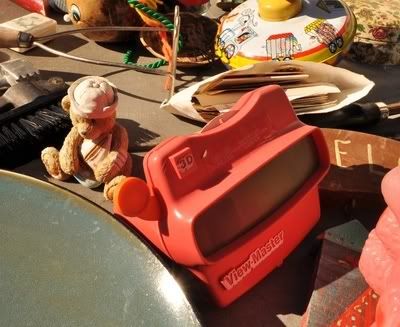 I thought it said "CHALKBO
H
RD". Hah.
LaserDisc Chip 'N' Dale!
Some OG wheel hubs. I would have copped this for my homie Nash for his birthday but they were selling as a set of 4.
The Jacksons Live.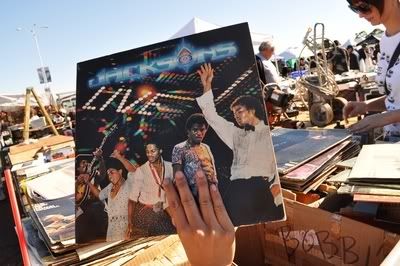 Another treasure: The Magical Mystery Tour by the Beatles. Another satisfied treasure hunter.
A very successful day at the swapmeet. We ended the day with a trip to Lucha Libre off Washington St.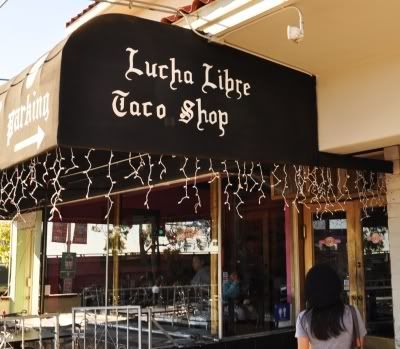 I like this enlarged photograph hanging in the back.
The appetizer: chips, salsa, and the freshest spicy carrots I've ever had. Crispy and marinated. These made Annabelle sweat!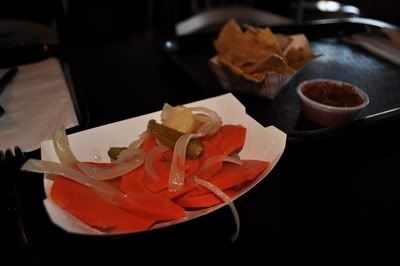 Rolled shredded beef tacos. The shell was crispy and the beef was soft and cooked to perfection.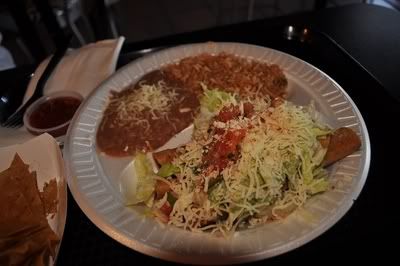 Pollo asada fries. I've been craving pollo fries and this definitely hit the spot. They serve it in an aluminum tin pan like a pizza. The fries were crispy and the chicken was flavored with garlic and cilantro. I think I died and went to heaven again.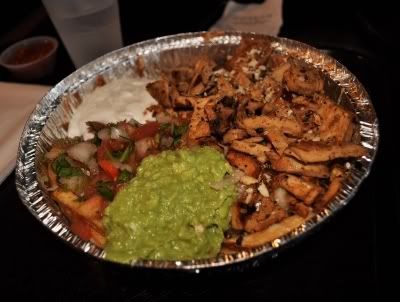 To top my meal off, I had some "Mexican" Coke. They use real sugar rather than the corn syrup that's in American Coke. So it tastes sweeter. What a great ending.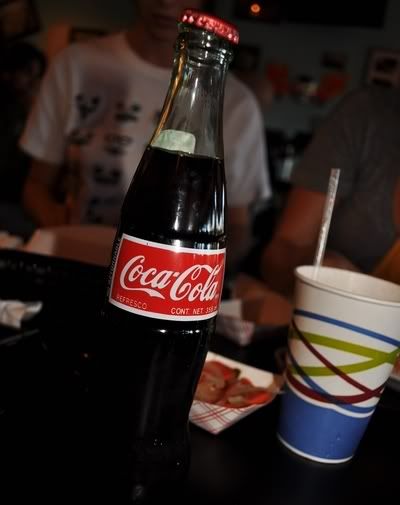 Some things that I'll be for sure to look out for at the next swapmeet: an OG Nintendo Advantage Joystick,
Super Dodgeball
, OG TMNT figures, and an old skool spring-loaded pencil case with the pencil sharpener and magnifying glass.
Thanks to Annabelle and Michelle for hanging out with me! 143 Bumsville!