Sooo... Chip is in town from The Bay Area on business. Our original plan was to just grab dinner on Wednesday. But earlier this week he sends me a text letting me know that Supreme would be dropping a set of Vans this Thursday. I haven't gone to a Supreme release date in over a year. We weren't sure what to expect, but it certainly wasn't this.
We were 10th in line at 10am which is considerably good compared to other Supreme releases that have hundreds of people camping out with lawn chairs, blankets, and fast food wrappers.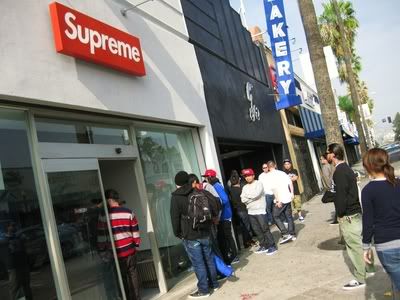 The posse for the day: myself, Chip, Brian. Also ran into Len in the background. Wuttup!
We sorta faced the dilemma of which pairs to get. Not that we were limited, but the fact that we weren't limited made us consider which pairs should we should really be buying and how much money we each had available. As you can see, we left the shop more than satisfied. Best Supreme release ever in my book.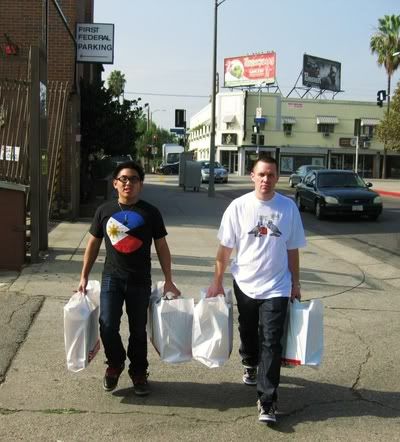 Between the 3 of us, we got 16 pairs... (Not all are pictured.)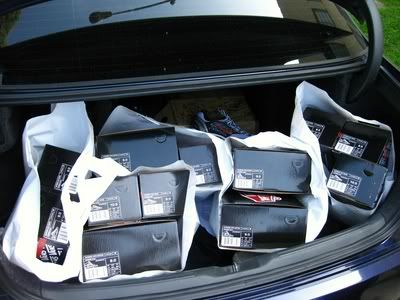 Afterwards we hit up Huf LA, The Hundreds, Crooks & Castles, Bape, and Kidrobot. We met up with Stephie at the Beverly Center where we hit up the Foot Locker House of Hoops and grabbed a bite to eat at the Grand Lux Cafe (i.e. Upscale version of Cheesecake Factory).
One of Chip's favorite beverages.
These rolled stuffed potatoes were delightful.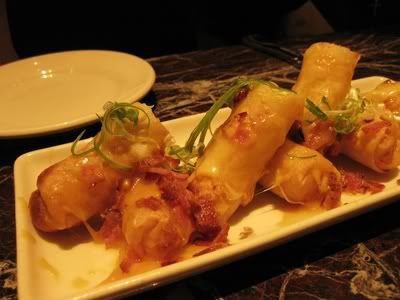 Driver's Licence pictures! Don't kill me Steph... And thanks for paying for lunch!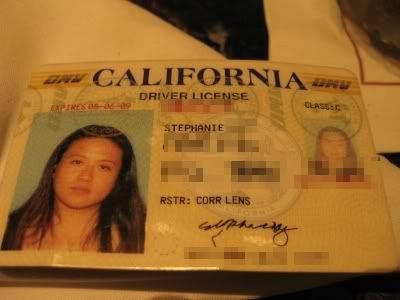 Chip rockin' a New Jersey licence. Wuttup Guil!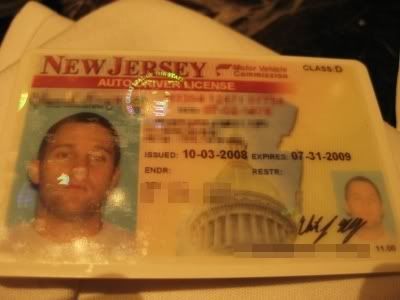 Good times at lunch. Somehow, Brian's mouth got dubbed as a "sexy mouth" by Stephie. "Don't ever go to jail Brian. If you ever went, someone would definitely crowbar your asshole." -Stephie.
WHAT????????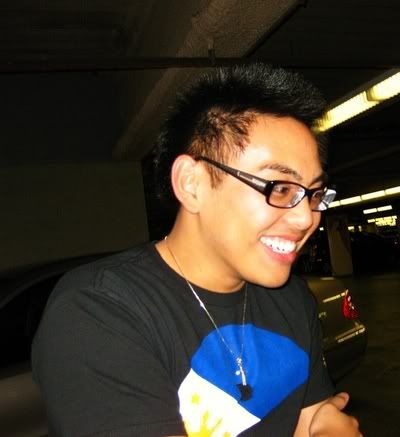 We also hit up Bloomingdales where Chip got a new Stussy hoodie on sale and Brian got me an early Christmas gift. Chip sportin' this beasty bag. It matches his
Andy Jenkins P-Rods
. Brian also got hit on by one of the workers we think (it was a guy). Definitely don't go to jail.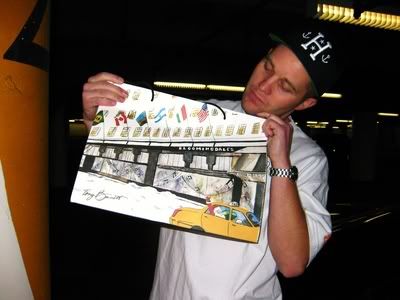 After our late lunch we went back to Fairfax where we got more stuff at Supreme and checked out Flight Club LA. Chip was trying on a pair of London SB Dunks.
Check the price tag
. YOU CRAZY BITCH! He almost got them too. This purchase would have definitely topped the day off.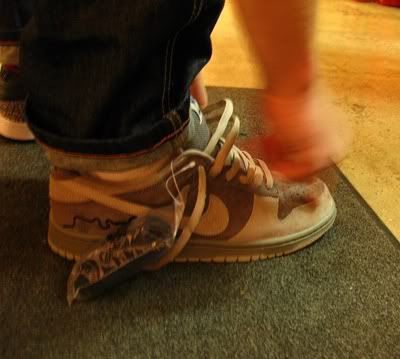 Then we headed to La Brea to check out Union, Stussy, Undefeated, and the new retro shop next door. This place had a lot of OG stuff. Anyone else rock T&C back in the day?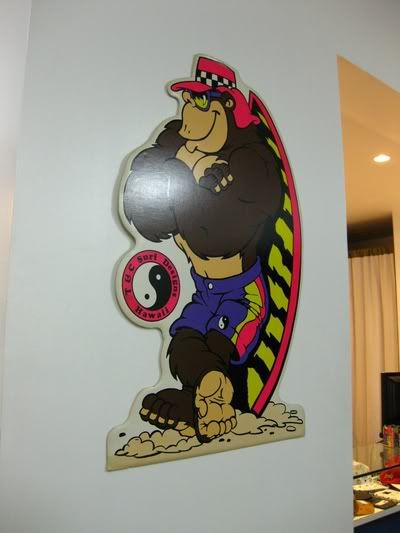 OG Angels cap. Just like when I played little league.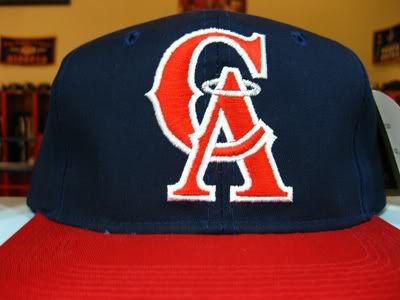 OG 720 arcade game. Check the Michael Jordan poster in the back.
The fiscal damage at the end of the night. We definitely went all out.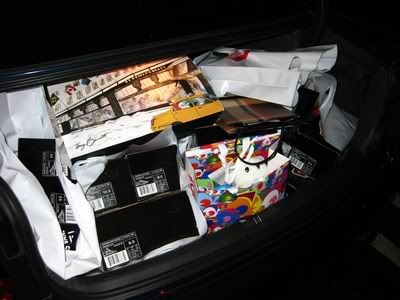 We grabbed dinner at the Elephant Bar in Long Beach. Beasty steezy.
We picked this place because it was close to Rob and Erica. Hi guys!
My frosty beverage.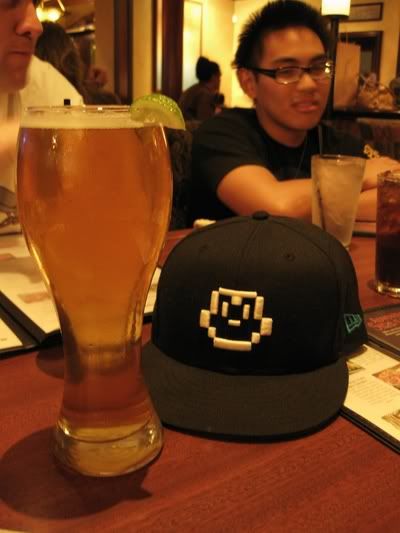 Cherry Coke, emphasis on the "Cherry".
Rob gets his Christmas gift from Brian early. And Erica gets jealous. Sorry hun, you need a crowbar.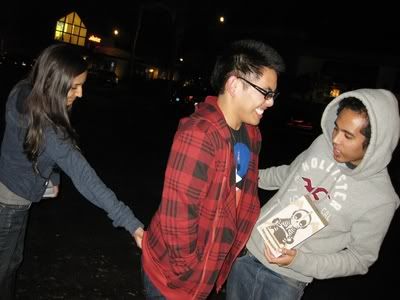 Yay sneaker star!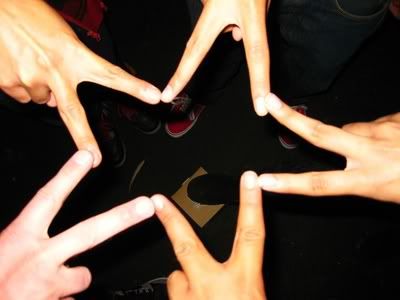 At the end of the day I end up with 6 new pairs of shoes, a Supreme tee and keychain, Bape keychain, and some kidrobot figures. Also my
808's & Heartbreaks
album finally gets delivered along with a Glow in the Dark Tour tee. SUPER BEASTY!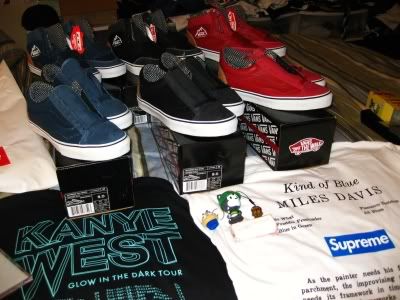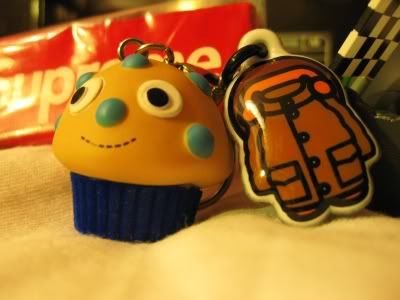 L.A. just got served.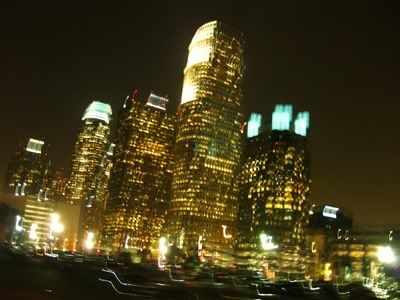 What the hell is a recession??