Double duty. After dinner I went up to L.A. for Melissa R's 21st birthday party at the Stone Rose Lounge at the Sofitel Hotel for
Quiet Riot
. Many thanks to Doug (The Collective), Ben (Dub Frequency), and TK for hosting the event.
So by a twist of fate, before I left P.F. Changs, I texted Jenn to see if she and Erwin were already there and how the crowd was. I get a call back in return and they got a f*cking flat tire on their way up! F*ck your lives. But luckily they were off the Lake Forrest exit which was the next exit south of the Irvine Spectrum. Lucky.
Erwin the Mechanic putting sealant into the tire. We ended up leaving the car there overnight and riding together in my car. We got to our destination in 45 minutes!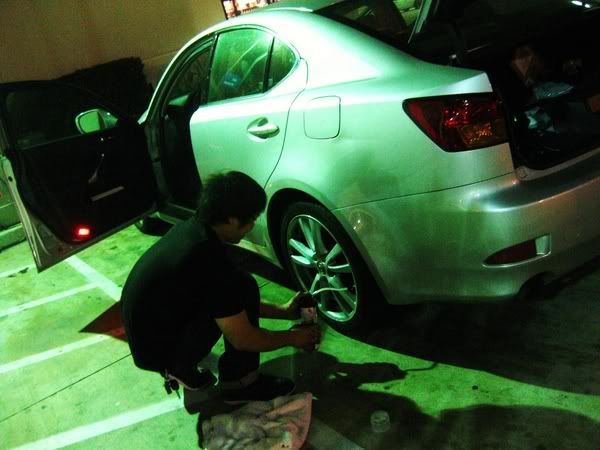 The Sofitel Hotel sits right across from the Beverly Center. Erwin and I were tempted to hit up the campout for the Nike Air Yeezys. (Hah not really... well maybe...)
The Stone Rose Lounge. This was a pretty dope spot. Plenty of seating inside and outside, music was alright (we missed
Mark Marcelo
's set which was probably dope), and plenty of beautiful people everywhere you turn. So this is L.A. culture. Seems like L.A. has been my recent whereabouts in the late night.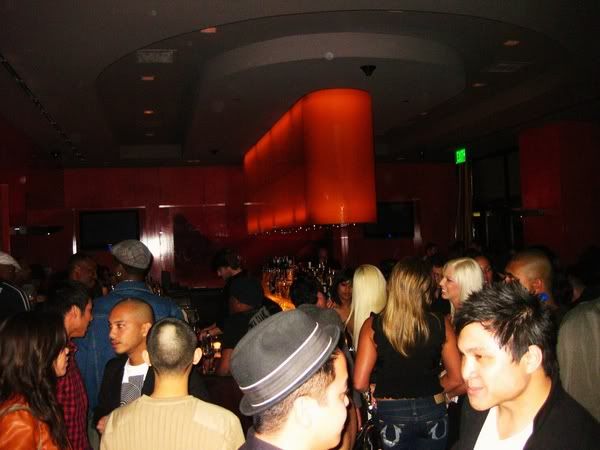 Me and James (Melissa's bro). We saw each other's jackets and thought "H&M!". You know H&M is money with its discount grown man steeze.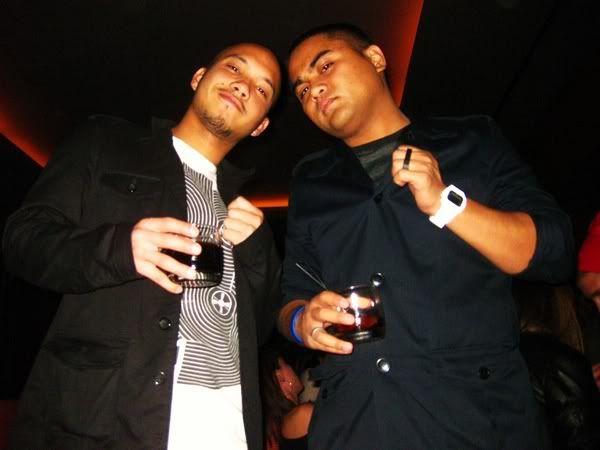 And another new homie, Mark who was from SD but lives in LA now. Bonita HS, Class '96.
Brett (
One People Project
) and his girl Bri. Ol Blue Eyes got a little embarrassed by
his last appearance
so he did something with his eyes closed. Awwww. Much love dude!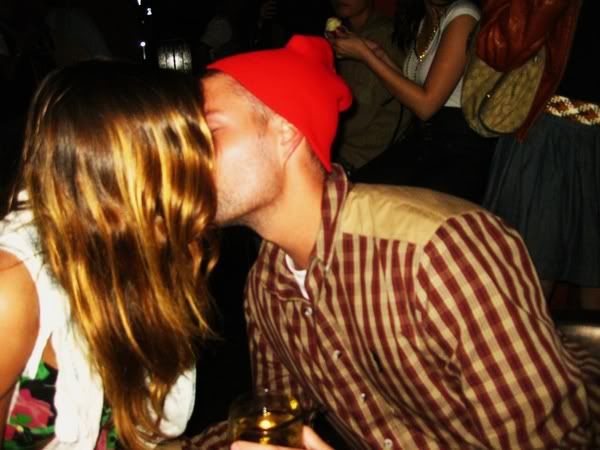 Some of the beautiful scenery: Jenn, Melissa, Stacy, Bri, and Alysha. (5-way kiss? No? Weak.)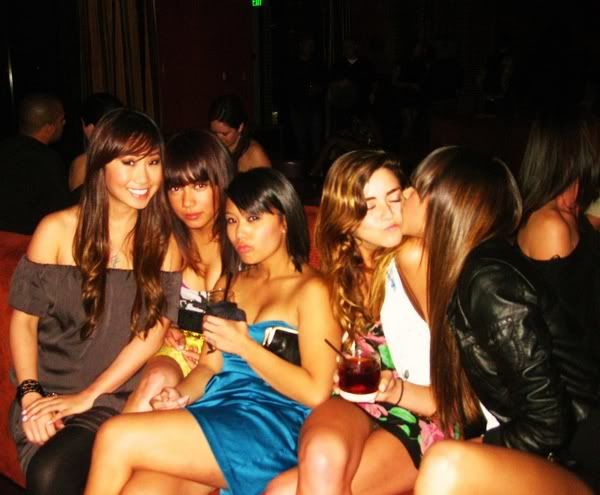 Birthday cupcakes presented by Kathy Griffin look-alike (way better though).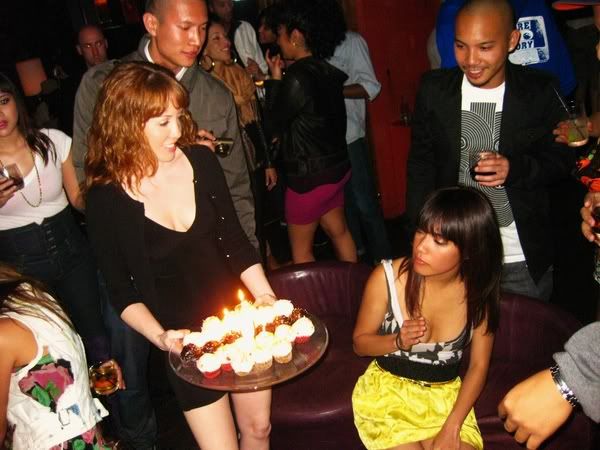 HAPPY BIRTHDAY MELISSA!! AKA LATIKA! Why the hell am I kissing your eyeball?!
TK feeding a cupcake to Melissa... and dropping it on her lap. FAIL. You guys were the opposite of sober.
FLAT TIRE CREW! Erwin & Jenn.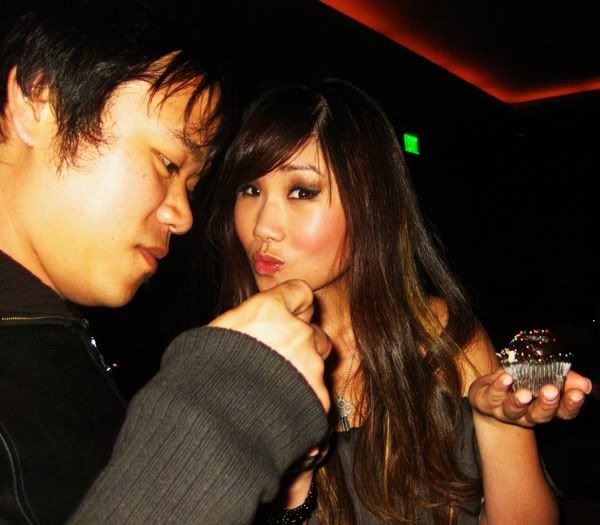 Hellz Bellz
crew in the house! Jino and Bam! And some girl.
Bottle service: 2 bottles of crown, sodas and water.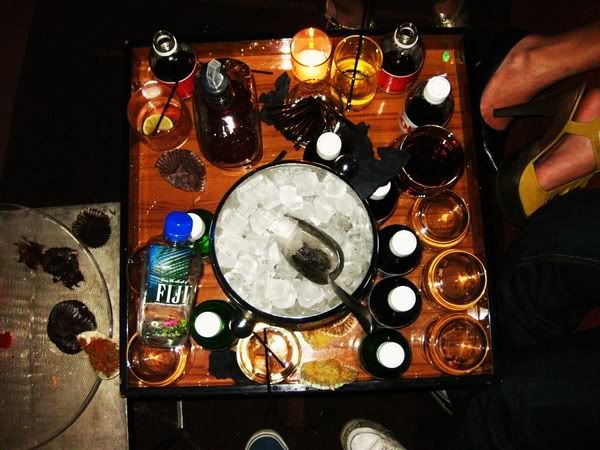 Reppin Mindzalike in LA: DJ Mark Marcelo.
Sheryl & TK. BFFs!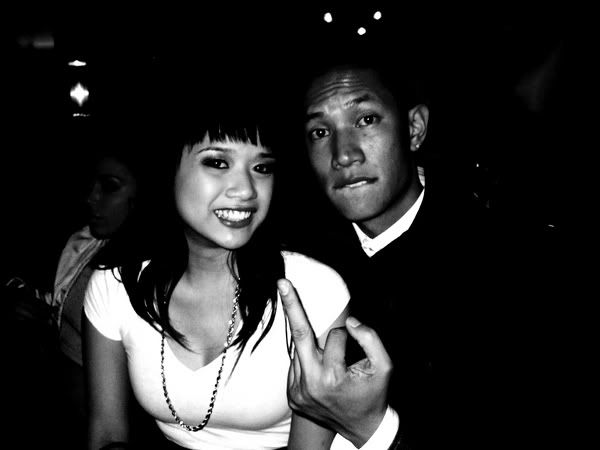 Not again... Don't be sad dude. That girl is taking all her clothes off!
Famlay shot! Jaymee and Sheryl with their friend Angie.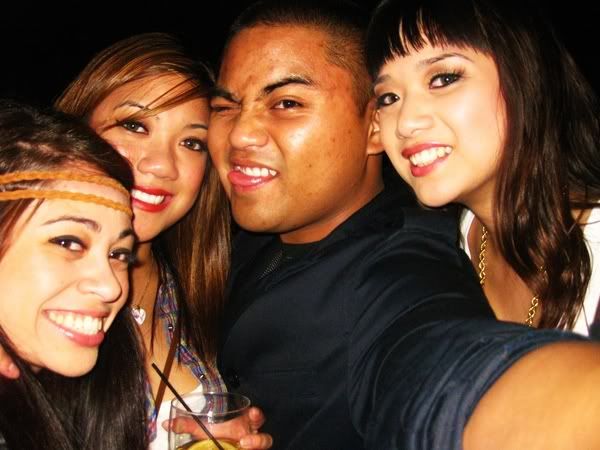 Jon Muna (Blends CM) reppin. Toe-Knee's just straight up grimey tonight.
TK was DONE-ZO. Along with a majority of the crowd. TKO!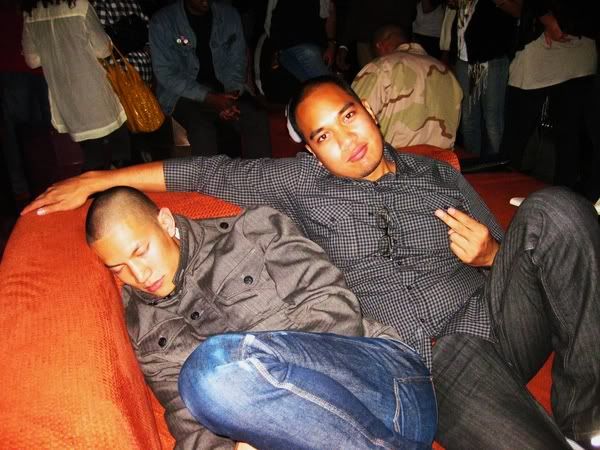 Around 2am they start to kick the crowd out. Outside the valet waiting for the whips: Erwin, Ben (Dub Frequency), Mark.
Jenn, Erwin, Mark and I got some food at this spot called Lucy's on La Brea. Not bad, but SD Mexican food is far superior.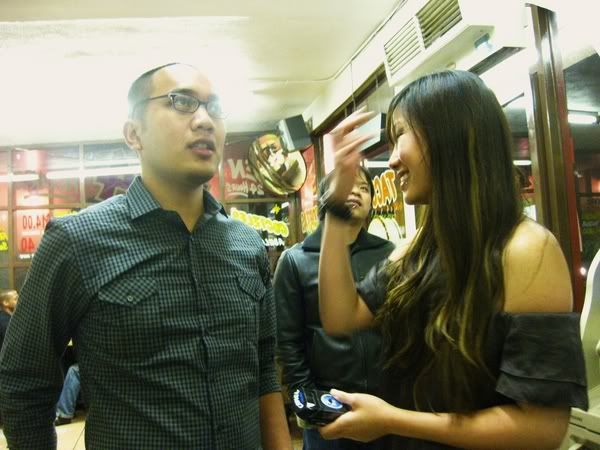 Jenn aka HAM TORTA!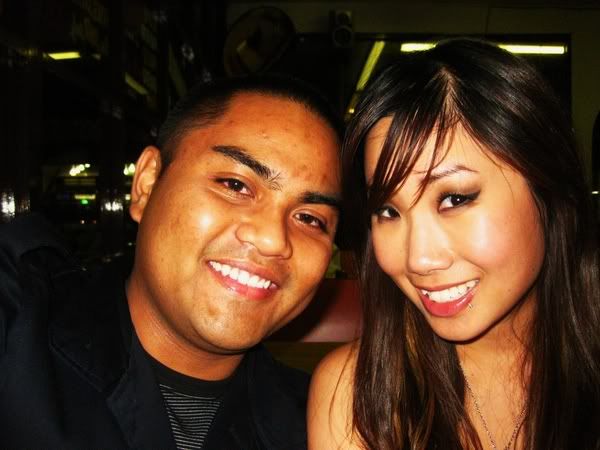 I thought a ham torta was the weirdest thing you could order at a spot like this... until Erwin got the egg sandwich. Now who orders THAT!? It was as good as it looks: boring.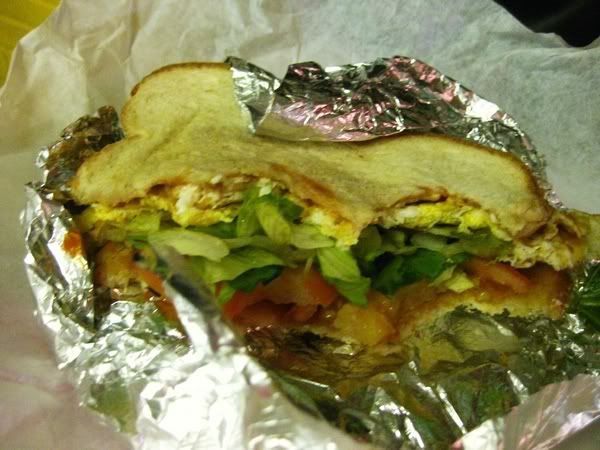 Another highlight of the night was the high-five to Amare Stoudemire. Then I said "I love your stuff man." Fail.
Drove the flat tire crew back to Lake Forrest and then back home to sleep.
A very random/chill/fun night in L.A. I'm glad to hear that everyone actually made it home safe. Good times everyone!