Another Agenda/ASR party at Onyx and Thin. Surprisingly, this night was even more fun than the previous despite being the same club with most of the same cast and crew. And I definitely refrained from having as many drinks as the last night as well.
The color of the night: red! Kimtan and Alvin brought over a case of Red Stripe for preparty.
Alvin and I now have some artwork up in Bumsville.
Throw your diamonds in the sky.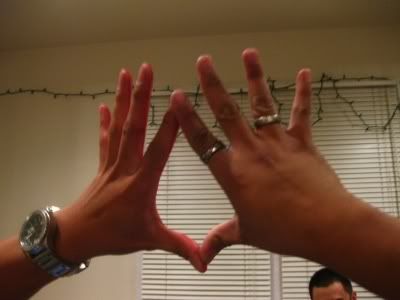 Annabelle and Jenn getting ready for the night.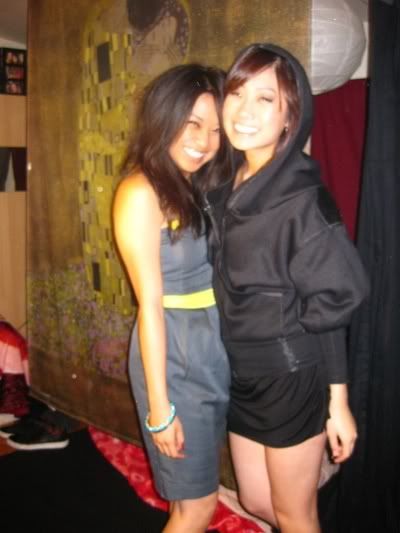 Jelly and Irish.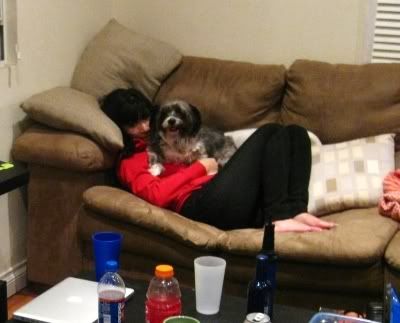 Coincidentally, we were all rocking red that night. Me, Jelly, Kimtan, Sheryl, Alvin, Erwin. Bloooodin.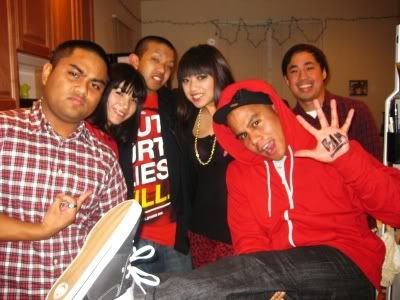 The first half of the night was mostly downstairs in Onyx.
Earlier that day I just realized that Sheryl is actually one of my old family friends from way back. We used to see each other at the family parties when we were kids, but since we both sorta stopped going to them since high school, I didn't recognize her until she brought it up. REUNITED FAMILY!!
Bam.
Jenn rockin' her new Dime Piece hoodie and ring. Lookin' good!
Alyasha (
Alphanumeric
/
Fiberops
) spinning some good stuff downstairs. This guy is a legend.
Kimtan & Alvin.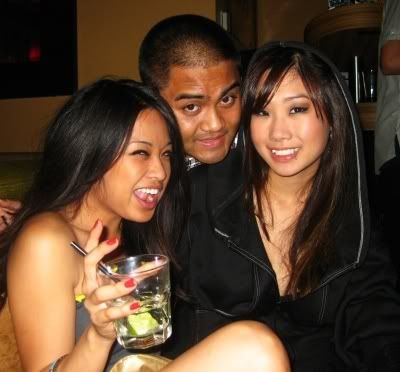 Gian, Mark & Suzie. Thanks for the drink Mark!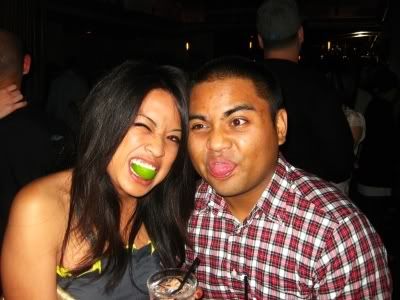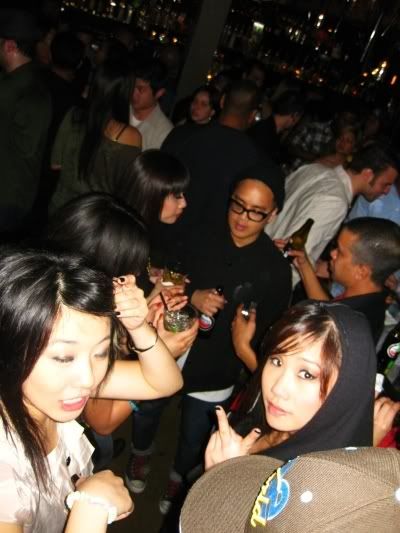 Jay (
5&A Dime
). His buddy Rino from the Beat Freaks was rockin' a
5&A Dime tee
on ABDC last week!
Guilly.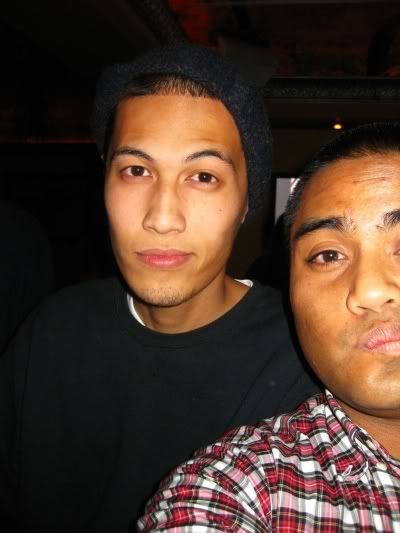 Joe (
AVNT/GRDE
).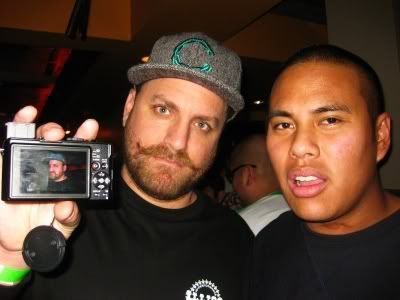 Terry is confused.
Toe-Knee rockin' some new Alphanumeric. Stain not included. I don't remember what you were saying so I'll just put some words in your mouth.
"I'm pointing at my big dick." -TK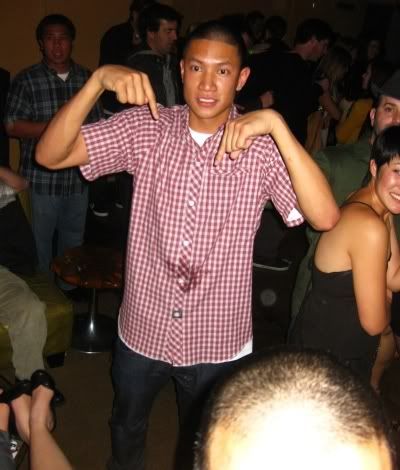 The second half of the night was in the VIP in Thin upstairs.
WUTTUP PETER! (SD Outsiders)
Red all night.
Julie and Terry.
Terry looks like she's gonna barf. Julie doesn't smell!
4 words describe this girl: Little Ball of Energy. Be sure to check
her Tumblr blog
! (And
her food blog too
?)
Chris.
I know Julie's gonna love this picture. You're welcome haha.
Julie and Chris gettin down.
Frances.
Sarah.
My dance partner Rosemarie. We cut it up!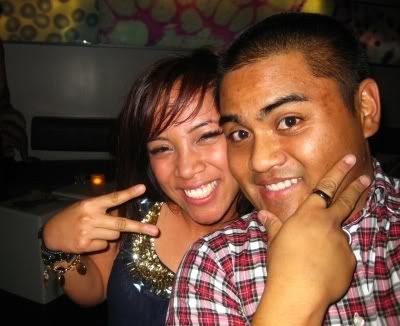 Alvin, Edwin, and Erwin having a freestyle session.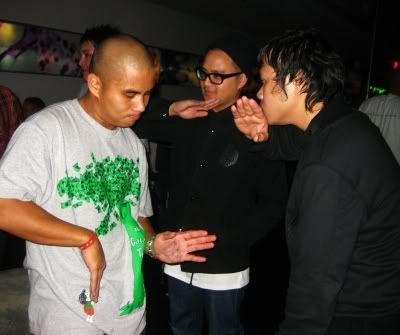 Alvin and Julz cuttin' it up.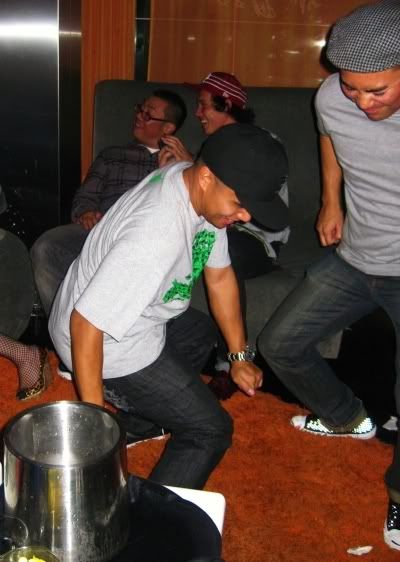 The end of the night.
Late night food trip. My car was the designated "Mexican Car". We made a trip to Adelbertos.
Kimtan Bui. That's so Vietnamese dude.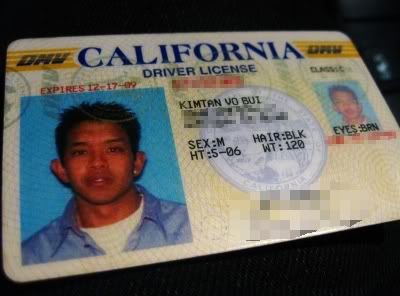 Jenn had 20 minutes to think of what she wanted when we waited at the drive-thru. When it was our turn to order, she asked what was good (LAGGER!). Of course the standards are rolled tacos, carne asada fries, and california burritos. I give them the rest of everyone's order and then we wait on Jenn. She blurts out "HAM TORTA!". WHAT THE F*CK DUDE!? Who does that? Tortas are good, but that definitely doesn't come to mind when I think of late night mexican food. Especially ham. How about a ham sandwich? OH WAIT THAT'S WHAT IT IS. I'm just kidding dude. But damn, that was hilarious.
We ended up at Bumsville along with 40-something other people. That's just way too much. I was sitting outside in the rain for a minute for some peace and quiet. Food at 3am always hits the spot. Pic stolen from
TK's flickr
.
Mikey
also posted a lot of high-quality pictures from the whole weekend on
his flickr
. Be sure to check them out. TK's pictures are
here
.
So despite what should have been a clothing industry cockfest, the weekend was a blast. See ya'll next time.